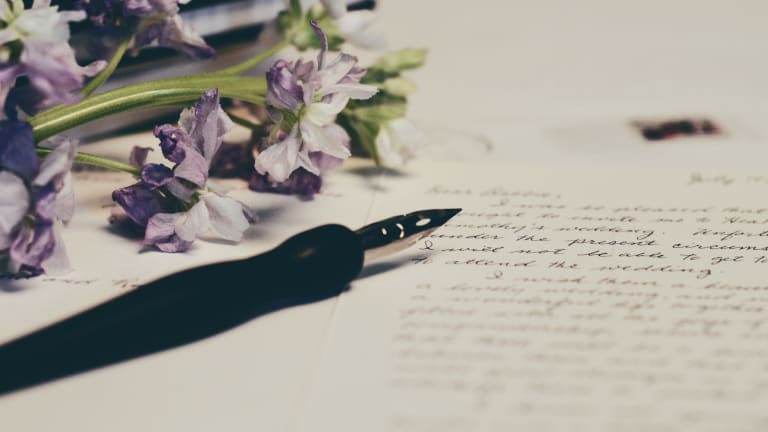 3 Times When You Should Absolutely Write a Handwritten Letter
Grab your stationery, ladies
When's the last time you picked up a pen and wrote someone a letter? If you're like most of us, it's been a while. There are so many reasons to stick to digital missives: the cost of stamps just went up (again), and spell check has ushered in the glorious space age convenience we always knew we deserved. Meanwhile, text, messenger, and email apps are just. Right. There.
But there are moments in life when a Facebook message simply won't cut it. Handwritten notes are a favorite tool of CEOs, presidents, and grandmas everywhere, because they build bridges and nurture relationships like nothing else. Here are three times when you should be breaking out pen and paper—along with some ideas of what you should put on that blank piece of dead tree.
Letters After a Loss
Your friend who had a miscarriage. Your neighbor who lost a parent. Your classmate whose fiancé has ended the relationship. Sad reactions on the Facebook announcement don't even begin to honor the heartbreak of the situation. And yet, it's scary to think you might say the wrong thing. So maybe you comment "I'm so sorry," and keep scrolling.
This is precisely when a letter is hard to write—and why it means so much to send one. Where we go wrong is when we try to comfort the person who is mourning. This leads to painful verbal dysentery like, "He's in a better place" or "Everything happens for a reason." Instead, just acknowledge how awful the loss is. It's okay to write, "I know nothing I can say will make this hurt less, but with all my heart I wish I could." Because it's true.
Don't worry that your thoughtful note will reopen wounds. For many people, the most painful part of a loss is when others forget about it. Taking the time to write to your friend sends the message that you know how important their heartbreak is.
Thank You for the Meeting
If you're a bride-to-be or an expectant mother, handwritten thank-you notes are probably on your mind. But they should also occupy space inside the brain of anyone who has a career, or who would like one.
Sure, a same-day, emailed thank-you from a job seeker to an interviewer is a given. But a handwritten note that arrives a couple days later, in addition to that email, will remind your future employer that you still exist, that you care, and that you possess the rare talent of being able to follow up. Meanwhile, sending your thanks for a networking meeting confirms you're a considerate person worth connecting with.
The key to a successful note? Be specific! Comment on an important detail you learned about the company during the interview. Write about how the conversation with your potential mentor helped you, and reiterate how you can be a resource, too.
Love Notes
In days of yore, mothers told their daughters: don't write love letters! If a break-up happens, the notes could compromise the young lady's "reputation." In the twenty-first century, a handwritten love letter is so rare that it's heart-stoppingly romantic and appreciated by men and women alike. Don't let your wedding day be the first time you write one. The easiest way to write a love letter is to describe your feelings about a moment in the past—your first date, your first kiss—or your hopes for the future. The only indispensable element in your love note is, of course, sincerity.
The best part about love letters is that they have no equal as a historical document. Fifteen years from now when your children are digging through your dresser drawers, they won't find copies of the texts you and your husband exchanged, but they will really enjoy finding your love letters. This adorable moment can only happen if you take action now!
Handwriting a letter is an opportunity to slow down and connect with others in the moments that matter most. Don't miss your chance. Get a stylish pen, get nice paper, and get ready to write!
Editors' Note: Verily's mission is to empower women to be less of who they should be, more of who they are. If you support this mission and you want to see us go to print, subscribe today to Verily Yours. You'll receive exclusive, quality content that will simplify and elevate your everyday, while supporting empowering women's media.