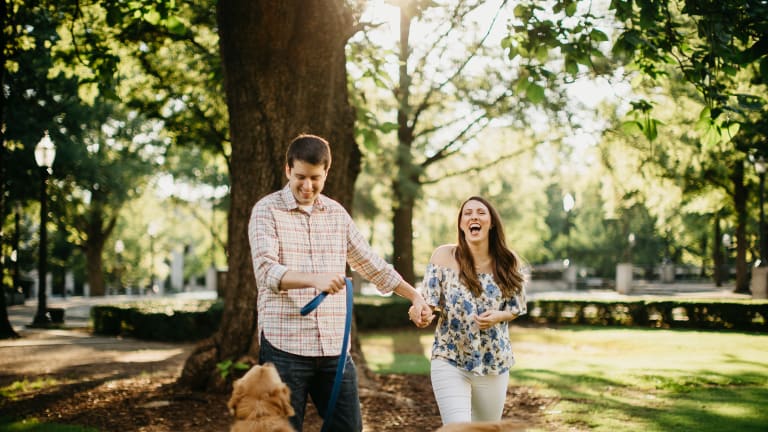 When She Knew: Sharing the Same Interests
Don't underestimate how much the ordinary makes an extraordinary love.
For much of my dating relationship with my husband, we were long distance—like, all the way across the country long distance. I was in New Orleans doing mission work for a year while he finished up college at the University of Wisconsin. He would come down and visit as often as he could, but with our busy schedules and the price of plane tickets, it wasn't as often as either of us would have liked.
It was early spring, which means snowstorms in Wisconsin and perfect, sunny, mid-70s weather in Louisiana. Krzys had hopped on a plane and come to the Big Easy for the weekend and we were both craving some sunshine. We drove a bit to a state park and went on a short walk through some swampland until we got to a small wooden bench overlooking a pond. We sat there, looking out at the water, and I turned and asked him a very important question. It was a question that would answer other questions—bigger questions about where our relationship was going, if we were compatible, and if we could ever consider taking things to the next level.
"Can I just finish my chapter real quick?"
"Totally. I brought my book too," he said excitedly, whipping a small paperback out of pocket.
And we sat there, and read, for about fifteen minutes. We sat in silence, my feet propped up on his legs and my fingers tapping on the cover of the book, a habit that drives him nuts to this day. And we just read.
Krzys and I are both readers—the kind who consider a trip to the local bookstore a romantic evening and stay up past midnight finishing books we can't put down. He understood that I'd just picked up a new novel from Barnes and Noble a few days before and that I was in the middle of an incredibly important chapter. It was practically all I could think about. Besides, the setting was impeccable—the sun was shining, we'd brought along some Sour Patch Kids, and the light breeze made it the definition of Perfect Reading Weather.
I remember thinking, even then, that this could work. Not that afternoon, but that life: one of being married to someone who doesn't think it's at all weird to bring a book on a hike in case you get a minute to finish your chapter.
I am not a relationship guru. I'll never be one to offer others advice on their love lives. But here is what I know: Your idea of a good time? Something that gives you life, makes you feel refreshed and rejuvenated? Find a man who agrees. My husband and I are complete and total nerds—we love history museums, news podcasts, and reading. We are not the couple that goes clubbing; if we're at a bar, it's somewhere with comfy chairs that closes around midnight. You don't need to have the exact same interests, but you need someone who understands your interests, at the very least. If in that moment, Krzys had looked at me like I was insane, I would have lived the rest of my life not feeling like I could bring a book on a hike. And since I've brought a book with me literally everywhere I go since the age of four, that would have meant losing a vital part of what makes me me. I needed someone who embraced that quirky part of me, and not only did he embrace it, he celebrated it and joined me.
Here's what else I know: you don't, actually, know. You're taking the information you have and making your best possible guess. Your marriage is not going to be perfect. There are plenty of times where I want to read and he wants to talk and I get annoyed. He doesn't like college basketball, and I can go a bit crazy this time of year with brackets and breakdowns. I'm not into video games, which he plays every night to relax after a long day of work. But most of the time, we give each other space to embrace what makes us us—and most of the time, we can do those things together.
It wasn't some big romantic gesture—of which he's done plenty—or a movie-worthy moment. But it was a small, quiet part of everyday life. To quote singer Ben Rector, "life is not the mountaintops—it's the walking in between. And I like you walking next to me." 
Editors' Note: If you support the mission of Verily and want to see us go to print (as you've asked us to), subscribe today to Verily Yours. You'll receive exclusive, quality content that will simplify and elevate your everyday, while supporting empowering women's media.