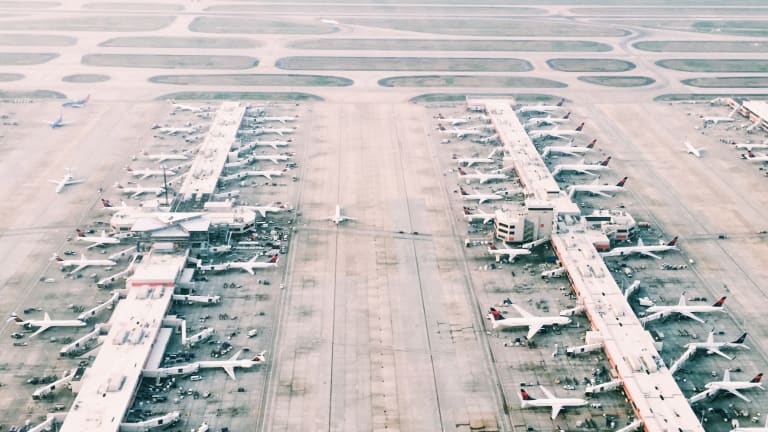 Trump Grounds All Boeing 737s, and Other News from the Week
Catch up on all the news you might have missed with our handy summary of the week's top stories.
We're pleased to bring you "While You Were Out"—Verily quick takes on the happenings of this week.
Ethiopian Flight Crashes, Second Boeing 737 Crash in 5 Months
Global tragedy struck on March 10, when Ethiopian Airlines Flight 302, en route to Nairobi, Kenya, lost contact with air traffic control and crashed six minutes after takeoff from Addis Ababa. All 157 people on board were killed.
This marks the second time in only five months that a new Boeing 737 plane has crashed, the first being a Lion Air flight in Indonesia that crashed into the sea by Jakarta while carrying 189 people. As a result of this second incident, officials for the Boeing Company—which designs and manufactures airplanes, rockets, satellites, and missiles—have recommended that governments ground the aircraft amid ongoing investigation into the latest crash.
President Trump, for his part, issued an emergency order on Wednesday that called for the grounding of all Boeing 737s until further notice. Many other countries have done likewise, unwilling to risk a third tragedy.
The United Nations, in particular, has led global mourning, flying their flags at half-mast on Monday to honor those killed. 21 of the victims were UN members themselves, UN Secretary-General Antonio Guterres told news outlets. He honored their memory, saying, "they all had one thing in common. A spirit to serve the people of the world and make it a better place overall."
With the formal investigation underway, we remember them and all the other victims and wait for a resolution to the aircraft flaws that have caused these senseless deaths. —Mariel Lindsay
Ohio Senate, Missouri House of Representatives Approve Most Restrictive Abortion Ban in the United States
As the national debate about the legality of abortion continues, Ohio and Missouri have each come one step closer to instituting the most restrictive abortion ban in the country. The Washington Times reports that the "Heartbeat Bill," known in Ohio as Senate Bill 23 and in Missouri as House Bill 126, "would ban abortions except in cases of medical emergencies," should Roe v. Wade be overturned. If Roe v. Wade is not overturned, the bill "would ban most abortions after a fetal heartbeat is detected," which generally happens at six weeks. Critics, including Planned Parenthood, argue that timeline occurs before some women even know they are pregnant. The legislation gathers restrictions other states have placed on abortion into one measure, and is likely the most comprehensive piece of legislation on this issue to date.
The bill passed the Ohio Senate along party lines, with a vote of 19-13, and will now proceed to the state House of Representatives. Former Ohio governor John Kasich vetoed the bill more than once, but current governor Mike DeWine vows to sign it. Missouri House Speaker Elijah Haahr said the measure was introduced in response to legislation passed in New York and Virginia, among other states, legalizing abortion throughout an entire pregnancy. It was passed in his state's House of Representatives by a generous margin of 117-39, and will now move to the Senate floor.
While it may be too early to predict where things are headed, a Marist poll conducted in February showed that "Americans now are as likely to say they're pro-life as pro-choice." The poll has received some criticism, in part because it was sponsored by the Knights of Columbus, a Catholic organization. One thing is for certain: this issue isn't settled yet. —Lindsay Schlegel
Dozens Charged in Massive College Admissions Scandal
Fifty individuals have been charged in a massive scam to cheat college admissions programs and gain admission to elite universities, such as Stanford and Yale, for students from wealthy families. Both academic and athletic qualifications were falsified through an elaborate scheme that operated from 2011 to 2019. The scam is being referred to by the fed as "Operation Varsity Blues," and is said to be the largest college admissions scam in U.S. history.
Thirty-three families were allegedly involved in the network of lies and corruption. Documents released Tuesday show that parents involved were charged with conspiracy to commit mail fraud and honest-services mail fraud, while college exam administrators and university athletic coaches were charged with accepting bribes. William Risk Singer, who orchestrated the scheme, was charged with conspiracy to commit racketeering, money laundering, and obstruction of justice. Those charged include actresses Felicity Huffman and Lori Loughlin, as well as prominent businessmen and women and CEOs.
In most cases, parents purportedly paid between $250,000 and $400,000 per student, but some paid much more, even up to $6.5 million. The money was circulated through a supposed non-profit that, in a painfully ironic twist, stated its goal was to help educate students that wouldn't otherwise have such opportunities.
At a Boston news conference held earlier this week, Andrew Lelling, U.S. attorney for the District of Massachusetts, said, "There will not be a separate admissions system for the wealthy. And there will not be a separate criminal justice system either." —LS
Japanese Mothers Run Citizens Lab to Test Radiation Levels
Eight years after the devastation wrought by the meltdown at the Fukushima Daiichi power plant, A group of Japanese women, mostly mothers, are running a citizens' lab to test for levels of radiation. A magnitude 9.1 earthquake hit off the coast of Tōhoku, Japan in March of 2011, setting off a tsunami that killed over ten thousand people. Worse still, the meltdown of the nuclear plant caused an immediate evacuation of the people living within a 20 kilometer radius of the plant.
While the villages affected have been ostensibly decontaminated, little is known about the ongoing levels of radiation in the surrounding areas. The fear of radiation is pervasive and justified by the high levels of thyroid cancer and leukemia in recent years. Women often bear the stress of monitoring the level, and feel particular anxiety for their children. Is it safe to let children play in the sea with contaminated water still leaking out?
In response, the NGO Tarachine, which means "caring mother" in Japanese, offers transparency about the levels of radiation. A group of volunteers run tests for radiation in different samples of food and soil collected by concerned citizens, filling an important information void for the public. If the soil tests above a certain threshold, then the government will decontaminate the house, an important result of the work at Tarachine. —Rachel Wilkerson
'Captain Marvel' Introduces a Feminist Superhero
The latest installment of the Marvel franchise, Captain Marvel, hit theaters on International Women's Day (no coincidence there) to opening weekend success. The film, which follows the adventures of the titular heroine as she struggles to end intergalactic war between feuding planets, has received much fanfare as the first female-led and female-directed Marvel movie.
Captain Marvel, headlines declared, would be the studio's first real feminist superhero. Audience reception to its feminist undertones, however, has been largely mixed. Some find the origin story equally as engrossing as other Marvel superhero films, while others feel that the movie tries too hard to remind moviegoers that it is feminist, causing it to lose some of its superhero magic.
Still others compare Larson's Captain Marvel to Gal Gadot's colossally successful Wonder Woman, who stole hearts just a couple years ago when the film became the highest-grossing superhero origin story of all time. Gadot herself attempted to shut down comparisons when she posted to her Instagram Story a screenshot of fan artwork that featured the two superheroes linking arms, captioning it "I'm so happy for you sister! Congrats."
For Larson's part, she says playing the superhero changed her for the better. The role reinforced the importance of "learning how to stand my ground, own myself, and value my voice." —ML
Instagram and Facebook Crash. Activity Moves to Twitter
Wednesday, March 13 will go down in social media infamy as the day that millions of millennials weren't able to post their #influencer pics or share videos of parents throwing cheese on babies, due to the historic and simultaneous outages faced by Facebook, Instagram, and Whatsapp. Facebook owns both Instagram and Whatsapp, all of which started glitching or, for some users, stopped functioning completely on Wednesday afternoon and lasted almost a full day. Those frustrated by the outage took to Twitter to vent, and rumors swirled that the outage was caused by a cyber attack (Facebook has denied this claim, blaming the outage on a "server configuration change."). 
Many found the means to survive the outage by turning not only to other forms of social media, but also to books, face-to-face conversation, and physical activity. How did you survive the 2019 InstaBookApp outage? —Gabriella Patti