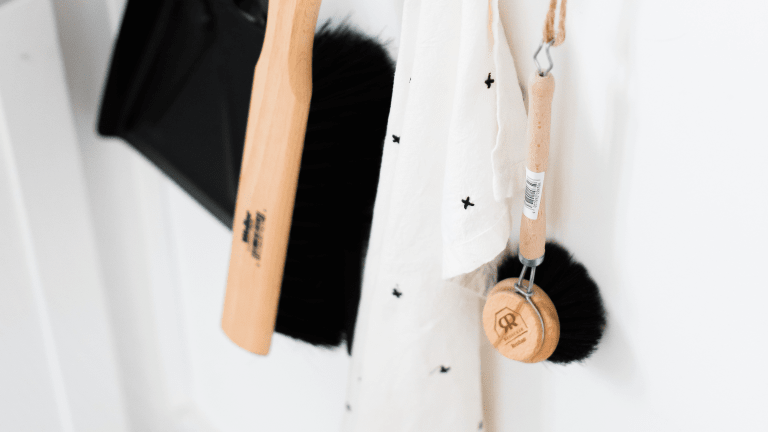 Winter Survival Guide: Conquering Spring Cleaning
Silver white winters that melt into spring
It's that time again—spring cleaning. Even though the streets are slushy and it's far too early to leave the house without a pair of gloves, the days are getting longer and lighter. I know I've been feeling more joyful knowing that I'm closer to blooming trees than Christmas trees. That said, I also know that I've got some cleaning to do after turning my apartment into a cozy winter hibernation cave. Here are a few of my favorite ways to combat the stress of cleaning and instead get my mood (and my home) shipshape!
Invest in Organization
After moving into a new apartment last fall, I tried to make sure that everything had its place instead of being shoved carelessly in the back of a closet. Closet debris can happen quickly, though. I noticed that neatly stacked shirts in my closet had become less of a stack and more of a pile, and my oh-so-carefully arranged pantry looked more like a haphazard shopping cart than a place to easily grab pasta. It didn't take long to realize I needed more sustainable and time-saving solutions.
For my home, I use these Kate Spade nesting boxes in my closet (they're hard to find online, but I found numerous colors, sizes, and patterns at my local TJ Maxx, Marshall's, and HomeGoods) and wire baskets from the modern Target Threshold line for my pantry. They slide out easily and allow me to reach (and remember!) food I have toward the back of the cabinet.
For other types of storage, I repurposed one of my college binders to hold all my important documents—everything from extra car insurance cards to credit card statements. Having everything in one place ensures that I don't lose anything. Although buying bins and boxes did cost a little bit, I've found that my clothing and other items remain organized longer and look visually more appealing when I store them in boxes.
Find Your Rhythm
When are you most productive? Whether it's in the morning, after dinner, or on Sunday afternoon, there's usually a sweet spot in the week where you feel like you can get the most done. I'm not a morning person, so I know it's not worth it to get up early and roll up my sleeves, even if I have a mountain of work to do.
Identify the time of day where you're in a productive mindset and designate some of that period for spring cleaning. Knowing that I'll be doing spring cleaning during a time when I'm at my best keeps me from becoming frustrated at a lack of progress during other times of the day. Chances are you'll do more thorough work when you're working with your natural rhythm.
Finding your rhythm doesn't just mean finding the right time, either! What motivates you while you work? It could be a TV show—I know a lot of people who put reruns of The Office on while they clean—a podcast, a genre of music, or even a movie. I powered through two hours of chores the other night with my classic country playlist on and went to bed feeling great! Find something to listen to that makes you happy, and your spring cleaning will feel like less of a chore.
Invite Someone In
As an extrovert, I get bored with alone time and often end up procrastinating, scrolling through Instagram and Facebook. What has worked astonishingly well for me with cleaning is having someone else in the same space. Now I live with a roommate, but I've also experienced the same success with my mom or other friends I've invited over. Having someone nearby—even if not specifically to help you clean—acting as a supportive presence does wonders. If you're like me and need the encouragement, it can be affirming to show someone else the progress you're making along the way.
Don't be embarrassed about your mess! Everyone has messes in their homes, and no one is more understanding than the people who know you well. I recently cleaned my childhood bedroom and invited my best friend over to keep me company. We unearthed high school memorabilia, laughed at old notes we'd sent each other, and even traded a few items that she liked and I didn't want anymore.
Cleaning with a friend in the room can lift that feeling of needing to do everything yourself. Just by pulling up a chair and chatting, friends, siblings, or parents can alleviate the overwhelming feeling that sometimes accompanies cleaning alone.
Bring the Light
When attacking spring cleaning, fill your home with light. You'll feel less claustrophobic and really be able to see everything that you're cleaning. Whenever I clean, I open all the blinds, which immediately makes my apartment feel bigger.
Even if you're still using your cozy home goods for winter, try storing darker-colored items out of sight when you're not using them. Because spring cleaning is all about preparing for warmer weather, accentuate lighter colors in your home. For example, I traded the red and black buffalo-check blanket that usually lives on the back of my couch for a pastel-colored one (I love these soft throws from Kohl's: they come in different colors and patterns all year long).
Putting out fresh flowers in lighter colors and even swapping out candle scents from vanilla to lavender can make your home feel airier and signal the seasonal transition that you're anticipating with your cleaning efforts. Making my home feel brighter usually improves my mood and makes me feel like I'm working towards a more tangible goal when cleaning.
Don't Feel Guilty
Marie Kondo touches on this a bit with her process of thanking items that you no longer want to keep. I've struggled with cleaning guilt for years, especially as I work on cleaning out my belongings at my parents' home. It's easy to keep items out of a sense of obligation—"Even though I never wear this, it was so nice of them to get it for me." I've kept too many items, from clothing and artwork to furniture and household goods, because I felt guilty giving them away.
What's worked for me is thinking about the object at its new home. If someone can enjoy a dress I've had shoved in the back of my closet for three years, I feel immensely better knowing that I've caused them some enjoyment. Just because I give away items that came from other people doesn't mean I love the giver any less. My tastes, clothing sizes, and design aesthetic have certainly changed over the years, and I know I'll be happiest when my home reflects my current tastes. Additionally, I've never had anyone interrogate me about why I'm not using something they gave me. Gifts are given out of love, and I try to give away items I no longer appreciate or use with that same amount of love.
Spring cleaning doesn't have to carry a negative connotation. With these recommendations, go forth and clean with confidence and a little pep in your step!
Editors' Note: Verily's mission is to empower women to be less of who they should be, more of who they are. If you support this mission and you want to see us go to print, subscribe today to Verily Yours. You'll receive exclusive, quality content that will simplify and elevate your everyday, while supporting empowering women's media.