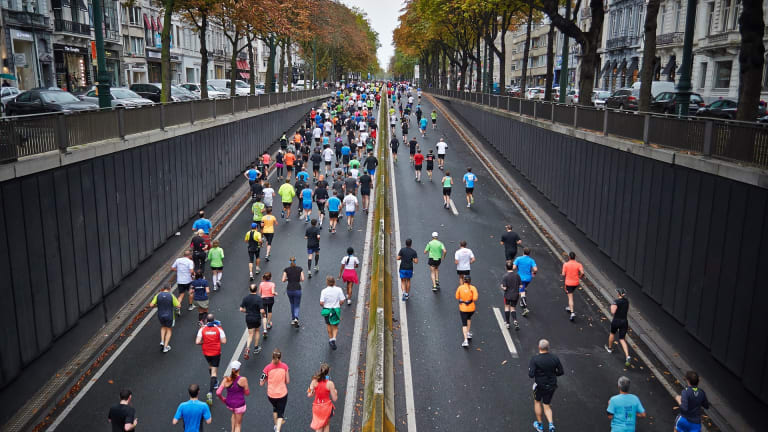 Running Your Best Race
Anyone can be a runner
With the weather starting to warm up (okay, maybe just enough for some icicles to start melting, but I'll take it!) many of us start itching to get outside after being cooped up indoors all winter. With the days getting longer, many are motivated to get some exercise and a dose of Vitamin D, as they finally have the light to do so before or after the work day. The late spring or summer, or even early fall, is a good time to sign up for a race because you don't have to train in the dark or indoors.
A few years ago, I ran my first marathon and, shockingly, it was fun. The training, not so much, but the race, as the saying goes, "is the reward." Was it hard? Of course. Those last five miles were grueling. The final mile seemed unending. Yet, the good, bad, and the downright ugly (my feet after the race) still made for an experience I would relive in a pounding, exhausted heartbeat. Reflecting on my race-day experience, I realized a handful of factors allowed me to have such a good time running. If you've already got your eyes on an upcoming race you'd like to run or the warmer weather and sunnier days now make you want to give it a go, these tips will help you run faster and have more fun (yes, running can be fun!), whether it's your first 5K or you're ready to take on the marathon.
Set a Goal for Yourself

Whether your goal is to finish the race running, walking, or crawling or to qualify for the Boston Marathon, having a goal will guide your training and motivate you when your body wants to give up. Goals should be attainable, but not guaranteed; challenging, but not impossible. For instance, if you've never run a 5K faster than an at an eight-minute mile pace, maybe your goal could be to run at a 7:45 mile pace. Your goal could be finishing your first 5K, 10K, half, or full marathon; achieving a certain time or pace; or completing a race without stopping or walking. Research has shown that just writing down your goal increases your likelihood of achieving it, so put a pen to paper (or open the notes app in your phone).
Put Your Name on Your Shirt
I know this might seem kind of strange, even conceited. However, writing your name in large letters on your shirt or race bib (above or below the numbers) will help onlookers and fellow racers encourage you in a personal way. (Plus, it's better than hearing, "You got this, green shirt!") For me, wearing my name on my shirt was absolutely the key to my success—and the reason I had such a blast. Each time I heard my name, I couldn't help but smile—which gives you endorphins and helps alleviate the physical pain from running. In addition to making you feel physically better, hearing your name distracts you momentarily. Of course, hearing your name also gives you an extra boost of that race day adrenaline because it reminds you that others are watching—and studies show that we generally perform better in front of others. If people are cheering for you by your first name, you'll feel like your own friends and family are lining the race course encouraging you.
Get Your Squad Out There
Even with the crowd and fellow racers cheering for you, seeing your people along the course provides unique motivation. Having friends or family cheer for you is sure to make you smile—thus giving you that special surge of endorphins and making you run even faster. If you feel awkward asking your roommates or co-workers for their support in this way, phrase it as a way to help you meet your goal (since seeing them will motivate you!).
For big races, it's a good idea to plan where your squad will be waiting, down to mile-markers or landmarks, or even side of the street (for example: at mile eight, by the donut shop, on the west side of the street). Based on my predicted pace, my husband made a plan to see me at several different points during my marathon, which we went over ahead of time so I knew where to look for him in a sea of spectators. He sent out his plan to friends of ours so they could join him or know where and when to spot me. For a race that isn't as crowded, it might be nice to be surprised by your loved ones along the way. There are even apps like RaceJoy that allow your friends and family to track your progress in real time. 
Follow a Training Plan—and Trust It!

This was advice a friend gave me before my marathon. It might sound cliche or even unhelpful, until you get to the crux of your race. Whether that's the last few miles of a marathon or the last half mile of a 5K, at some point most of us get to the point where we think we can't go another step during a race. If you followed a training plan—either one you came up with, found online, or were given by a trainer—this is the point at which running is more a mental game than a physical one. You have put in the work required to get you to this point, so you can trust that your training for this race has prepared your body to do the work of running it. That doesn't mean that your mind won't try to get in the way of that, though! As the lactic acid builds up in your muscles and you start to feel tired, your mind will naturally tell your body to stop running. This is self-preservation; the mind wants the body to stop so it can rest the muscles and replenish the lost nutrients. However, trusting the work, hours, and dedication you've put in to prepare for race day can help quell any fears, feelings of inadequacy, or thoughts that you can't do it anymore. In these crucible moments of the race, reflect on all your hard work and trust that the training program you stuck to will get you through that race. The race is your reward for all the days your legs were tired, you didn't want to get out of bed, and no one was watching, but you ran anyway.

Have (or Find) a Running Buddy

A running buddy is key for being held accountable to your training program or to your pace on race day. You're less likely to crawl back into bed when your alarm goes off if you have someone waiting at the corner to run with you. During the race, you and your buddy can motivate each other when the going gets tough, and take turns setting the pace.
While I didn't have a buddy to run my entire race with me, I kept noticing someone running close by me. Near the middle of the race, this stranger asked if he could pace with me, and I happily obliged. As we entered the most challenging part of the marathon, I relied on him as much as he had relied on me—dropping bits of encouragement to each other even though we were complete strangers. Like this friendly stranger, don't be afraid to introduce yourself and buddy up with someone running your pace, if he or she doesn't mind. The extra breath and potential awkwardness in the moment will be worth it in the long run.
Find Someone to Beat
If you can't join 'em, beat 'em! If you just can't manage to waste a single breath on asking a fellow runner to run with you, make a silent competition out of it. If you see someone running a similar pace, or if you keep yo-yoing with a particular runner, set a goal to beat him. Thinking to yourself, "Okay, I'm going to finish before this guy in the orange shorts," will motivate you to run faster to stay with or ahead of him. If he falls behind, pick another person! Bringing out your competitive side helps keep you going when the miles are dragging on and it feels like it's just you against the clock.
Whether you finish before the guy in the orange shorts or not, remember that "the race is the reward." You've worked hard to get to this day, so go out there and have fun while getting your sweat on under the sun (finally!). Whatever race you're running—be it the city marathon or your first 5K—these tips are sure to put a little spring in your step.