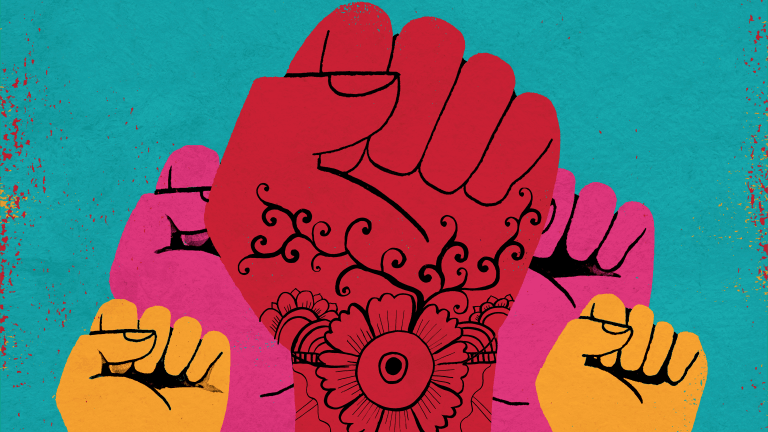 'Period. End of Sentence.' Deserved Its Oscar and Deserves Your Attention
The 26-minute documentary that sheds a light on the period taboo
That Time of the Month. A Visit from Aunt Flo. My Monthly. The Red Devil. 
So rarely do women directly say what they mean when it comes to their periods; rather we choose to refer to it by funny or mysterious monikers. This is why the documentary, Period. End of Sentence., the 2019 Oscar winner for Best Documentary Short, is so important. The title alone makes clear that the film doesn't sugarcoat what the average woman deals with for approximately 2,535 days of her life.
The 26-minute-long Netflix documentary follows women in India fighting the taboos surrounding menstruation and how the installation of a pad manufacturing machine empowered women in one community. The movie is the brainchild of Iranian-American director Rayka Zehtabchi and The Pad Project, a non-profit organization established by teacher Melissa Berton and her students from Oakwood School in Los Angeles. In less than half an hour, the producers manage to tell a compelling, empowering, and truly feminist narrative, about a subject that is normally spoken about in whispers.
Period. End of Sentence. focuses on a group of women in a small village in the Hapur district, 60 kilometers outside of New Delhi, as they grow in independence and awareness following the installation of a pad-making machine in their village. The women are responsible for both the production and distribution of the pads, and as a result, are able to grow in financial independence, personal freedom of movement, understanding of their own bodies.
It's easy to take this for granted, especially coming from a Western country where sanitary pads and tampons are readily available in their own designated, fluorescently lit aisle of any superstore or drugstore. But the machine changed the lives of the women involved in the Pad Project.
In the days before the introduction of the machine, the women would manage their flow by using old cotton cloths. The clothes needed to be changed often, were messy and, most critically, at times weren't sanitary. The lack of sanitary and practical care made going to school difficult for some women because managing their periods became complicated and a source of embarrassment as it became obvious to their peers. Furthermore, due to the lack of understanding and taboos surrounding menstruation, the women said that they are not permitted to pray in the temple while on their period. The elders believe that prayer isn't heard no matter how much you pray, if you enter the temple during this time.
Ultimately, the majority of the women had very little understanding of menstruation, despite it being a natural part of their lives. "When there is patriarchy, it takes time to talk about something related to women. It's taking (time) even among us women, but we'll get there," one woman said. Which is why the introduction of the low-cost sanitary napkin machine marked such an important change for their village. The inventor, Arunachalam Muruganantham said his goal is to make India a 100 percent sanitary napkin-using country—far from the current number which is less than 10 percent. "Menstruation is the biggest taboo in my country," he said.
The film highlights just how taboo and political the conversation surrounding periods has become. 
Understanding and Accepting Menstruation
It's not easy to consider menstruation as an empowering or beautiful thing—it's inherently messy and often painful, and has been used against women since the dawn of time. Like the women in the Hapur District, many women all over the world have felt drawbacks due to longstanding taboos including the idea that it makes one weak, unfit for public tasks, or that periods are linked with contamination and disease. There is a worldwide crisis when it comes to understanding and discussing feminine hygiene and health. Studies on girls in Iran, Afghanistan, and Bolivia show that the long-held myths that link periods with disease and contamination cause pressure on girls to abstain from bathing and going out in public, to play, or to go to school. In Sri Lanka, 60 percent of female students are kept home from school by their parents while on their periods. Meanwhile, 75 percent of girls in Nairobi's Mathare slum don't understand how they can know when to expect their periods. In Nepal, a social taboo with roots in Hindu culture continues to pressure women to sequester themselves in small huts when menstruating, and, the New York Times reports, "each year, at least a couple of women die in these huts from exposure, animal bites or smoke inhalation after building fires to stay warm during the Himalayan winter."
The crisis extends beyond poor regions and countries with a bad track record for women's rights. In the United States, period politics have become mainstream as groups advocate for better feminine hygiene access in facilities ranging from middle schools to women's prisons. The concept of "menstrual equity"—that is, equal access to hygiene products and reproductive health education—has been the basis for a variety of new policies and helped fuel the outrage over the "tampon tax."
However, even if menstrual equity is achieved, women and girls are still faced with the task of unlearning a sense of shame regarding menstruation. During a recent interview at Twitter's SXSW Conference, actress Lupita Nyong'o discussed how Period. End of Sentence. helped her to realize that she wasn't free from the shame of having a period. Nyong'o only discovered the film when it won at the Oscars, and she admitted that when it received its award she felt a moment of discomfort. However, her discomfort forced her to look inward: "I recognized in that moment how little we talk about these things in the open—and now really reflecting on the film, I've realized how much shame we are taught to have about our natural bodies and how much ignorance there is about what a period is," Nyong'o said. "Shaming the cycle of a woman leads to a cycle of shame. When a woman is not permitted to accept her body, how can we expect her to stand up for her body when it's being abused? It's important for us—men and women—to respect our bodies. End of sentence."
The women in the film face more adversity than many of us could ever imagine when it comes to managing and understanding their periods. However, through their example, maybe we can learn to love our bodies a little better, and speak openly to our younger sisters, daughters, and friends about why it is beyond okay to be a woman—our cycles can be empowering because of what they represent and how they distinguish us. As one woman in the documentary said: "Women are the base of any society. And women are more powerful. But they don't recognize themselves. They don't know how much power they have and what (they) can do." 
Editors' Note: Verily's mission is to empower women to be less of who they should be, more of who they are. If you support this mission and you want to see us go to print, subscribe today to Verily Yours. You'll receive exclusive, quality content that will simplify and elevate your everyday, while supporting empowering women's media.