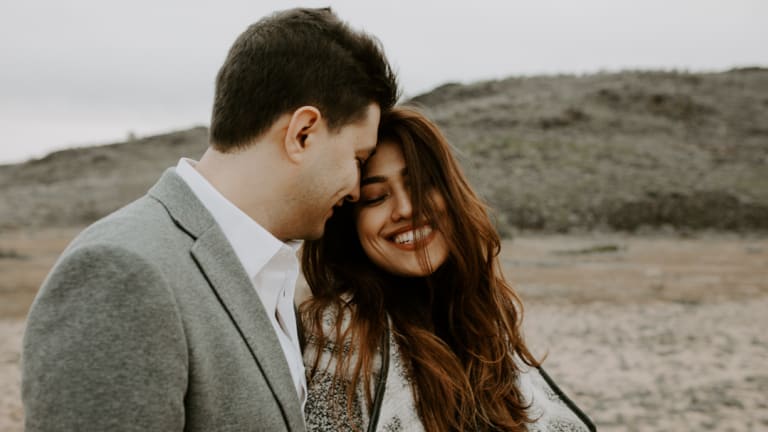 Dating Unscripted: Mr. Right vs. Mr. Right Now
Sometimes, timing is everything.
It was Saint Patrick's Day, and after a couple of drinks, I texted a sober friend to drive my friends and me to McDonald's for a late-night snack. He did, and along came his handsome older brother, John. John and I stayed in contact, and went on dates whenever we coincided in our travels. Fast forward nine months, and John flew to my town to see me. We went out for dinner and took a long walk on the beach that culminated in our first kiss.
But our committed relationship only lasted six months. Out of the blue, I received a call from John saying that we were going nowhere. My heart was smashed into pieces. He proposed to stay friends, but I knew I couldn't do that, and given the lack of explanation for the breakup it was hard (read: impossible) to get any closure. For months, my mind went wild trying to understand what had happened. Once I was over the emotional wreck, here is how I realized the time wasn't right.
01. We were not in the same place.
John is three years older than me, which in our case meant that he had a stable job, developed hobbies, and a clear five-year plan. On the other hand, I had just graduated from college, my parents were moving to another country, and I was still trying to figure out what I wanted to do when I "grew up" and where to settle given that the home base was shifting. This became a huge stressor, because my natural inclination was to cling to him for answers that he couldn't provide. I had to make adult decisions on my own, and that was no easy task. Looking back, I clearly needed some time on my own—a gift John gave to me by breaking our relationship off.
02. We both valued our independence—perhaps too much.
Over the span of our six-month, long-distance relationship, we didn't see each other for three months because we were "too busy." During this time, John went to China, worked two jobs, and accumulated as many hours as possible for his pilot's license, while I took five college classes, worked 25 hours a week, and went to India and South America. We thought this was fine and took pride in the fact that we didn't let our relationship distract us from our responsibilities and goals. But in retrospect it really undermined our relationship. We still talked to each other every night, but emotional intimacy was getting harder and harder as time went by, to the point that we couldn't connect at all.
03. I needed to become confident in my ability to improve myself.
As the months went by and my processing continued, it became clear to me that though John was perhaps Mr. Right, he clearly wasn't Mr. Right Now. In an attempt to cope with the heartbreak, I sat down and listed everything that I liked and didn't like about him, as well as what I liked and didn't like about our relationship. This exercise revealed to me that John brought the best out of me and pushed me to be better—that's attractive.
But I believed that I should be able to push myself to improve even without John's encouragement. So I did. I spent the summer as my own self-help coach and lived every day to become my best self. I started reading one book a week, made new friends and improved my already-existing friendships, groomed myself a bit more, signed up for barre classes, and started volunteering in a character school for inner-city girls. I took these efforts at self-improvement extremely seriously, and they got me over the heartbreak. Above all, becoming more fully myself provided the mental clarity I needed so that everything else could fall into place.
Suddenly, I got a job offer in John's city, and I took it. I had to promise my mom, sister, and an army of girlfriends that I wouldn't contact John while there, and I didn't. Until he contacted me—and I didn't text back. But weeks later I reached out, and long story short, we decided that given the change in circumstances, and the fact that we were both committed to dedicating quality time to this relationship, it was worth a second shot.
Only time will tell whether he really is Mr. Right, but I can certainly say that the time really is right. Infatuation and a simple desire to be together can give rise to dating relationships that sometimes aren't workable. Whether you both have time, emotional availability, and an ability to live near one another are important factors to consider when making a decision about a dating relationship. Previous generations took this into consideration more than we do these days. They prioritized matters of family, finances, and convenience over the romantic ideal, "We just want to be together." While I'm thankful that modern dating norms allow for some flexibility, there's certainly a sweet spot between these two approaches. If you find yourself in a situation in which dating seems hard but you have a sincere desire to be with the other person, keep in mind that if it is meant to be, it will be. You'll have to be patient and trust the process; the right things will come at the right time.
In John's eyes, it was clear that there was no purpose in pursuing a relationship while we were both running all over the place. Sure, we were together, but the quality of our togetherness was in decline, and a low-quality relationship is never worth it. As much as I wasn't happy with the breakup, it provided me with the perspective and maturity required to move this relationship forward. We've come to value our time together more as everything else falls into place. We still travel, work, and pursue things on our own, as we should; but instead of phone calls at 11 p.m., our date nights consist of candlelight dinners and more long walks on the beach, where our first kiss has led to many others.
Editors' Note: Dating Unscripted is a column in our Readers' Write section. Submit your own story here.
Verily's mission is to empower women to be less of who they should be, more of who they are. If you support this mission and you want to see us go to print, subscribe today to Verily Yours. You'll receive exclusive, quality content that will simplify and elevate your everyday, while supporting empowering women's media.