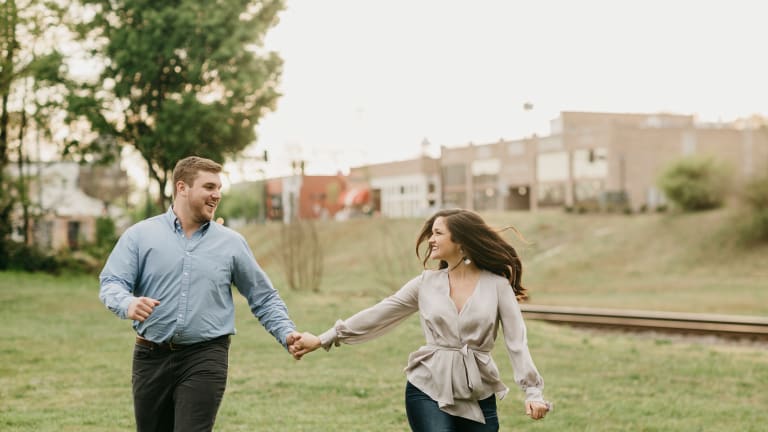 Taking Dating from Unscripted to Intentional
Navigating the chaotic world of modern dating
I remember returning home on fall break after my first few weeks at college and showing my grandmother a picture of my new classmates at college. As I pointed out which students I knew by name, she exclaimed, "That's wonderful! Now, go date all the boys!"
Um, what?
As my grandmother talked more about what she had in mind, I came to realize that she was operating on a totally different understanding of what "dating" means.
To me, "dating" means an exclusive relationship: calling one another boyfriend and girlfriend, meeting the family, exchanging gifts on Valentine's Day . . . that kind of stuff. For my grandmother, "dating" meant meeting up with a different boy every night, with minimal romantic expectations, for casual conversation over ice cream or after a movie.
Without question, the dating scene has rapidly changed over the past few decades. Gone are the days of dating widely and then "going steady" as many of us struggle to find a serious commitment against the backdrop of widespread hook-up culture.
Even in communities where dating is taken more seriously, there is often a lack of consensus about what the expectations are within a serious relationship. I know couples who kissed before the first date and couples who did not kiss until their wedding day. Which stories ought to set my expectations for romance?
Texting and dating apps have also changed social norms. While there are certainly some great success stories, technology also has some negative effects on dating culture. It lowers the bar for what counts as real communication (getting asked out over text or instant message instead of in person or on the phone), and it creates a false illusion that the dating pool is infinite with another, potentially better, match just around the corner.
Online dating and dating apps can generate some serious FOMO. When a relationship starts to get serious, it typically involves getting serious about the relationship's shortcomings. The ease and accessibility of online dating and dating apps can trick us into thinking that greener pastures are just a swipe away. We fear missing out on relationships that don't even exist, which can distract us from the people who are right in front of us.
As an introvert, I love that there are now more ways to communicate in writing, which gives me time to think and process what I want to say. But I've also had the unpleasant experience of falling for someone's online persona, only to find out that we have zero chemistry in person.
So there's one thing we know for sure: dating today is complicated. Modern dating is entirely improvisation. Sometimes, that can be liberating—you and your S.O. can move at the pace that is right for you—but sometimes it can be confusing.
Clarifying the Dating Scene for Yourself and Others
Dating has always been a dance between the casual and the intentional—"getting to know someone" and "getting married" are not mutually exclusive. However, expectations and perceptions along that spectrum can be vary wildly, and without a social script for dating, it can be hard to communicate what you want out of a relationship.
Both guy friends and girl friends have told me they have found themselves in situations, catch-up sessions over drinks or meetings over coffee, that they only realized in hindsight were dates—or at least felt like dates. In scenarios like these, it can feel like nobody is in control. Then, of course, there are the moving goal posts of the "friendzone." The line between "just friends" and "more than just friends" can be razor thin. (I wish I could tell you how to tell the two apart, but frankly, the difference is a mystery to me.)
So in a world without dating norms, what's a girl to do? We can set ourselves up for success by opting out of the unhelpful aspects of modern dating and making space for real connections.
After a Boston College philosophy professor noticed her students' romantic frustrations, she started a project that is now the subject of an online documentary: The Dating Assignment.
The rules of the assignment restore some normalcy to the Wild West of dating. They encourage in-person interaction with measured expectations, clear communication, and healthy boundaries.
Here's how the Dating Assignment works: Keep the date casual (45-90 minutes, under $10, with no more than an "A-frame" hug at the end) yet intentional (ask in person, communicate the plan in advance, and most importantly, tell the other person this is a date). Adhering to these simple guidelines can provide ideal conditions for the two of you to explore a possible connection.
Of course, not everyone will receive this assignment in the classroom, or create a brand new dating culture across their peer group from scratch. So how can we recreate this ideal environment with our peers? Being straightforward and assertive about expectations is key.
While I usually am a huge advocate for guys taking the lead when it comes to first dates, there is so much room for miscommunication these days, and it's okay to ask for, or create, some clarity. Feel empowered to ask for clarification about your relationship status with someone and to propose a date yourself, if you want to.
If a one-on-one date still feels too intimidating, try creating an environment where like-minded people can make new friends and explore romantic possibilities. Team up with friends to get a group of singles together to bond over a common activity or mingle at a casual party. Casual activities help people meet and get to know each other in a low-pressure, low-stakes kind of way.
I like this option because it's so natural. It's easy to meet like-minded people doing what you love, whether that's hiking, playing sports, cooking, going to the theater, or attending a lecture. The next time you plan a day doing what you love, use it as an opportunity to meet someone new. You might make a new friend, or you might make a romantic connection.
Without a go-to script for dating, it takes more effort in order to bring about positive encounters and cultivate healthy relationships—but these efforts aren't out of reach, and they're totally worth it.
 Editors' Note: Verily's mission is to empower women to be less of who they should be, more of who they are. If you support this mission and you want to see us go to print, subscribe today to Verily Yours. You'll receive exclusive, quality content that will simplify and elevate your everyday, while supporting empowering women's media.