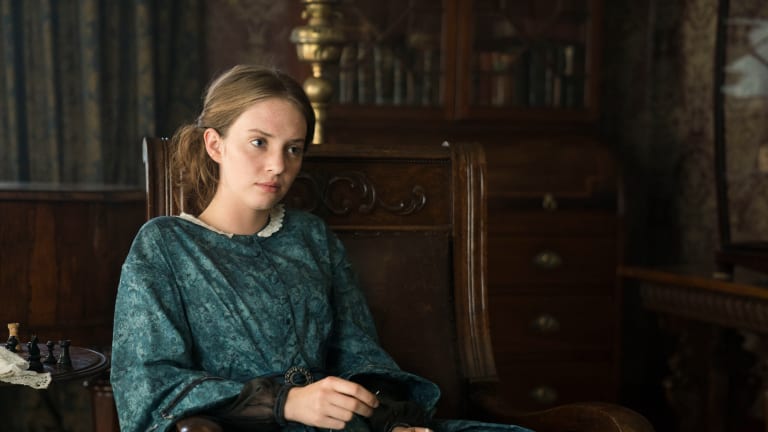 Lessons from Literary Heroes: Jo March
What I learned from Jo March about strong femininity
One of my favorite movies from childhood is Little Women. And once I read Louisa May Alcott's classic book, I loved the classic story even more. Coming from a large family myself, I loved that the March girls didn't always get along (who could forget when Amy burned Jo's manuscript—yikes!). They teased each other about potential suitors (poor Meg!), formed a creative writing group, and banded together as close-knit sisters during a difficult time. They seemed so real, in contrast to the shallow characters of some other movies and books. Now, in my late twenties, I have a whole new appreciation for the March family. I know what it's like to grow up, fall in love, and struggle to find your place in the world.
Jo was always my favorite of the March sisters. I love her strong personality, her fierce determination, and, I have to admit, I definitely appreciate how difficult it was for her to fit in, since I haven't always fit in very well in my own family and social circles.
As I look back on my early days reading Little Women, I realize that I learned a lot from Jo about how to be a strong woman and what true femininity can look like. It doesn't have to mean getting married, living near your parents, and having babies, as Meg does. It can also mean going off on your own into the world and making your own path. For Jo, that path eventually did lead back home, to marrying a dashing philosopher and starting her own school. But what I really learned from her story is that my story can be entirely unique.
Whatever your path in life, I think we can all learn a few lessons from Jo March about the traits of strong, authentic femininity.
Invest in relationships.
Throughout the book, it's clear that the March girls have close relationships with each other and with their parents. When they are younger, the closeness of the sisters leads to typical sibling disagreements, the usual mischief, and fun times. And when they work through tough issues, their relationship is stronger than ever.
Jo also shows that true feminine strength does not mean that you have to reject your family—she keeps her close family ties while pursuing her own dreams. When she receives word that Beth is dying, she leaves her job as a tutor and comes home to be with family. Jo shows us that it is possible to go out and chase our dreams while still being rooted in those whom we love at home.
But valuing relationships doesn't have to apply only to family ties; not everyone has wonderful family relationships. Friends can also be invaluable. The lesson to learn from Jo here is to find your people, whether family or friends, and make the effort to invest in and maintain close relationships with them as much as possible.
Develop your unique talents.
As Jo grows up, she struggles with lacking an outlet through which to pursue her gift for writing. She forms the Pickwick Club that produces the family newspaper (to which the sisters all contribute), but as she gets older she finds that there isn't much demand for her skills. Jo works hard, eventually getting published, but also dealing with lots of disappointments along the way.
Moving to New York to pursue her writing dreams is a major turning point for Jo. There she meets Friedrich Bhaer, a German professor, who encourages Jo to write from the heart, to be true to who she is, instead of just writing what she thinks people want to read. This self-awareness and loyalty to her deepest convictions become key to Jo's success.
Being strong women does not mean adjusting ourselves to fit the world's definitions of who we should be. Rather, it means being true to who we are and developing our own talents, whatever they might be. What I learned from Jo's example, and Frederick Bhaer's good advice, is simple: chase your dreams in a way that will make you proud—not the random critic who feels entitled to have an opinion about your work and your worth. Staying loyal to your deepest convictions and accepting criticism from only those you truly respect can lead to successes to be proud of.
Accept your imperfections.
As Jo's friendship with Friedrich matures, in the 1994 film adaptation, she admits to feeling "hopelessly flawed." Frederick responds gently, "I think we are all hopelessly flawed." Jo is well aware of her flaws—her temper, for instance, plays a large role in the plot. However, Friedrich does not scold her for her imperfections. Rather, he accepts those imperfections, and encourages her to accept them also, by reminding her that everyone is "hopelessly flawed."
All too often, we put pressure on ourselves to be perfect. We obsess over our flaws and let them hold us back from worthwhile pursuits. It's easy to not pursue a job possibility because we aren't confident that we are good enough, or, in the face of a very good man, to feel completely inadequate and wonder if that means the relationship is doomed to fail. However, instead of focusing on our imperfections, we should focus on our strengths.
Jo March gives us a picture of what strong femininity means. She is independent, yet maintains close ties with her family. She pursues her dreams and develops her talents, eventually learning that it is best to be true to who she is instead of who the world would like her to be. She accepts her own imperfections, which helps her to have the courage to move forward in life, eventually accepting Friedrich's love. She shows us what it means for her to be a woman in her own unique way, and she can inspire us to become strong, independent women who chase our own dreams and remain true to who we are. 
 Editors' Note: Verily's mission is to empower women to be less of who they should be, more of who they are. If you support this mission and you want to see us go to print, subscribe today to Verily Yours. You'll receive exclusive, quality content that will simplify and elevate your everyday, while supporting empowering women's media.