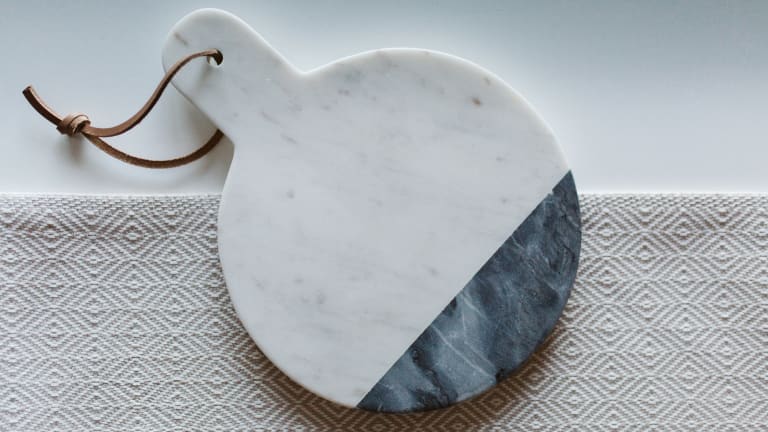 Marie Kondo's Guide to Kitchen Organization
Organize your kitchen like Marie Kondo in eight easy steps
When organization-extraordinaire Marie Kondo's book The Life-Changing Magic of Tidying Up became a New York Times Bestseller, it was only a matter of time before it would find its way to our screens. So when Netflix announced it was producing a series of exclusive episodes starring Kondo, we knew we had to see it. Each episode of Tidying Up With Marie Kondo features one family Kondo guides toward achieving their tidying goals, from clearing out a garage to organizing a tiny living space.
Miss Kondo does not disappoint. She is so charming, sincere, and passionate about her job that it rubs off on her clients even when tidying is their least favorite activity. The first episode highlights a family of four who reminds me of just about any normal American family. Upon first glance, their house looks spic and span, but looks can be deceiving of course. A closer inspection reveals shelves and drawers overflowing with snacks and kitchen tools galore.
While Kondo quickly gets the family to organize the entire house, we were most inspired by her easy to-follow yet effective kitchen organization hacks. Here are eight tips to tidying your own kitchen (and changing your life!) with a bit of KonMari magic.
01. 
Start by emptying one or two shelves or drawers at a time. Attempting to organize the entire kitchen at once can make it an overwhelming process which could stall or prevent you from organizing the space.
02. 
Be prepared to pare down extra or expired items by keeping a couple boxes and garbage bags nearby. Check labels and toss any expired foods. If you find multiples of the same tool, free up space by putting the extra pieces in a box for donation.
03. 
Group like items with like items on the counter or dining table. Cleaning supplies, non-perishable foods, storage containers, and spices are some examples of categories in the average kitchen.
04. 
Place your least-used items like appliances, or serving platters for entertaining, in harder-to-reach areas like on high shelves or underneath the kitchen sink.
05. 
When storing odd-shaped cooking tools and utensils, first separate them by size. Then determine how many containers you need depending on the different groups of sizes.
06. 
Place similarly sized items in open containers inside drawers or cabinets to keep them from getting mixed up and to make it easier to access them. Put baking ingredients in one container you can take off a high shelf or put cleaning supplies in a basket you can pull out from a bottom cabinet.
07. 
For temporary storage, you can use empty shoe, tissue, delivery boxes, etc., and slowly replace them with more permanent solutions from your local home goods stores.
08. 
Think about how you move around your kitchen while you cook or prepare food. Then organize your kitchen items close to where you typically use them. For instance, place spices and cooking utensils near the stove and cutting boards and knives on the counter you typically use for slicing and dicing.
These changes take effort and planning, but they will make using your kitchen so much more efficient and enjoyable. So you can make the most of your time and energy trying new recipes and hosting dinners for friends. Good luck!