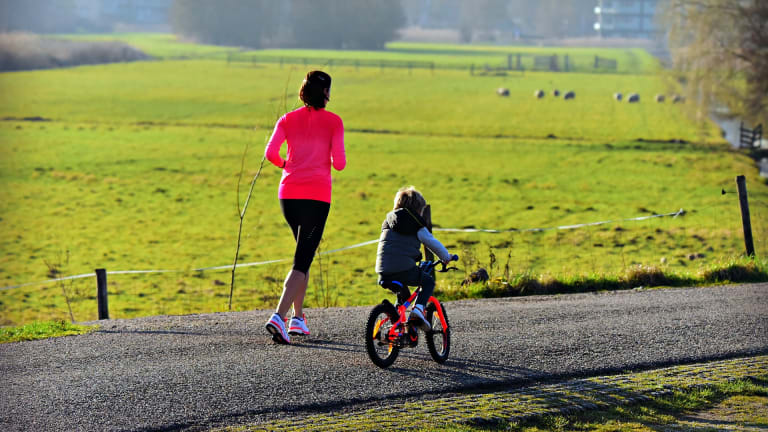 Giving Up The Gym Doesn't Mean I Gave Up Working Out
Taking a new approach to the meaning of "exercise."
Working up a sweat is a necessity for me. I crave that time to push my body to the limits and enjoy those natural endorphins that comes from a good workout. That, and I feel a whole lot better eating an extra slice of pizza or enjoying a glass of wine knowing I'm caring for my body in other ways.

But making time to exercise can be tough, especially when it involves going someplace, like a gym, to get in a workout. Add in kids, a demanding job, and other responsibilities and, well, good luck with that.

There was a time when I'd hit the gym almost daily, taking kickboxing and spinning classes and hating on the treadmill that got me nowhere. I liked the camaraderie and diversity of equipment and classes at the gym.

After I had my first child, I gave up the gym for good. While some gyms have childcare, the ones near where I lived did not, so it was a challenge to juggle my work schedule with my husband's just so I could get that hour away at the gym. Plus, I didn't like the time I had to take to get there and back from my home or the sometimes self-conscious feelings I had that I wasn't doing things right or using the machines correctly.

But I still found I needed to work out to stay sane. I just felt better knowing I was attentive to my body on a physical level and I really love the feeling of growing stronger. Exercising also helps me to focus on something other than work and kids and it's usually a time that some of my better ideas present themselves! I gave up the gym but I didn't give up exercising; I just got more creative. Here is what I've found works.
01. Combine workout videos and neighborhood cardio
My mom loved to work out at home when she was raising my brothers and me. I found endless entertainment watching her keep up with the eighties fitness videos she watched featuring women in spandex and uncomfortable leotards. While that was definitely not for me, I did end up buying several Jillian Michaels DVDs and started a routine at home using her workouts interspersed with running outside with the baby jogger.

I really liked the at-home workouts and they were easy to fit in if I got up early enough in the morning. Even in the winter, I could bundle up and run outside before everyone got up. I missed the classes at the gym but so far, this worked.
02. Hobbies and chores that are workouts, too
This is when I became an amateur outdoors woman. I learned that hiking is an incredibly challenging workout. I also learned that kayaking is an awesome way to get those tank top-ready shoulders and arms.
Further, I discovered that raking leaves in the fall and shoveling snow in the winter can be a heck of a workout. Chores felt like less of a chore, so to speak, when I focused on the workout I was getting in at the same time.
03. At home weight lifting

Weight lifting does not require gym machines. This was a revelation to me. I had used strength training since high school to stay in shape but not in a way that truly changed how I exercised. I found that using free weights changed how my body looked and felt. My legs and arms became more defined and I felt stronger.
Then I came across a married couple who runs FitnessBlender.com, a site that offers hundreds of free workouts, and I knew I'd never go back to the gym. Through their workouts and programs, which are anywhere from five minutes to over an hour, strength training became a consistent routine every week.
It doesn't matter if you're a beginner or expert because how difficult strength training is depends on how much you lift (and proper form, which these particular trainers are very good at explaining). With strength training, it's a good idea to have weights so you can build muscle but often, most of the exercise can be done without them or you can use a water bottle or even cans of food as substitutes for dumbbells.
Whatever your reason for wanting to get in shape or if you just crave a good workout, don't be afraid to be creative in figuring out how to push your body outside the gym. Giving up the gym has forced me to be innovative and, more importantly, has opened my eyes to new and fun ways to exercise that give me more time with my family.