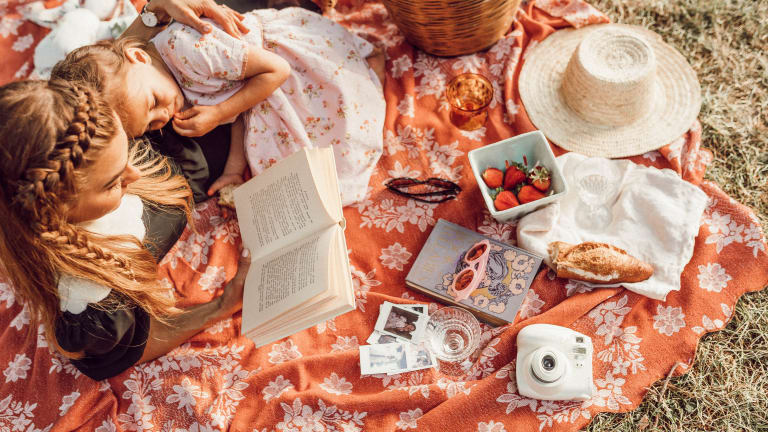 What My Aunt's Cooking Lessons Taught Me About Relationships
There's wisdom to be found in the kitchen
I was home-schooled growing up, so my classes took a non-traditional form. For example, once a week I went to my friend's home to learn German from her mom. Another regular activity was ballroom dance lessons with other home-schooled students. But a favorite class of mine was the time each week when my aunt came over to my house to teach me cooking.
This was the aunt whose family gathered around the dinner table not out of force, but because they couldn't resist taking part in a hearty home-cooked meal. My aunt was known for her love of being in the kitchen and the joy she took in setting a delicious table for her husband and children.
There were many moments where her joyful spirit, combined with my newness to cooking, gave rise to laughable incidents (I'll never forget when she taught me to make meatballs and what it was like to handle the goopy, raw mixture). She encouraged me to try new recipes, even if they didn't seem immediately appealing. One of these recipes was Chicken Cordon Bleu, a recipe I had never heard of. At the time I didn't understand how combining chicken, ham, and Swiss cheese could be anything but gross; but, after taking a cooking risk, I developed a full appreciation for the savory French dish.
These cooking classes were studded with small moments of simple wisdom. For example, when I thought we were done with a mixing bowl I'd pick it up to place it in the sink, and she would stop me, exclaiming, "What are you doing—we need to get the rest out with a spatula to scrape out all of the goodness!" As she scraped away, she would show me all of the food she was still able to salvage, and as she did so would say, "Look at all of that goodness, there is so much goodness still in there!" Each week when she arrived, I knew I would not only be taught the skills of cooking well, but I would be shown what it looked like to cook with your heart—to cook with love.
I learned lessons from my aunt's cooking class that reach far beyond my cooking skills (though I still make a mean Chicken Cordon Bleu!). In retrospect, I can see what made our relationship work so well, and it helps me to think about how to develop these relationships with my own nieces—and indeed many other people I know, family or otherwise.
She showed me the meaning of quality time.
The first essential ingredient of my relationship with my aunt was that she took time out of her busy day to be with me. Our time together afforded many opportunities for us to simply chat. Of course, the first portion of her time with me included laying out all of the ingredients and coming up with a game plan of how we were going to go about the recipe, but while the oven was preheating or the food cooking, it was our time to sit at the counter with a cup of tea or coffee and share about our lives. The hours carved out each week for us to work together were hours that went into building a stronger foundation for our friendship. She would share with me about how her week was going and what she had planned for the upcoming weekend, and I would share the same with her. That simple gift of quality time was the foundation for our relationship.
She was an example of what it looks like to give respect in relationships.
My aunt made it clear that she respected me, and I respected her as well. She made me feel like her equal, and conversations between us came about naturally and comfortably. It meant so much to me that I was growing closer to her through the time we spent cooking together. It allowed us to have an independent relationship that was not reliant on the occasional interaction at family get-togethers. Nor was I a silent observer of the conversations I overheard when my aunt stopped by to visit with my mom over a few cups of coffee; instead, I was invited to join them. My aunt's relationship with me as her niece also drew me into her friendship with my mom, and thus drew our whole family closer together.
She cultivated a spirit of openness in me.
My aunt respected me and drew me into the conversation, but I also had to bring an open heart to the table. If I had had a bad attitude about the whole idea of the cooking class, my aunt would have faced a stubborn niece who would only go through the motions in order to "pass the class." If I hadn't appreciated her valuable gifts and skills, I wouldn't have had the patience to learn what she needed to teach me. Having an open mind and receptive heart allowed me not only to learn the skills that she shared, but also to receive the nuggets of wisdom she imparted.
My aunt helped me to notice the smallest things and showed me how they made a big difference in the end result. Her example showed me how much she cared for every detail, because attending to every detail was a tangible way that she could love those she nourished through her cooking. And even though the cooking class I had with her might seem like a small, insignificant event in a long life, it made a huge difference to me. It is so important to cultivate relationships where you open yourself up to learning from others. Not only does this give you the opportunity to grow in another area of your life, but it can build an unexpected bond that will carry on outside of that learning experience.
Editors' Note: Verily's mission is to empower women to be less of who they should be, more of who they are. If you support this mission and you want to see us go to print, subscribe today to Verily Yours. You'll receive exclusive, quality content that will simplify and elevate your everyday, while supporting empowering women's media.