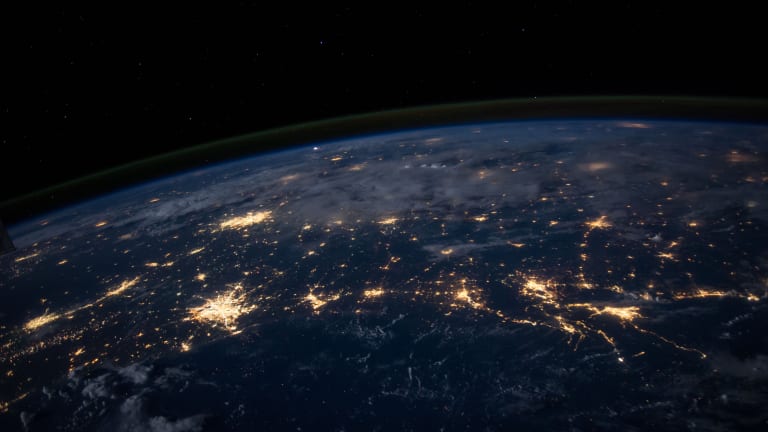 First All-Female Spacewalk Postponed Because of Spacesuit Sizing Issues, and Other Notes from the Week
Catch up on all the news you might have missed with our handy summary of the week's top stories.
We're pleased to bring you "While You Were Out"—Verily quick takes on the happenings of this week.
First All-Female Spacewalk Postponed Because of Spacesuit Sizing Issues
Today was to be the day for the first all-female spacewalk, performed by Anne McClain and Christina Koch. The spacewalk is the second in a trio of planned trips outside of the International Space Station to perform repairs and upgrades on the twenty-year-old station, namely to "install powerful lithium-ion batteries for one pair of the station's solar arrays."
Unfortunately, both women fit best into the same size suit, only one of which was slated to be ready in time. Because McClain already performed a spacewalk on March 22, Koch will wear the suit this time, accompanied by Nick Hague (who worked with McClain on that March 22 walk). McClain is scheduled for another opportunity April 8 with Canadian Space Agency astronaut David Saint-Jacques.
McClain and Koch are still making history: they were members of the 2013 astronaut class, half of which was female, and they are the 13th and 14th women to make a spacewalk—even if they're not making it together.
The spacewalk can be viewed live at NASA's website. Coverage is scheduled to begin at 6:30am ET, with the walk itself beginning at 8:20am. The spacewalk is expected to last about six and a half hours. For more from space, follow McClain (@AstroAnnimal) and Koch (@Astro_Christina) on Twitter, where they are posting photos from the ISS. —Lindsay Schlegel
Barbra Streisand Belittles Alleged Sex-Abuse Victims of Michael Jackson, Then Apologizes
Barbra Streisand caused facepalms across the globe this past week when a Times of London interview was published in which she downplayed the alleged sexual abuse of minors when asked about Michael Jackson. Asked about her thoughts on the damning portrayal of Jackson in the HBO documentary Leaving Neverland, Streisand said, "His sexual needs were his sexual needs, coming from whatever childhood he has or whatever DNA he has. . . . You can say 'molested,' but those children, as you heard say, they were thrilled to be there," she said of the alleged victims. "They both married and they both have children, so it didn't kill them."
Streisand has since expressed remorse for her comments and apologized, but her justification of sexual abuse as tolerable in the name of a perpetrator's "sexual needs," was a cringeworthy moment that is hard to shake. The public outcry was encouraging, though. —Mary Rose Somarriba
Three Lives Lost to Suicide this Month by Survivors of School Shootings
This week media outlets broke the news about a heartbreaking correlation between school shootings and consequent suicides, reporting that in a timeframe of just 10 days this month three people directly affected by the shootings died by suicide.
Two were students during the 2018 shooting at Marjory Stoneman Douglas High School in Parkland, Florida. They were Sydney Aiello, 19, whose best friend was killed by the gunman, and a sophomore boy whose name has not been reported. The third was Jerry Richman, a neuropharmacologist whose daughter, Avielle, 6, was killed during the 2012 shooting at Sandy Hook Elementary School in Newton, Connecticut.
Sydney's mother told CBS Miami that her daughter "struggled with "survivor's guilt' and was recently diagnosed with post-traumatic stress disorder." She also reportedly "struggled to attend college classes because she was afraid of being in a classroom." Then, a week later, the unnamed sophomore present at the same shooting also died by suicide.
Jerry, who died by suicide on March 25th, had founded the Avielle Foundation, named after his daughter, to prevent future violence by "undercover[ing] the neurological underpinnings of violence." According to the foundation's website, he was "was deeply devoted to supporting research into brain abnormalities that are linked to abnormal behavior."
This sudden string of suicides, within just weeks of each other, speaks chillingly to the long-term and deeply damaging effects of witnessing and surviving senseless violence, especially when done to children and minors. —Mariel Lindsay
European Union Passes Controversial Copyright Law that Could Change the Internet
This week the European Union Parliament passed a controversial new copyright directive that has incensed artists and other creatives who believe that it will effectively limit or even censor their ability to stream or download content online.
The legislation will effectively obligate major online platforms (i.e. Facebook, Twitter, Soundcloud, etc.) to purchase and maintain copyright licenses that make them responsible for any copyright infringements by their users. In the past, users themselves were held responsible for any violations, placing the responsibility on them, not on passive platforms.
Though those advocating for the law say it will prove liberating for users, as they will no longer bear any legal responsibility for what they post online, those who protest it in massive droves have adopted the slogan "Free the Internet." They argue that platforms, in order to ensure compliance with their licenses and consequent responsibility for user content, will enact measures to filter content. What's more, Internet Protocol experts point out that due to the vague nature of the directive, platforms might be anxious and unsure of how to properly implement the policies, resulting in over-monitoring as means of self-protection.
High-profile artists (like Lady Gaga), with money to lose if others commit copyright infringements against their work, voiced their support of the law. But thousands of artists (with far less money) protest it en masse. There is hope for them yet, as member-states of the EU are allotted up to two years to decide how to implement the legislation nationally and legal circumventions could prove possible. —ML
Porn Ban for Minors in the UK May Be Delayed, But Its Demand Remains
While Brexit has delayed the start of Britain's porn ban for minors, The Guardian reports this week that the policy is a go and that it is expected to be a bit of good news after the nation's long awaited step away from the European Union. As many as 83% parents poll that they support the age-verification technology that will become a requirement this year for porn websites to minimize the content children are exposed to.
"When you look at 30 years of empirical research, anyone who argues that porn does not have a profound impact on the social, emotional, cognitive development of kids is akin to a climate change denier," Dr. Gail Dines told The Guardian, adding that child-on-child assault is on the rise due to porn exposure.
"No liberal democracy has ever tried this before," admitted John Carr, secretary of the Children's Charities' Coalition on Internet Safety. "It is an experiment, but then the internet is meant to be the home of innovation. This is innovation." As a publication that has noticed the consequences of online porn for a while now, we couldn't agree more. —Mary Rose Somarriba
'Imitation' Botticelli Painting Discovered to be Real
Experts have concluded that a painting believed to be an imitation of Italian early Renaissance painter Botticelli's work came, in fact, from Botticelli's workshop. Rachel Turnbull, conservation charity English Heritage's Senior Collections Conservator, said that a number of factors, including the style of painting, the age of the piece, the material on which it was painted, and its being "technically correct" all point to it having been painted, at least in part, by the artist's own hand. Painters who worked for him would have contributed as well, in order to help him keep up with his work.
This conclusion means the painting, titled, "Madonna of the Pomegranate (Madonna della Melagrana)," was painted in the fifteenth century. Conservation efforts required removing a thick layer of varnish that was at least 100 years old, and which had previously interfered with proper assessment. Once the restoration was complete, conservation experts used pigment analysis, X-ray testing, and infrared studies to re-evaluate the history of the painting.
The original piece is on display in the Uffizi Gallery in Florence. The piece in question was likely one of several pieces produced at the same time for other customers. It will be on display for public viewing at Ranger's House in Greenwich, London, on April 1, as part of the Wernher Collection. —LS