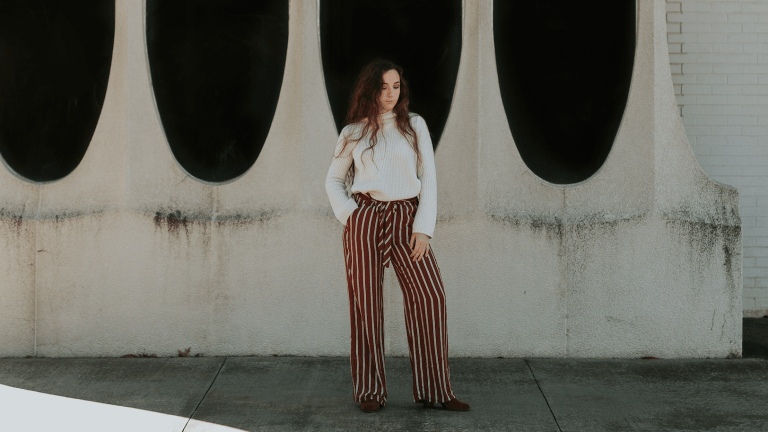 A Guide to Dazzling Evening Events with Elegant Trousers
Look dressy, stay warm
Everyone loves a versatile cocktail dress, but after a few evening parties or concert dates, you may be a little tired of accessorizing the same thing in different ways. Plus, dresses can be cold! If you froze in your tights and sheath at the last party in the dead of winter, it might be time to try wearing some elegant trousers to your next evening occasion.
There are several advantages to wearing slacks in place of a dress. For one thing, while certainly not unheard-of, trousers at cocktail or evening event are still uncommon enough to make you stand out in the crowd. Trousers also aren't usually as tight as skinny jeans, so it's easy to layer leggings or long-johns underneath for added warmth. Also, trousers are just as versatile as cocktail dresses. If you work in an office, you probably already have a nice pair of black trousers in your closet and can easily elevate them with a dressy, evening-appropriate blouse. If they're in a neutral color, these same pants can be worn with multiple different workwear and evening-wear blouses.
When it comes to the red carpet, Emma Watson is the queen of dressy trousers, while Julia Roberts and Diane Kruger tie for the second spot. Check out the tips below to see how you can dress up your workwear trousers to replace your cocktail dress:
01. Wear a skirt over it.
You may have noticed that Emma Watson's signature red-carpet look is some form of elegant trousers. In 2014, Watson wore this red dress to the Golden Globes.
All was not as it seemed, because the back was cut out à la The Parent Trap—but instead of revealing unmentionables, Watson's backless dress revealed a pair of slim black trousers. Très chic. By my count, she's since worn trousers to about thirteen red-carpet or dressy events.
You can create a similar look by wearing a dress over slim trousers, or by pairing a hi-lo shirt or maxi blouse with pants. Then, dress it up with heels and some bling.
The second version of the hi-lo maxi blouse has a shorter front, rather like Julia Roberts' take on this look at the 2019 Critic's Choice Awards:
02. Play with volume and contrast.
Gemma Chan wore this stunner to the 2019 Golden Globes. The voluminous ballgown-style skirt and loose, almost drape-y top balance out the short shorts, keeping them classy and formal enough for an award show.
When you wear slacks to an evening event, experiment with volume and contrast. Keep proportions in mind by going "big" on either the top or the bottom, but not both. If you're wearing slim pants, for instance, then pair them with a slightly looser blouse, one with either big sleeves or a blousy bodice.
You can also go the opposite route, and wear wide-leg pants with a more fitted top. Either way, since you are completely covered on the bottom, you can safely play with tops that show a little more of your neck and shoulders. Blouses with v-necks, low backs, or off-the-shoulder tops will look classy with trousers.
At the 2014 premier of Noah, Watson wore a jumpsuit that looked like creased slacks paired with a deep v-neck sweater.
03. Add a sash.
Watson's at it again with another optical illusion. This pair of pants appears to have a draped section on the front, but it's actually a wide, separate, matching sash worn at the waist—almost a cummerbund!
Now that paper-bag-waisted pants are in style, it's easier to find pants with belts and bows around the waist. You can also achieve a similar look with high-waist trousers and a crop top with a built-in sash. These sashes cinch the waist, creating an hourglass silhouette, and the ties create a bit of drama as they hang down the front of the ensemble.
04. Wear luxe fabrics.
Julia Roberts used contrasting textures in her latest look for the 2019 Golden Globes: sharply-creased black trousers and a soft, translucent, gathered chiffon top. A sure-fire way to dress up your pants is to wear them with a blouse in a luxe contrasting texture, such as leather, lace, velvet, chiffon, or sequins.
At the 2015 Golden Globes, Emma Stone wore contrasting textures and a sash.
05. Go monochromatic.
Another way to help your work slacks look dressier is limit the colors involved by wearing a monochromatic outfit or sticking to two colors. Everyone knows that an all-black ensemble looks elegant, but so does all red, as evidenced by the examples here.
At the 2015 Vanity Fair Oscar party, Diane Kruger wore a one-shouldered red jumpsuit that looked rather like a dress over pants.
Watson again steals the show with an all-red ensemble composed of flared pants and an off-the-shoulder top.
If you don't have work pants, or they need an update, check out these options for chic black trousers as well as bold wide-leg stunners.
Whatever the event, stay warm and stylish in elegant trousers as this winter comes to an end!