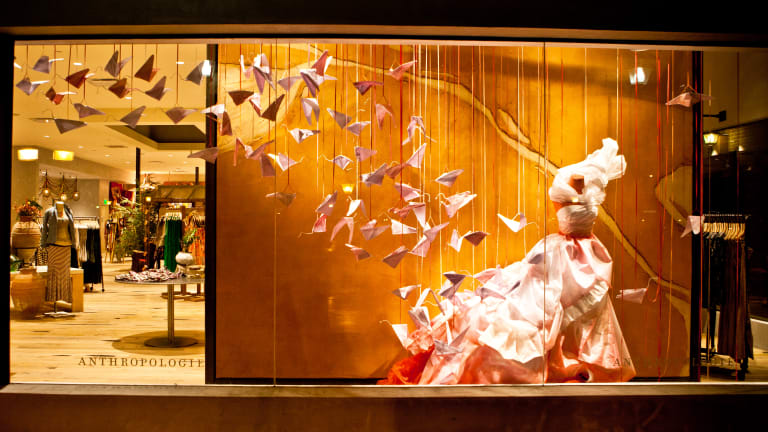 Anthropologie Extends Clothing Sizes With New Plus Size Line and Other News from The Week
Catch up on all the news you might have missed with our handy summary of the week's top stories.
We're pleased to bring you "While You Were Out"—the Verily editors' quick takes on the happenings of this week.
Actress Emma Thompson Pulls out of Upcoming Film After Hiring of Accused Sexual Harasser
Actress, Dame Emma Thompson has withdrawn from her voice role in Skydance Animation's movie Luck after Skydance Media Chief Executive David Ellison announced that he was hiring John Lasseter to head Skydance Animation. Lasseter stepped down from his role as chief creative officer at Pixar and Disney Animation Studios following accusations of sexual misconduct. Lasseter is alleged to have created a "frat-like" work environment, and he admitted to inappropriate physical contact as well as "other missteps."
Thompson reportedly began discussion of her withdrawal from the production following the announcement and officially removed herself on Jan. 20. She wrote a letter to Skydance following her decision and has since made it available to the public.
"It feels very odd to me that you and your company would consider hiring someone with Mr. Lasseter's pattern of misconduct given the present climate in which people with the kind of power that you have can reasonably be expected to step up to the plate," Thompson wrote.
She went on to ask questions regarding his hire, including: "If a man has made women at his companies feel undervalued and disrespected for decades, why should the women at his new company think that any respect he shows them is anything other than an act that he's required to perform by his coach, his therapist and his employment agreement? The message seems to be, 'I am learning to feel respect for women so please be patient while I work on it. It's not easy,'" and: "Much has been said about giving John Lasseter a 'second chance.' But he is presumably being paid millions of dollars to receive that second chance. How much money are the employees at Skydance being paid to GIVE him that second chance?"
Thompson's letter is detailed and thoughtful, and she ends by saying that she, and other's, have spoken out with the hope that the culture of sexual harassment will change for future generations. —Gabriella Patti
Smallest Ever Surviving Newborn Boy Goes Home in Good Health
A Japanese baby made history this week by being the smallest newborn boy to be discharged from the hospital in good health. The baby was delivered via C-section at just 24 weeks (that's the second trimester), weighing less than ten ounces. He spent five months in the Keio University Hospital neonatal intensive care unit (NICU), receiving treatment for breathing and nutrition. He now weighs over seven pounds, which is a common size for a full-term baby at birth.
The baby had stopped growing in utero, which prompted the emergency delivery. The boy's mother expressed her doubts that he would survive. His doctor, Dr. Takeshi Arimitsu, says, "there is a possibility that babies will be able to leave the hospital in good health even though they are born small." Boys born small have a substantially lower survival rate compared with girls, perhaps due to slower development in their lungs. As expected, the baby is adorable. —Lindsay Schlegel
Senate Rejects Born-Alive Abortion Survivors Protection Act
The "Born-Alive Abortion Survivors Protection Act" fell seven votes short of passing the Senate in a vote on Monday. A similar bill, which also requires doctors to provide care for children born alive after an abortion or attempted abortion, was passed in 2002. The major difference between that and the legislation in question is that the latter would enact consequences—namely, fines and jail time—for doctors who don't comply.
Abortion advocates argue that the situation described in the bill is extremely rare. Only six states are required to report data on children born alive post-abortion, and one of them, Florida, reported six cases last year. Elizabeth Nash, a senior state issues manager at the Guttmacher Institute, said the bill demonizes women and providers who participate in abortions at this stage and suggested this legislation is positioned as a stepping stone to ultimately outlaw abortion altogether.
Those in favor of the new measure saw it as "straightforward," in the words of Republican Senator Mitch McConnell. It's important to note that a May 2018 Gallup poll found that while "60 percent of Americans believe abortion should be generally legal in the first three months of pregnancy, just 13 percent say the procedure should be generally legal in the third trimester."
The bill wasn't expected to pass, yet it did serve to shift the current conversation about abortion to third-trimester, or "late-term" abortions. Most of the talk lately about abortion has centered around New York's Reproductive Health Act and other states that are following suit. With conservative judge Brett Kavanaugh now seated on the Supreme Court, we can expect this conversation to continue being front-and-center on the state level. —LS
Anthropologie Extends Clothing Sizes With New, Plus Size Line
The retail clothing store, Anthropologie, is expanding its clothing sizes to accommodate up to size 26W. The company is launching a clothing line called "A+nthropologie" also known as "APlus By Anthropologie." The line features sizes 16W to 26W, and is set to launch on March 15 with 120 new pieces.
Now women of all shapes and sizes will be able to comfortably step out in Anthropologie's dreamy silhouettes and romantic prints. The movement to make the fashion industry more size-positive has grown over the last several years, thanks to the introduction of more plus-size models and campaigns. Moreover, plus size fashion bloggers such as Katie Sturino of The 12ish Style have trailblazed for more inclusivity in sizing with hashtags such as #supersizethelook, where she mimics celebrity fashion to prove that styles and trends aren't restricted to one body type, and #makemysize, which calls out brands for traditionally only making clothes that fit up to a size 14. One hopes more beloved clothing retailers will follow Anthropologie's lead and become more inclusive. —GP
Meghan and Harry Complete A Memorable Trip in Morocco 
The Duke and Duchess of Sussex embarked on a state visit to Morocco this week. The trip aims to strengthen UK ties and highlight the causes championed by Kensington Palace. In keeping with Meghan's focus on education for young girls, the pair began their trip at a rural school supported by the charity Education for All. One of the students painted a henna tattoo for Meghan as a good luck wish for the last few weeks of her pregnancy.
Harry has a dedicated track record of supporting mental health initiatives, and this carried into their state visit as they toured an equine therapy facility, Royal Moroccan Equestrian Club Dar Essalam. They petted the horses and chatted with a young woman with Down's Syndrome named Ekram who spoke about how the horses helped her gain confidence.
Afterward, the Sussexes enjoyed food prepared by Moha Fedal, a popular chef. The group also made Moroccan pancakes using a recipe from the cookbook Together: Our Community Cookbook, authored by Meghan. A group of Muslim women compiled the recipes for the book after preparing food for their community after the Grenfell Tower fire tragedy. With a shared love of food, sincere conversation, (and one or two glorious caftans from Meghan), the Sussexes achieved their goal of shining the spotlight on charity work in Morocco. —Rachel Wilkerson
The Academy Awards Came and Went
The Oscars took place this past Sunday, where the prize for best picture went to The Green Book, best actress went to Olivia Colman (The Favourite), and best actor went to Rami Malek (Bohemian Rhapsody). Netflix's Roma took the prize for best foreign film, and its documentary Period. End of Sentence was awarded best documentary short. Read some of our favorite moments from this year's Oscars, and learn how to imitate some of the red carpet's most stunning looks. —Mary Rose Somarriba
Lady Gaga Clears Bradley Cooper Love Rumors
Among the most memorable moments from the Oscars was when Lady Gaga and Bradley Cooper performed their duet "Shallow" from the film A Star Is Born, which later won the prize for best song. While we reported the moment as "emotionally charged" as the "duo subtly acted in their performance to draw out the drama of the story," apparently many other viewers thought the chemistry between the two exposed an actual love affair between Gaga and Cooper.
Lady Gaga set the story straight this week, speaking to Jimmy Kimmel. "Yes, people saw love, and guess what? That's what we wanted you to see! The movie A Star is Born is a love story. When you're singing love songs that's what you want people to feel. . . . I'm an artist, and I guess we did a good job . . . fooled ya!" —MRS 
'A Star Is Born' Returns to Theaters for One Week, with Extra Footage
If you missed it—or just want to see it again—hit film A Star Is Born returns to select North American theaters today for just one week. The movie is the fourth remake of the original 1937 film (others premiered in 1954 and 1976; all four versions have been nominated for at least four Academy Awards). Last weekend "Shallow," written by Lady Gaga, won the Oscar for Best Original Song.
Before the re-release, the film had grossed a reported $425 million worldwide. It's received critical and popular acclaim for acting, directing, screenplay, cinematography, and music.
While it may look like this limited time offer is only a means of squeezing more money out of a successful endeavor, the extended cut will include twelve minutes of footage not featured in the October 2018 release. Fans can look forward to "extended performances of such songs as opener 'Black Eyes'; 'Alibi'; and Ally, played by Lady Gaga, in her impromptu a cappella performance of 'Shallow,'" according to a Warner Bros. press release, as well as "Clover," a song new to this edition. You can get a sneak peek of Jackson and Ally writing "Clover" here. If you didn't have plans this weekend, you do now. —LS
Watch of the Week
This week Grammy-winning Lauren Daigle performed "You Say" on The Late Late Show With Jimmy Kimmel. The song, which was awarded best contemporary Christian music performance/song last month at the Grammys, speaks to the challenges of overcoming negative self-talk. If you haven't heard it yet, enjoy.