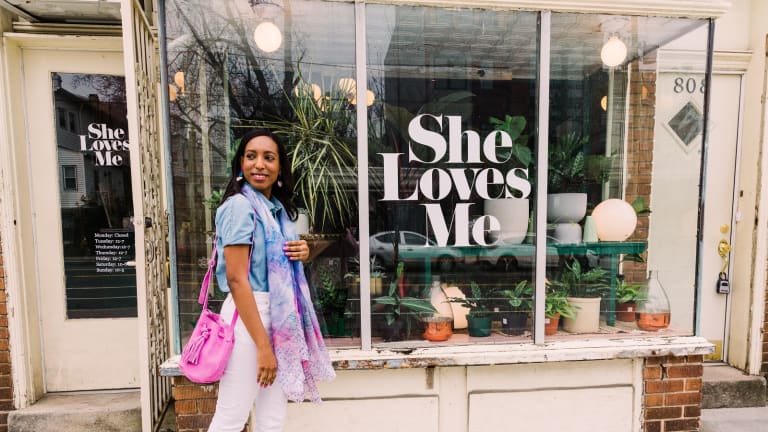 A Spring Outfit to End Generational Poverty for Women
Supporting women with our buying power
From posts on your Instagram explorer page to your Twitter feed, by now I'm sure you've heard that today is International Women's Day. The theme for International Women's Day this year is "Better the balance, better the world"; it is a call-to-action for a greater gender balance in board rooms and classrooms, but most especially in fair and equitable wages for women. What better way to support this day than by highlighting ABLE, a company that is proudly working to end generational poverty by providing economic opportunity for women through artisanship, one job at a time. ABLE is also the first company within the fashion industry to actually publish what they pay their employees, holding themselves and the industry accountable to providing a living wage to their workers.
ABLE began with just a collection of hand-woven scarves and has become an industry-leading ethical fashion brand, offering handmade jewelry, leather goods, denim, clothing, and footwear. According to ABLE's website, "Whether your purchase is produced in Ethiopia, Mexico, Peru, or [their] headquarters in Nashville, TN, each item has one thing in common ... it is made by women" With every purchase of an ABLE item you are helping to end the cycle of generational poverty for women stateside and globally.
And yes, I know there are a lot of companies out there that offer a one-for-one concept or give a portion of their proceeds to help someone, and that is great, truly. ABLE is taking it a step further by actually creating jobs, jobs with dignity (that provide a living wage) for women who might otherwise not have that option in developing, third-world countries or right here at home. Access to economic opportunity is what ultimately shapes the trajectory of a person's life; it's the hand up that makes the most difference . . . and ABLE understands that.
To help showcase some of the gorgeous pieces that ABLE's women artisans from around the world have created, I've curated an outfit for you from ABLE's Spring 2019 collection.
First, I'm wearing the Pilar Popover, the perfect chambray shirt but updated with short sleeves. This top runs large, so size down unless you want more of a loose fit.
If you're looking for a pair of white jeans, give the The Blanca High Rise a try. I'm telling you ABLE gets it right. These are a really well-made pair of jeans that keeps their shape; it doesn't hurt that the high-rise waist provides a control top fit as well. I love how thick the denim feels, still flexible but not overly stretchy.
I finished my look with the Rosa Sandal in Snake, I love a touch of animal print to elevate an outfit and make it pop just a little. Incidentally, these sandals are named after one of the heroic women ABLE works with.
Then I added the Positano Earrings and the Maria Bucket Bag in ABLE's newest color for the season, Lilac.
I know we're all making note of the spring pieces we plan to add to our wardrobe for this season. My challenge to you is, why not make a purchase that will make a difference?
Then I added the Positano Earrings and the Maria Bucket Bag in ABLE's newest color for the season, Lilac.
I hope you found some spring style inspiration from my look above. If you're new to ABLE here are a few highlights that sum up this season's collection from ABLE's Fashion Director Jordan Duncan Soderholm:
Beautiful new additions to their leather colors for Spring, including bone and lilac suede
On-trend denim styles, including a button-front and split hem
Two new jackets – a white wash and a cropped
Super flattering black jumpsuit, wrapped t-shirt dress, and a classic chambray dress and top!
Shoes! We know our girls love leopard, so we have a good feeling about snake in 2019! Plus, don't miss the super elevated Elizabeth Heel!
More acetate jewelry in fun, geometric shapes and colors (orange, red, purple, teal!) to really make a statement
Be sure to check back on ABLE for more Spring apparel that launches on March 15!