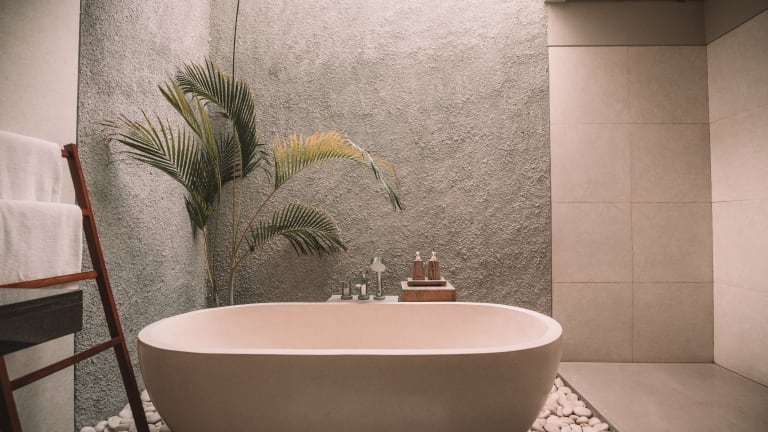 10 Ways to Unwind Without That Nightly Glass of Wine
Tea and a hot bath are not to be underestimated.
"Bra off, hair up, sweats on, wine gone."
"The most expensive part of parenting is all the wine you have to drink."
"Take life one sip at a time."
If you're a millennial woman, there's a good chance you've seen at least one of these sayings on your social media feeds. You've probably also seen the socks with requests for wine printed on the soles, or t-shirts with sayings like, "Relationship Status: Wine." And let's not forget the Instagram images in praise of a boozy brunch—or in lamentation of a hangover.
Yes, wine is firmly embedded in millennial culture. And there's certainly nothing wrong with enjoying a glass every now and again. But while the memes about "wine o'clock" and "mommy juice" might seem cute on the surface, they are indicative of an increase in dangerously heavy drinking among women.
A study published in JAMA Psychiatry found that, between 2001 and 2013, the drinking patterns of the U.S. population as a whole increased. Women were among the groups with the most notable increase, particularly compared to men, and as women drink more, the "gender gap" in drinking patterns shrinks. But since women are more sensitive to the negative effects of alcohol, heavy drinking poses additional dangers.
While the JAMA study wasn't targeted at finding a cause for this trend, the researchers did note a couple of possibilities, from the overall attitude about drinking to the everyday stress of working and raising a family.
Wine, of course, is the cliche drink of choice among millennial women. According to Wine Spectator, "A full two-thirds of high-frequency wine drinkers under 30 years old in 2015 were women." The wine industry has noticed, and has started paying more attention to women's wine habits. And while not everyone is drawn to labels like "Mad Housewife" and "Skinny Girl," data from the Wine Market Council shows that "26% of women have purchased wines that have been created for and are marketed specifically to women."
In some instances, heavy drinking is associated closely with modern womanhood. In a Quartz article, one woman wrote that, as a newly sober woman, it dawned on her "that to be a modern, urbane woman means to be a serious drinker."
According to the Centers for Disease Control and Prevention, among the women in the 18-44 age range who drink, about 18 percent binge drink, which means having 4 or more drinks on one occasion. To put that in context, a standard bottle of wine holds about 5 glasses.
The Washington Post reported that, since 1997, the number of women who binge drink has increased by 40 percent. And as the heavy drinking has increased, so have alcohol-related deaths among women.
Binging isn't the only danger. The National Institute on Alcohol Abuse and Alcoholism defines "at-risk" or "heavy" drinking for women as more than 3 drinks in one day or more than 7 per week. Similarly, the CDC defines heavy drinking as having 8 drinks or more per week.
A SELF Magazine article likened today's use of alcohol to cope—particularly the "Mommy needs wine" mentality—to the Valium epidemic of the 1960s, when women kept "Mother's Little Helper" in their purses. But this culture of heavy drinking can be deeply harmful to women who are already struggling with anxiety and depression by making their symptoms worse.
Because drinking is so embedded in our culture, it's easy for signs of a problem to go unnoticed. A few years ago, a French organization demonstrated this point with an Instagram account that seemingly chronicled the life of a young woman named Louise Delage. What many of her thousands of followers didn't notice was that, in every post, she had an alcoholic drink.
As one brave woman wrote for Verily, it's also possible for us not to see our own problems. In reflecting on her recovery journey, she wrote, "I was completely blind to my problem. It wasn't that I wasn't introspecting; it's just that my relationship with alcohol had become an addiction, and addictions, it turns out, are blind spots." A couple of conversations with honest people changed her life.
As that woman's story shows, the interactions we have with one another can be profoundly life-altering. In some instances, that might mean supporting a friend who decides to seek counseling or join a recovery program. The National Institute on Alcohol and Alcoholism has a short quiz to help us assess our own drinking patterns, along with tools to help change those habits.
We can also support one another by finding healthy ways to cope with stress on a daily basis. While working on this article, I surveyed my friends on how they relax without alcohol. Here are our 10 ideas for how to unwind without that nightly glass of wine.
01. Take a bath
Taking a bath really can boost your mood. Make your bath luxurious by adding bubbles, a bath bomb, or Epsom salts, or consider getting a bath pillow. One of my friends likes to add spearmint and eucalyptus oil for extra relaxation. You can also pair your bath with a good book or audiobook, candlelight, soothing music, or the Calm app.
02. Get active
Exercise can improve your mental health, whether you break a sweat at the gym or simply go for a walk. So walk the dog, enjoy a hiking trail, hit the gym, do some yoga, or find a way to work out at home. One of my friends likes to listen to a podcast when she walks. If you're looking for recommendations, Verily has you covered.
03. Work your brain
While it might seem counterintuitive, several of my friends said working their brains helps them relax. Lounge on the sunny deck with a crossword puzzle, sit down to a jigsaw puzzle, or snuggle under a pile of blankets and do a puzzle on your phone.
04. Create something
As Verily has previously reported, creativity is good for our health. Draw, paint, or color, or try your hand at knitting, sewing, or quilting. One of my friends has taken up iris folding, a paper craft. Of course, creativity needn't be isolated to the craft room. I have one friend who likes to watch cooking shows and recreate the recipes in her kitchen. Another likes to get outside and do nature photography. Nurturing plants can also be a relaxing creative pursuit; get some bright blooms and plant them in your yard or in pots.
05. Read
As a fellow Verily writer put it, "Good stories have the power to inspire, comfort, and embolden us unlike anything else." Picking up a book can be a good escape at the end of a long day.
If you struggle to find time to read, Verily has some tips to help you out. If you're on the go a lot, you can also download audio books and ebooks from your local library using the hoopla app.
06. Clean something
Decluttering can not only reduce stress, but also boost productivity and promote better sleep. For some people, sorting, organizing, and cleaning are relaxing. One of my friends even finds great joy in doing the dishes. In her words, "I get to clear my mind and concentrate on the little details (like making sure the fork is really clean), I feel the hot water on my hands, and I love a crystal clear glass!"
07. Connect with others
Sometimes, we just need a listening ear. In the age of texting and social media, having a good phone conversation can be a soothing balm. If you're craving connection but don't really want to talk, snuggle up with a pet. If you don't have pets of your own, volunteer at a shelter, or consider fostering an animal.
08. Have time alone
One woman I know likes to relax by waking up early and having the house to herself. Another likes going to a movie alone, or going to a coffee shop to read. I always appreciate it when my husband takes the kids so I can go out by myself, whether that's to run errands or browse a favorite store.
09. Treat yourself
Treat yourself to a manicure, pedicure, massage, or other pampering session. This may seem like an expensive way to unwind, but it doesn't have to be. I know one woman uses the money she would have spent on wine to treat herself to the occasional pedicure. You can also check out your local cosmetology school—they offer salon and spa services at discounted rates. If scheduling is a concern, go the DIY route: pick out a new nail polish or face mask, turn on some relaxing music, and turn your bathroom into a spa.
10. Find a new go-to drink
If having an evening drink is a matter of habit, try sipping on something else. One of my friends swears by a relaxing cup of tea. If you're looking for recommendations, Verily has some tea-and-book pairing suggestions. Hot cocoa is another comforting option, and it contains antioxidants. If you'd prefer something cool, combine sparkling water with a splash of fruit juice, and serve it in a pretty glass, or try out some fun mocktails.
Of course, drinking in moderation isn't bad. But like all addictions, alcoholism stems from a regular habit. The good thing about habits is that they can be changed with a little thoughtfulness. So tonight, when you're looking to unwind, if you're tempted to grab a glass of wine, consider doing something different instead. You may even discover a new favorite way to relax.