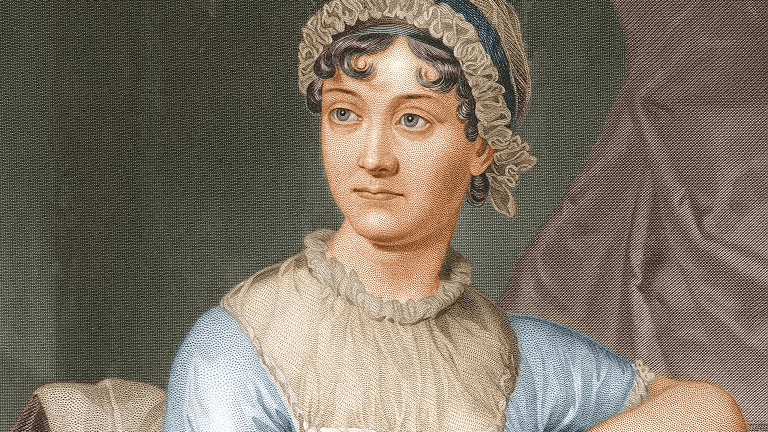 A Long-Lost Jane Austen Letter Is Found, and Other News From the Week
Catch up on all the news you might have missed with our handy summary of the week's top stories.
We're pleased to bring you "While You Were Out"—the Verily editors' quick takes on the happenings of this week.
Jane Austen's Missing Letter Discovered
The discovery of a fragment of a letter Jane Austen wrote to her sister Cassandra piqued the interest of Austen scholars and the literary community this past week. A dedicated correspondent, Austen wrote over 200 letters to her family. After her death, her sister Cassandra allegedly burned many of the letters she wrote, to the perpetual intrigue of Austen biographers.
Rather than revealing an intimate family secret, however, the letter simply relayed a message about the state of the laundry. Jane writes, "God bless you all. I have given Mde. B. my Inventory of the linen, and added two round towels to it by her desire." While some scholars expressed disappointment that the letter did not reveal a hidden love affair, their brief sentence fits the shape of what we know about Jane's life.
In her biography of Jane, historian Lucy Worsley delves into the household ledgers and Jane's personal accounts. These seemingly mundane details reveal Jane's value system: a habit of generous gifts to her single female friends, and loyalty to her family that extended to her finances. While it baffled some readers that Jane could write so movingly about passion without direct experience of a love affair in her own life, the fragments of her correspondence reveal a thorough commitment to cherishing family and friends in the mundane, daily details of life. —Rachel Wilkerson
Team of Scientists, Engineers Build Computer Models To Better Understand Pregnancy
Astoundingly, much of the research on our modern understanding of the basic physiology of pregnancy relies on information from the 1940s. Two women at Columbia University Medical Center are working to remedy this. Dr. Joy-Sarah Vink, an obstetrician and co-director of the Preterm Birth Prevention Center, remarked that "it's mind-boggling that in this day and age, we still don't understand in a normal pregnancy how women go into labor—what triggers labor." Vink's research focuses on the composition of the cervix, working toward a better understanding of its role in labor. After taking samples from women in the lab, her research found that the cervix contains muscle, rather than simply collagen as previously thought.
While Vink's research focuses on the material that composes the cervix, her colleague Kristin Meyers studies how it functions. The cervix changes shape and strength throughout a woman's pregnancy, but the physiological attributes that facilitate this process are unknown. With training in mechanical engineering, Meyers and her lab have discovered that when a woman is pregnant, the tissue changes strength by orders of magnitude.
If their research can determine the mechanism that keeps the cervix closed until labor, then it might be possible to prevent preterm labor, a condition that currently affects 1 in 10 babies born in the United States each year. Vink and Meyers have been helped in their efforts by the Iris Fund, a grant established by Brittney Chrystal, a mother who lost her daughter due to pregnancy complications in preterm labor. Together, they hope their research yields information that makes pregnancy safer for women and their children. —RW
Lee Radziwill, Sister of Jackie Kennedy Onassis Passed Away
Lee Radziwill, socialite and sister of Jackie Kennedy Onassis passed away on Friday, February 15 at age 85. Born Caroline Lee Bouvier, she is the younger sister of the Jackie, the famed first lady and fashion icon.
Although less famous then her sister, Lee made her own significant mark on fashion and high society. She spent time as an actress, an interior designer and she worked for Giorgio Armani as a public relations executive. She was famously friends with author Truman Capote and was counted among his "swans," or beautiful high society, female friends. Lee earned the title of "Her Serene Highness" after her marriage to her second husband, Prince Stanisław Albrecht Radziwill. Although her life was often turbulent, she was a truly intriguing lady who can be counted as one of the first influencers. Her funeral is set for Monday, February 25. —Gabriella Patti
Pope Francis Leads Catholic Church Summit Regarding Clerical Sexual Assault
Thursday marked the opening day of the summit meeting in the Vatican regarding clerical child sexual abuse in the Catholic Church. Pope Francis opened the 4-day conference by addressing the crowd of 190 church leaders gathered to learn about how pervasive and widespread sexual abuse is, and to be instructed on how to deal with it. "We hear the cry of the little ones asking for justice," Pope Francis said. "The holy people of God look to us and expect from us not simple and obvious condemnations, but concrete and effective measures."
The pope is using the conference to present leaders with "21 reflection points" regarding how to handle clerical sexual abuse. Points include ensuring clergy are removed from ministry, the screening of seminarians, requiring that all reports of sexual abuse be brought to law enforcement and church authorities, and raising the minimum age of marriage for women in the church from 14 to 16.
Those gathered watched video testimonials of victims of sexual abuse by clergy. Many recounted being forced in sexual submission, becoming pregnant as a result of the abuse or not being believed when they brought their stories to church authorities.
Still, many critics think that church authorities, including Pope Francis, haven't done enough to address the widespread problem of sexual abuse within the church. Church officials have repeatedly covered up abuse or publically denied accusations, despite media reports and investigations. Survivors and advocates are demanding that the Church include a policy of zero tolerance for abusive clergy members and those who cover for them in Canon Law. —GP
German Government Adviser Recommends Smartphone Ban for Children Under 14
An adviser to the German government has recommended a smartphone ban for children younger than 14. The suggestion came from Julia von Weiler, a child psychologist and the leader of the German chapter of Innocence in Danger, a nonprofit group that works to prevent online sexual abuse of children and provides education on the internet.
"Just as we protect children from alcohol or other drugs, we should also protect them from the risks of using smartphones at too early an age," von Weiler said. Her statement echoes the concerns of parents and other child protection advocates who are worried about the effect that constant internet access has on children's safety, mental health and social skills.
However, other advocates have criticized von Weiler's suggestion of a ban, and have said that a more substantial fix is needed rather than a band-aid fix. Johannes-Wilhelm Rörig, the independent commissioner for child sexual abuse issues in Germany, said that "a law restricting the age for using smartphones would possibly be a quick and apparently simple solution." However, he added that a ban doesn't address the lack of protection on the web. Rörig may be right, but in the meantime tech companies, parents, governments, and advocacy groups are scrambling for solutions. Smartphone software companies such as Apple and Google have added tools that allow parents to restrict access and track activity on their children's phones, and the French government recently banned students from taking out their phones and tablets out during school hours.
Sadly, smartphones are changing how children experience the world. A recent study by the American Psychological Association found that smartphone and social media habits are standing in the way of teens picking up physical reading material. In 2016, only 16 percent of high school seniors read a book, newspaper, or magazine every day, versus 60 percent in 1970. This is concerning because reading fosters critical thinking skills and the understanding of complex ideas. Reading a post on social media or a text message simply does not require the same attention span or comprehension skills. —GP
Death of Fashion Icon Karl Lagerfeld Sparks Criticism of His Character
Karl Lagerfeld, creative director of both Chanel and Fendi, passed away on Tuesday in Paris, France at 85 years old. Lagerfeld was one of the most renowned fashion designers of the past century, first rising to fame in 1983 when he became director of the French luxury fashion house Chanel. He quickly succeeded in channeling founder Coco's elegant essence while also infusing the brand with ever-evolving quirks that brought it renewed relevancy and international acclaim.
Vogue magazine's editor-in-chief Anna Wintour paid tribute to the late designer by calling him "a giant among men" with an "exceptional gift" for "creative genius." Other fashion icons like Donatella Versace likewise paid their respects as they mourned the loss of someone transformative to the fashion world.
Nonetheless, there are those who have not forgotten, or forgiven, the late Lagerfeld for his controversial statements over the years; he famously called singer Adele "a little too fat" and remarked that Princess Diana was "pretty but stupid," to name but two.
Actress Jameela Jamil, who consistently blasts other celebrities for their questionable morals, was one of those who took issue with the laudatory gushing over Lagerfeld. In her own words, "A ruthless, fat-phobic misogynist shouldn't be posted all over the internet as a saint gone-too-soon." Cara Delevingne, supermodel and close friend of Lagerfeld's, quickly flew to his defense, prompting a frenetic Twitter battle between the two stars as they debated whether or not Lagerfeld's hurtful remarks made him undeserving of praise. In the end, regardless of where one falls on that debate, he was inarguably iconic in his ability to influence trends and people.
In related news, designer Virginie Viard has been announced as Chanel's newest fashion designer. As Lagerfeld's longtime right-hand woman, she is now the second woman to lead one of the world's biggest haute couture houses. —Mariel Lindsay
Crazy Rich Asians Actress Is Starting Her Own Comedy Series, And All the Writers Are Women
Asian-American actress and rapper Awkwafina made waves as a breakout star of 2018's Crazy Rich Asians and Oceans 8; now she is garnering attention with the news that the writing room of her upcoming Comedy Central series will be all-female.
Awkwafina confirmed the news buzz via Twitter, adding that, "it wasn't even done on purpose: I just wanted to assemble a team of brilliant writers, and they all just happened to be women."
The show, called Awkwafina, is a semi-autobiographical tale about her own upbringing. In the comedian's own words, "This is a show about being raised by my grandma and dad in Queens, living at home and finding purpose." She says that the ten-episode series will also acknowledge "the cultural buffet of people that helped shape [her] into the human [she is]." —ML
The Oscars Must Go On
The Academy Awards will take place this Sunday on ABC, 8 ET/5 PT. Notably, this year's Oscars will not have a host, after Kevin Hart stepped down from the role when years-old tweets of his were deemed offensive. In the place of a host's opening monologue, however, the Academy has planned a promising alternative for entertainment: the band Queen will perform. We'll be tuning in and following up with you next week! —Mary Rose Somarriba