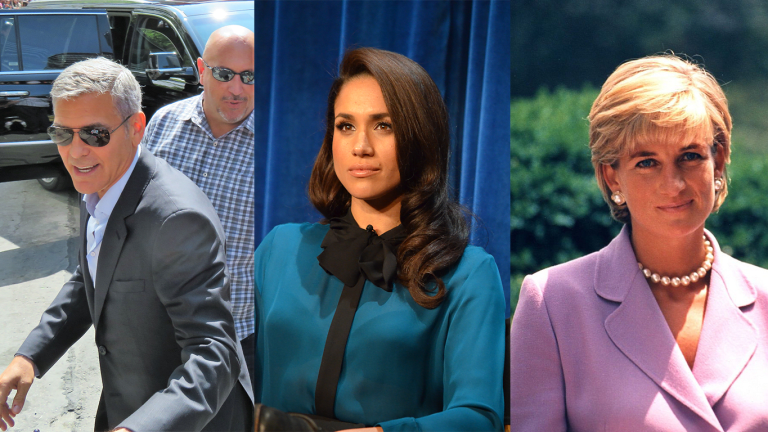 George Clooney Defends Meghan Markle From Being Chased Like Diana, and Other Notes from the Week
Catch up on all the news you might have missed with our handy summary of the week's top stories.
We're pleased to bring you "While You Were Out"—the Verily editors' quick takes on the happenings of this week.
Our Favorite Moments from the Grammys
This past Sunday, country singer Kacey Musgraves took home the biggest prize of the night with Album of the Year, for her album Golden Hour. Musgraves, who also won for Country Album, Country Song, and Country Solo Performance, provided one of the evening's most pin-drop moments when she performed her song "Rainbow"—a touching song of encouragement addressed toward someone enduring hardships.
Also winning big was Childish Gambino, who won Song of the Year and Record of the Year with his rap song "This is America." Cardi B won best rap album for Invasion of Privacy and thanked her daughter in her acceptance speech, saying how part of her accomplishment was completing it while pregnant. English singer Duo Lipa, who some may know for her post-breakup ballad "New Rules," won the coveted Best New Artist award, along with Best Dance Recording. The night also included honorary awards for Dolly Parton, who performed on stage alongside other performers, and Diana Ross, whose grandson's introduction stole the show. Also providing great performances were H.E.R. with the soulful song "Hard Place"; country duo Dan + Shay with their hit song "Tequila"; and Shawn Mendes who joined Miley Cyrus singing his hit "In My Blood" (a song on resilience we happen to like).
There were some unfortunate surprises, in my view, however. Such as the reality that the talented Janelle Monae's performance would rival Cardi B's for raunch level, or that the singer-rockstar St. Vincent's debut at the Grammys would be a hypersexual anthem of "I can't turn off what turns me on" (lyrics I expect from R. Kelly, not the thoughtful troubadour I was used to).
But, on a better note, Lady Gaga—who won Best Pop Duo/Group Performance with Bradley Cooper for their duet "Shallow"—expressed a positive message on mental health in her acceptance speech. "If I don't get another chance to say this, I just want to say I'm so proud to be a part of a movie that addresses mental health issues. They're so important," she said. "A lot of artists deal with that. And we gotta take care of each other. So if you see somebody that's hurting, don't look away. And if you're hurting, even though it might be hard, try to find that bravery within yourself to dive deep and go tell somebody and take them up in your head with you." Here's to that! —Mary Rose Somarriba
The L'Oreal Foundation, UNESCO Announce 2019 International Awards for Women in Science
The L'Oréal Foundation, in partnership with the UN Educational, Scientific and Cultural Organization (UNESCO) announced the 2019 International Awards for Women in Science this week. Each of the five laureates receives 100,000 Euros to support their research. Since 1998, the Foundation and UNESCO have named 107 laureates and supported an additional three thousand women in science in 117 countries.
The laureates for this year represent five geographic areas and a range of hard sciences. Professor Najat Aoun Saliba, laureate for Africa and the Arab States, won for her expert work in analytical chemistry and its application to airborne particles. Laureate for Asia and the Pacific, Professor Maki Kawai, won for her innovative development of new materials in chemistry. She also became the first woman to head the Chemical Society of Japan last year. For her contributions to the field of quantum physics and computer simulation, Professor Karen Hallberg won the award for Latin America. In Europe, Claire Voisin received the laureate for her groundbreaking theorems in algebraic geometry; her work disproved a specific case of the Hodge conjecture, one of the open Millenium problems with a prize of a million dollars for a complete solution. Finally, Professor Ingrid Daubechies of Duke University, a trailblazer for women in science, added the North American laureate to her list of professional achievements; her work in wavelet theory has wide-ranging applications for digital image reconstruction.

These women are truly outstanding in their field. The awards are given by a committee of Nobel winners and fields medalists, elevating the research of women in science around the globe. —Rachel Wilkerson
George Clooney Stands Up for Meghan Markle, Says She is Being "Vilified" like Princess Diana
During an interview with Who magazine, actor George Clooney was asked if he is in the running to be godfather to Prince Harry and Duchess of Sussex, Meghan Markle's soon-to-be-born baby. Clooney jokingly denied the possibility, but he used the opportunity to come to Markle's defense. "I do want to say, they're just chasing Meghan Markle everywhere, she's been pursued and vilified," he said."She's a woman who is seven months pregnant and she has been pursued and vilified and chased in the same way that Diana was and it's history repeating itself."
Princess Diana died in 1997 in car accident, after being chased by the paparazzi. Her sons, William and Harry, have openly blamed the paparazzi for their mother's death, and Harry is reportedly fiercely protective of his new wife because of how his mother was harassed by the paparazzi following her marriage to Prince Charles.
In his interview with Who, Clooney went on to discuss the letter Meghan wrote to her father, which was recently published by the Daily Mail. "I can't tell you how frustrating that is, just seeing them broadcast a letter from a daughter to a father, she's getting a raw deal there and I think it's irresponsible and I'm surprised by that," he said.
I must admit that I cheered when I read what Clooney had to say. Not a week goes by where my newsfeed is covered with new headlines that says the Duchess of Sussex is "difficult," feuding with the Duchess of Cambridge, or is being stomped on by her extended family. If the media refuses to learn from history, perhaps they will listen to Clooney and let the newlywed royal/expecting mother be. —Gabriella Patti

Sierra Leone Declares National Emergency over Rape of Young Girls
The president of Sierra Leone has declared sexual violence a national emergency following the rape and paralyzation of a 5-year-old girl. He has asked all hospitals to treat victims of sexual abuse and rape free of charge. In a speech given last week, President Julius Maada Bio said that each month hundreds of cases of sexual violence are reported. "Some of our families practice a culture of silence and indifference toward sexual violence, leaving victims even more traumatized," he said.
Outrage has grown both in the country and amongst human rights groups, following the rape of a five-year-old girl last year. A family member is suspected of the assault.
Unfortunately, the western African country is no stranger to sexual violence. During the country's ten-year civil war, which ended in 2002, sexual violence against women and girls was widespread. The United Nations released a report that said half of the women in Sierra Leone have experienced sexual violence, and around 90 percent are victims of female genital mutilation. Furthermore, President Bio said in his speech that the majority of sexual-assault survivors in Sierra Leone are under the age of 15, and that the guilty parties may face prison. Nevertheless, convictions for sexual violence within the country's court system are low, and the first lady, Fatima Bio, said that the numbers of those who have been victims are much higher, as many don't report the crime.
Sierra Leone is doing what it can to heal, despite still nursing wounds from the civil war and the deadly Ebola outbreak of 2014. Last year, the first lady partnered with other first ladies in the region for a campaign called, "Hands Off Our Girls," which drew attention to violence against women. "We have come together as sisters to work in partnership, in unison, to support each other, to scream the loudest for our husbands to hear us and understand that women are crying in Africa," she said. "We don't have the liberty and freedom that men have in our own countries." It remains to be seen whether or not President Bio's words turn into action, but his statement places him steps ahead of many other world leaders. —GP
British Academy Film Awards Take Place
The 2019 BAFTAs celebrated British film in high style last weekend. The Favourite, a darkly comedic reinterpretation of Queen Anne's court, took home the most awards, but the prize for Best Director and Best Picture went to Alfonso Cuaron's Roma. Roma, a black and white foreign language film (available on Netflix!) intimately portrays the life of a wealthy family in Mexico City and their live-in maid, Cleo. Olivia Colman edged out rumored frontrunner Glenn Close to win Best Actress, and Rachel Weisz won Best Supporting Actress, both for The Favourite.

Recent changes made to the rules of BAFTA nominations and to the membership process, designed to increase diversity in the eligibility process. While these have been partially effective, critics still note the absence of women nominated for Best Director. In spite of this, the most prestigious award of the evening, the Fellowship, was awarded to Thelma Schoonmaker, "the queen of the cutting room." She has edited three Oscar-winning films, and has edited 23 films for Martin Scorsese.

On the fashion front, the BAFTAS brought glamorous looks from our favorite British stars, including excellent metallic shoes from the Duchess of Cambridge, a bejeweled Cate Blanchett, a stunning green gown for Claire Foy, a rare Taylor Swift sighting, and a truly regal ensemble from Crazy Rich Asians star Michelle Yeoh. —RW
U.S. Representative Ilhan Omar Under Fire for Tweet Branded Anti-Semitic
On Sunday night, Somali American Representative (MN) Ilhan Omar tweeted a response to a journalist's claim that House Minority Leader Kevin McCarthy wanted her investigated for what he perceived as anti-Semitism (most notably in her support of a Palestinian-led boycott against the Israeli government.) "It's all about the Benjamins, baby" she sub-tweeted the journalist, at once referencing a 1900s rap song and seemingly inferring that support for Israel is based purely in money-hunger.
There was immediate backlash as both Republicans and Democrats condemned the dangerous Jewish stereotype inherent in her commentary, with New York Representative Jerrold Nadler saying that it was "deeply disappointing and disturbing to hear Representative Ilhan Omar's (MN) choice of words . . . wherein she appears to traffic in old anti-Semitic tropes about Jews and money."
House Speaker Nancy Pelosi, along with other Congressional Democrats, chimed in by issuing a statement that roundly condemned Omar's infamous tweet by declaring it "deeply offensive." Ilhan apologized the very next day as she acknowledged that "anti-Semitism is real" and professed appreciation for the "Jewish allies and colleagues who are educating [her] on the painful history of anti-Semitic tropes." At the same time she reiterated her stance that moneyed interests greatly influence political decisions by briefly referencing "the problematic role of lobbyists in our politics, whether it be AIPAC, the NRA or the fossil fuel industry."
AIPAC, or the American Israel Public Affairs Committee, is the lobbyist group that advocates pro-Israel policies. Clearly, though Omar regrets the tone of her tweet, she stands by her original claim that money significantly influences the U.S's stance on Palestine-Israel relations.
President Trump, for his part, quickly branded Omar's apology as disingenuous and "lame." Others, citing her Muslim faith and the inflammatory nature of the Palestinian-Israeli conflict, likewise questioned her sincerity. Debate continues as to whether or not Omar was merely denouncing what she views as political corruption, or if anti-Semitism plays a role in her opinion of the United States' close relationship to Israel. —Mariel Lindsay
Katy Perry and Gucci Confronted with 'Blackface' Allegations
Both pop-star turned fashion designer Katy Perry and long-established Italian luxury brand Gucci faced allegations over the past week of incorporating "blackface" into their designs. Blackface, the historical use of dark makeup by white performers to represent black caricatures and distasteful stereotypes, harkens back to an era in which African Americans were first slaves and then second-class citizens, and also deeply segregated by relegation to inferior public spaces. As a result, accusations of blackface are, particularly troublesome.
On Tuesday, after much online backlash against two of the shoe designs debuted by her footwear line Katy Perry Collections, the star removed them from her website and consequently issued a statement to news outlet Entertainment Tonight in which she directly addressed the controversy. She claimed in her statement that the offending designs, which showcased facial features including enlarged red lips against black leather, were, in fact, a "nod to modern art and surrealism," and added that the shoes do in fact come in a plethora of colors ranging from black to pink to nude. She nonetheless also acknowledged that, despite her artistic intentions, the designs appeared to many as "painful images reminiscent of blackface."
Gucci, for its part, faced a similar controversy just days earlier when social media erupted in protest of an unsettling balaclava jumper design featuring a black cutout framed by enlarged, cartoonish red lips. Described on the website as being "inspired by vintage ski masks," the $890 design nonetheless closely resembled typical nineteenth-century demonstrations of blackface. As a result of public dismay, the design has been removed from both online and physical stores and Gucci has issued a public apology. —ML
U.S. Senator Asks Apple, Google to Drop App that Allows Saudi Government to Monitor Women
In an open letter to the CEOs of Apple and Google, U.S. Senator Ron Wyden, Oregon, called for the investigation and removal of an app that enables Saudi men to track and control women. The app, called Absher, is in theory an e-government portal designed to ease administrative procedures. However, the app tracks the movement of "dependents" and goes so far as to determine whether or not they are allowed to leave the country. While the total number of users is not known, records in the Google Play store show that the app has been downloaded 1 million times.
In practice, men are using Absherit to limit travel of their wives and unmarried daughters. Saudi's guardianship laws give women a similar legal status to most minors. Every Saudi woman has a male "guardian," who must give her permission for anything from marriage to medical records.
The recent focus on the app is due in part to a high profile case of a Saudi woman, Rafah Mohammad al-Qunun, who was tracked and detained by her family as she sought to flee the country. She suffered emotional and physical abuse, and has now gained asylum in Canada. Her courageous fight for freedom highlights the need for companies to be accountable for the technological infrastructure they create. Amnesty International and other human rights organizations have echoed Wyden's call for the app's removal. Apple CEO, Tim Cook has since promised to investigate and respond to the claims. —RW
Watch of the Week
If you need a pallet cleanser as you go into the weekend, here's one of our favorite videos from the week: 73-year-old legend Dolly Parton reveals her enduring star power as she belts her hits alongside Katy Perry, Maren Morris, Miley Cyrus, and others, at last Sunday's Grammys.