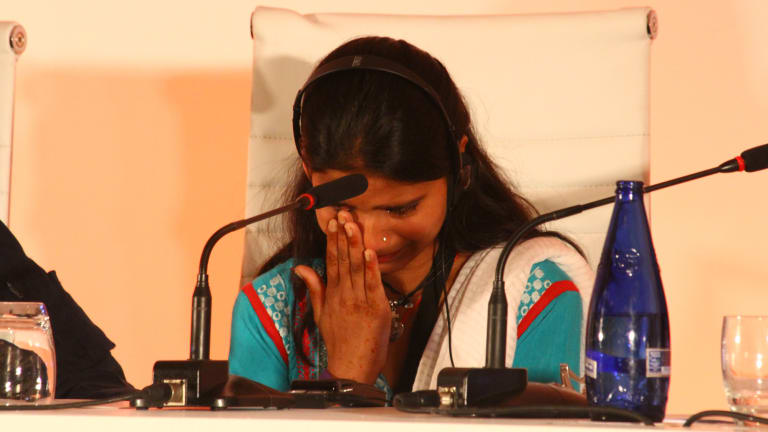 Asia Bibi's Latest Win for Human Rights, and Other News from the Week
Catch up on all the news you might have missed with our handy summary of the week's top stories.
We're pleased to bring you "While You Were Out"—the Verily editors' quick takes on the happenings of this week.
Woman Spared Death Penalty in Win for Religious Liberty
In good news for human rights, the Supreme Court of Pakistan upheld its decision to overturn the death penalty for Asia Bibi, a Christian woman accused of blaspheming the Prophet Muhammed in a dispute with her neighbors. Maintaining her innocence throughout, she was arrested in 2009 and imprisoned until a court ruling this October secured her release.
Bibi's case divided Pakistan, where religious minorities including Christians account for only 1.6 percent of the population. Tehreek-e-Labbaik, a political party formed specifically to uphold Pakistan's extreme blasphemy laws, held several protests against the ruling, calling for Bibi's beheading. Many humans-rights groups have advocated for Bibi's release, as well as Pope Francis, who sent Bibi a rosary that she was allowed to keep while in prison.
Since her release in October, Bibi and her family have lived in hiding, moving constantly to evade death threats. John Pontifex of Aid to the Church in Need UK (ACN) reported that her family had removed their rosary from their rear view car window for fear of attack. Thankfully, the new ruling allows Bibi and her family the freedom to seek asylum. She is expected to join her two children who have already sought asylum in Canada.
The ruling offers an opportunity for Pakistan to uphold the rights of women, Christians, and all religious minorities. —Rachel Wilkerson
Longest Government Shutdown Temporarily Ends
Late last Friday, President Trump signed a bill to reopen the federal government for a three-week period as negotiations for a southwestern border wall continue. This puts an end to the shutdown that lasted for 35 days—the longest shutdown to date.
Approximately 800,000 federal workers were either furloughed or working without pay for the 35-day period. Their fate remains up in the air, however, as the President said if Republicans and Democrats can't come to an agreement regarding funding for the border wall by the deadline, then he may declare a state of emergency or the shutdown will resume.
"We really have no choice but to build a powerful wall or steel barrier," President Trump said in a speech made Friday. "If we don't get a fair deal from Congress, the government will either shut down on Feb. 15, or I will use the powers afforded to me under the laws and Constitution of the United States to address this emergency." Thus far, no agreement has been made regarding funding, and federal workers are bracing themselves for another shutdown. —Gabriella Patti
Bachelor Contestant Opens up About Being Raped in College
This week's episode of The Bachelor took a serious turn, as contestant Caelynn Miller-Keyes shared her story of being sexually assaulted in college. In a one-on-one conversation with Bachelor Colton Underwood, Miller-Keyes spoke about how, at a frat party during her sophomore year, her wine was drugged. She woke up the next morning with a vague memory of a guy in her bed and sinking feeling that something horrible had happened. One of her friends confirmed that Miller-Keyes and two other women had been assaulted. Naked photos of Miller-Keyes had also been shared on Snapchat.
Miller-Keyes had a rape kit done, but unfortunately, the elapsed time meant the results were inconclusive. One student was expelled, though Miller-Keyes indicated others were involved as well. The Bachelor used the opportunity to share resources to aid survivors of sexual assault, both on the air and on Twitter.
This is not the first time Miller-Keyes shared her story. Her service work for survivors of sexual assault was a key element of her work as Miss North Carolina 2018 and her bid for Miss USA that year, for which she was a runner-up. Miller-Keyes was met with generous support for speaking up on The Bachelor, which we hope encourages other survivors to share their stories, too. —Lindsay Schlegel
Philanthropist Family Will Face Court for Abetting U.S. Opioid Crisis
A couple of weeks ago a report by the National Safety Council confirmed in a shocking revelation that the odds of dying of opioid overdose are now higher than those of dying in a car crash. Fast forward to this week and the opioid industry is once again making headlines, this time in an even more nefarious way: the developers of Oxycontin face allegations that they actively lied and contributed to consumer deaths in order increase personal profits.
The pharmaceutical company in question is Purdue Pharma, owned by the prestigious and wealthy Sackler family known worldwide for their philanthropy. Both the reigning family and their company have been named in a lawsuit that "accuses them of profiting from the opioid crisis by aggressively marketing" the drug. Redacted pages from the suit are believed to reveal deceptive tactics enforced by the Sacklers themselves to promote prescriptions in both higher dosages and over longer periods of time. Other manipulative measures include false statements about the addictive nature of the drug and the targeting of vulnerable populations, such as veterans and the elderly.
In a statement to CNN on Monday the chief lawyer and law enforcement officer prosecuting the case proclaimed that "Purdue, its executives, and members of the Sackler family have tried to shift the blame and hide their role in creating the opioid epidemic."
Given that in 2017 alone there were nearly 48 thousand opioid-linked deaths in the United States, the repercussions of any foul play by the Sacklers are far-reaching. One hopes, as the case unfolds, the public becomes increasingly wary of opioid usage and authorities work to instill new safeguards against the epidemic. —ML
Kristen Bell's Husband Explains How She Made Him a Better Man
Married actors Kristen Bell and Dax Shepard, who have two children together, made the news this week when Dax admitted that he wasn't always so sure that he wanted to marry her.
The source of his concern? In his own brutally honest words, he told the interview-based television series Off Camera, he asked himself, "Do I want to be with a Christian, who has eight people living in her house for free, who has to get out of a car when [she sees] a dog who doesn't have a leash and ruin her whole day to rescue this dog?"
His initial cynicism, however, gradually transformed into a sort of respectful wonder as he "just couldn't deny the reality of how her life unfolds. There's something charmed about it. I think it's charmed because it starts with her being just endlessly generous and loving and giving people the benefit of the doubt and believing in people and believing the world's a wonderful place and all these things. And then down river, it proves to be all those things to her."
What's more, he says that despite his personal battle to overcome destructive and addictive tendencies, Kristen "never, ever said… 'You could be a little better of a person.' She never, ever suggested that."
What we see in Dax's description of Kristen's mentality and its profound effect on his own way of interacting with the world is that Kristen truly embodied the old adage, 'actions speak louder than words.' She didn't tell Dax how to become more positive. She did something far more powerful; she simply lived her life fully in accordance with her own values and consequently influenced another person for the better. —Mariel Lindsay
Man Saves Woman's Life With CPR Techniques He Learned from The Office
A car shop technician may have saved a woman's life, thanks to a lesson he learned on The Office. Cross Scott—yes, his last name is actually Scott—was test driving a customer's car when he saw a white sedan pulled off the road, hazards flashing, and slowly rolling forward. After lodging a rock in front of the vehicle to stop it from moving, he broke the rear window and unlocked the driver's door. A woman was slumped over the wheel, her face already blue from lack of oxygen.
Despite not being formally trained in CPR, Scott was familiar with the concept, in part due to an episode of The Office, in which the gang participates in a first aid class that goes horribly wrong. The one thing they did get right, according to Courtney Slanaker, executive director of the Red Cross Southern Arizona chapter, is that "Stayin' Alive" by the Bee Gees carries the correct rhythm for chest compressions in CPR.
Cross Scott performed these compressions on the woman for 60 seconds, after which she took a breath and threw up. She was still breathing when paramedics arrived, about 10 minutes after Scott came on the scene. The woman, Carla, had called her daughter before she passed out, and her daughter was still on the line; she'd heard the whole thing.
By the time Scott finished his shift, Carla had already been released from the hospital. When praised for his action, Scott redirected attention to the paramedics, whose job it is to save lives. But we can't help but see Scott's act—performed simply because it was the right thing to do—as heroic and inspiring as well. —LS
iPhone FaceTime Bug Allows Callers to Eavesdrop
Disable your FaceTime, ladies and gents, because big brother might actually be watching. On Monday, the site 9to5Mac revealed a new bug in Apple's FaceTime software that allows users to initiate calls and eavesdrop on the call recipient before they have picked up. The bug makes it possible to detect audio and in some cases show live video if, on the receiving end, the call is dismissed by pressing the volume button. After the bug was made public, Apple users began testing it, and were able to confirm that the bug works on iPhones and iPads running iOS 12.1, and Apple PCs running macOS Mojave.
Apple released a statement saying that they had identified the bug and would release a software update that would fix the problem, later in the week. Since then, Apple has disabled Group FaceTime for all users. In the meantime it is recommended that Apple users disable FaceTime by going to settings, Facetime and toggle off the green button.
However, Apple may have already been made aware of the bug before Monday. On January 19, an Arizona teen discovered the bug, and shortly after his mother sent a video of the hack to Apple. She said that she contacted the tech company through all available channels, but received no response. Apple's slow reaction is disconcerting, and one is left to wonder if they even would have informed Apple users of the bug if it hadn't been made public by 9to5Mac. —GP
Highlights from the 25th Annual SAG Awards 
Our favorite season—awards—continued this past Sunday with the 25th Annual Screen Actors Guild Awards ceremony. Other than the much anticipated red carpet fashion (The Crazy Rich Asians' cast win this category), the evening was marked by big wins for nominees such as The Wife, Black Panther, The Marvelous Mrs. Maisel and Bohemian Rhapsody. Much to our surprise, A Star is Born went into the night with the most nominations, and the dark dramedy The Favourite did not walk away with any new awards.
This award season has seen the same handful of actors, films, and shows winning big over and over again. This pattern might be indicative of who will take an Oscar at the highly anticipated Academy Award ceremony on February 24. —GP