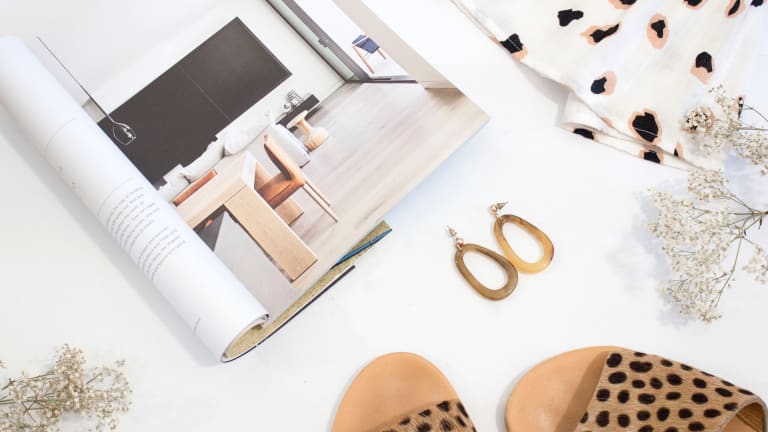 Women's Magazines Aren't Dying—We're Evolving
Creating media outlets that are authentic to women's experiences
"Women's magazines are dying. Will we miss them when they're gone?"
That was the question posed last month by Washington Post reporter Lavanya Ramanathan in a compelling feature piece. The article's research and interview sources cited the cause of the demise of print publications like Glamour and Seventeen as both changing media and advertising industries and the magazines' misplaced priorities. For women, "2500 articles on how to lose 10 pounds," tips on how to please your man, and product association as a "crucial part of gaining social approval" are beginning to lose their appeal, or are being outsourced to other outlets like Buzzfeed and YouTube, according to Ramanathan.
Ramanathan's reporting and analysis is not wrong on any of those points. Yet, as editor of an online women's magazine, allow me to state the obvious: women's magazines at large are not dying; we're evolving. Because just as those women's magazines played an important, empowering role for women in decades like the sixties and seventies, women today need media outlets that offer dignifying, relatable content tailored to them and their desires and needs in the current climate.
Progress for women isn't finished
In the much-talked-about 2009 paper aptly titled, "The Paradox of Declining Female Happiness," researchers Betsey Stevenson and Justin Wolfers reported that while "women have traditionally reported higher levels of happiness than men, … they are now reporting happiness levels that are similar or even lower than those of men." This decline in happiness relative to men is a paradox, of course, because women have gained a great deal—expanded education and employment opportunities, economic agency, and more—during the same time period for which Stevenson and Wolfers collected and analyzed data.
Yet, a body of literature supports Stevenson and Wolfers' research: that with all the gains women have made, they've also experienced setbacks. A recent study from the University of Cambridge found that women are, "almost twice as likely as men to suffer from anxiety." The authors of the study attributed their findings to biochemical differences between women and men, as well as differences in coping mechanisms and even cultural differences (as North America and Europe were disportionately affected).
Others have attributed women's unhappiness to what French cartoonist, Feminist Emma, calls the "Mental Load." Her viral comic displays the management of a house and family, as seen through a woman's eyes: taking care of housework, the kids, and a family requires someone thinking and planning, and on average it's the woman who takes up that mental task. This comic was cited by Buzzfeed's Anne Helen Petersen, who labeled millennials the "burnout generation" in a viral piece that dedicated a few paragraphs to how burnout is disportionately impacting women.
Most would agree that the cause of modern women's unhappiness, anxiety, or burnout is complex. I'd go so far to say it's as unique as each individual woman. For one woman, it may be that her job is too stressful; for another it may be that she can't find a dignifying job. For another woman, it may be overwhelm from managing a household, for another it may be overwhelm at the thought of a hoped-for marriage being delayed or unfulfilled because of a disappointing dating scene; while for yet another woman, it may be another negative pregnancy test or a heartbreaking miscarriage. 
While many of these struggles are not new and women are not alone in experiencing them, social media, smart phones, and technology as a whole have played significant roles in exacerbating our anxiety about these struggles. Shortly after you see that negative pregnancy test, after months of trying to conceive, you're bombarded on your feed with pictures of your friends' kids. While you struggle to make ends meet, your friend posts pictures from an exotic vacation. The highlight-reel problem we know too well by now still impacts us. And the constantever connectedness of our world means we can never fully be in just one place at a time—your boss can send a "real quick" email after hours that disrupts your relaxing evening, and friends and family can interrupt work with non-emergency texts or emails—all of which contributes to an always-divided mind.
Media outlets that enrich women's lives
The demise of women's media at a time when women's unhappiness, anxiety, and burnout levels are so high would be a loss for women. What women need are media outlets that offer the exact opposite of the onslaught they face daily. Instead of articles about "how to lose 10 pounds," how about articles on reasons to exercise that have nothing to do with weight? Instead of content about how to please a man, how about content on how to be your authentic self when you're dating? And instead of selling products simply to feed a frail sense of social status, how about promoting products that are actually good for women, like non-toxic beauty and household products?
Of course, women's magazines began in a different time for media. Getting women's ideas into the culture meant getting them into women's hands where they were—at the grocery store checkout, in the doctor's waiting room, at the salon. Today, media is more likely to reach a woman on her phone or tablet. But, especially given the anxiety associated with technology, women's media outlets need to offer more than just content on a website.
We know women can do it all, but we shouldn't necessarily have to, and that's where women's media can offer a hand. Women's publications should strive to meet a need in modern women's lives, by creating content or experiences with a purpose. Media that meets women's authentic experiences and desires is not only and most importantly good for women—it's also good for women's media. With a less predictable advertising climate, reader-driven revenue streams offer more stability.
These are all things we considered when we developed Verily Yours, our online subscription service. Verily Yours offers interior design consultations, personal finance advice, professional development tips, and easy and already-stocked dinner recipes that you and those around you will love—all delivered weekly via email. In short, we want to help alleviate the mental load and ease anxiety—not only in articles on our website, but by offering a hand in a woman's day-to-day life.
We're not the only ones in this space, either. Media outlets like Darling, Bella Grace, and Coffee and Crumbs, to name a few, have carved out thoughtful niches for today's women. One glance at their Instagram platforms or print magazines and you'll clearly see an elevated aesthetic, articles that go beyond the current viral meme on Twitter, and an embrace of authenticity that has equal space for all of life's joys and all its sorrows.
In sum, there's a subtle, quiet power to this women's media movement—and in this loud, anxious culture, that may be just what we need.