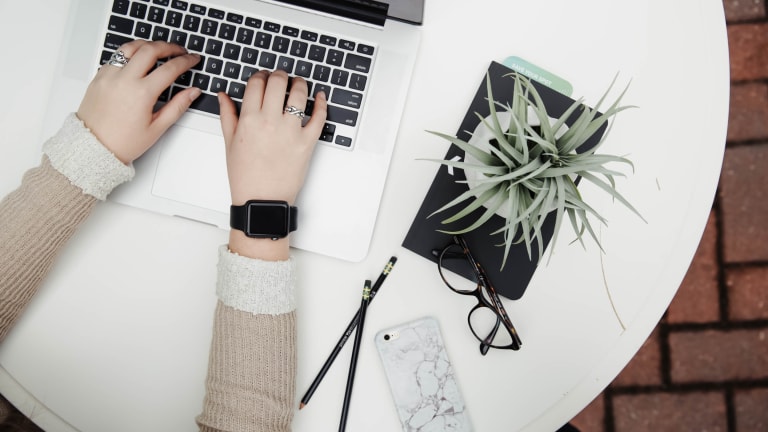 3 Takeaways from Brené Brown's 'Dare to Lead'
The researcher-storyteller offers a different approach to leadership.
Vulnerability is the heart of courageous leadership, according to author Brené Brown.
In her latest book, Dare to Lead: Brave Work. Tough Conversations. Whole Hearts, Brown provides a guide for leading from the heart, rather than from fear. Research and interviews collected over two decades lay the groundwork for this "practical playbook" on daring leadership, which combines principles discussed in Brown's other books with actionable advice for leaders in various capacities.
Her guidance isn't just for high-level executives: according to Brown, a leader is "anyone who takes responsibility for finding the potential in people and processes, and who has the courage to develop that potential." A research professor, founder/CEO, and bestselling author, Brown says her roles as spouse and parent have required just as much self-awareness as her other roles—and her advice can be applied at home, in volunteer and community organizations, or at work.
Here are three takeaways that can help you become a more daring leader—whether in the office or at home.
01. Connect with your team.
Before Brown gave her first talk at a corporate leadership conference, her husband advised her that the audience was full of individuals "with real lives and real problems." Just before she went onstage, her neighbor visited her in the green room. Brown thought about how the woman, a partner at a prestigious law firm, was dealing with personal issues just like everyone else.
From these two conversations, Brown learned something that shifted her perspective on public speaking and led to greater connections with her audience: we're all people. The concept sunk in. Now before public speaking she repeats a mantra to herself, "People, people, people," aiding her in forging connections with the audience.
The same principle applies to how leaders should engage with their team members. Care and connection are absolute requirements for "wholehearted, productive relationships," Brown writes. Ultimately, having the courage to build authentic connections with team members encourages them to bring their whole selves to work, she explains. That means exercising empathy when someone on the team admits they are struggling, despite the discomfort of having vulnerable conversations. It also means reframing the narrative when someone disappoints or frustrates you, by considering, perhaps "that person is doing the best they can."
Brown writes that daring leaders are clear about team members' unique contributions, which helps empower them in their work and builds a culture of belonging. An atmosphere in which people feel seen, heard, and respected is one in which all can work productively and innovatively.
Put it into practice: Acknowledgement and appreciation are gateways for connection. Always recognize team members for the unique skills and talents they bring to the organization, focusing on their specific contributions to the team's successes. And don't be afraid to celebrate achievements, both big and small, with your team.
02. Define what "done" means.
In her book, Brown recalls a time when she failed to communicate clearly while facilitating a daring leadership workshop.
She had asked two coworkers to collect role-play scenarios from participants so she could use them the next day—but when she received a folder with hand-written descriptions under her hotel room door that evening, she panicked at the thought of having to sort and type them. While she knew why she was frustrated, her coworkers were in the dark, since she hadn't expressed her expectations. We've all probably encountered a similar situation, whether as the one giving a request or responding to it.
Brown said her team now works to include the concept of defining "done" from project management principles. Daring leaders take the time to explain "why," tie tasks to priorities and the overall mission, and offer color and context when making a request, she writes. This brings others in with a shared purpose and holds them responsible with clear expectations. She advocates that all leaders practice the courage to say what they mean and mean what they say.
In short, she writes, "Clear is kind. Unclear is unkind."
This applies to defining expectations about deliverables, workflows, deadlines, and task ownership. Miscommunication about these essential items hinders efficiency and productivity.
Put it into practice: Next time you make a request, explain the format of the deliverable, the deadline, and how the task fits into an overall strategy. And if you're on the other side of the request, ask, "What does 'done' look like?"
03. Confront your own weaknesses.
In the initial days of her company, Brown's CFO pointed out that her lack of time estimation skills was hurting the organization and causing burnout among the staff. Instead of shutting down from additional feedback, Brown said she asked questions to truly figure out how her weakness impacted the team, even though the conversation was painful and uncomfortable. She later found the source of the issue—her fears and anxieties about the business were behind her unattainable deadlines. Brown was honest with her team about her feelings, sparking a discussion that led to some key findings and organizational shifts.
By the end, Brown had apologized for the times she had offloaded her emotions on the team and said she was committed to talking about her fears and remaining self-aware.
A good leader recognizes his or her own weakness. A daring leader digs deeper to uncover the "why" behind the flaw, listens to feedback from the team, and works to understand how it affects the organization.
Put it into practice: When someone on your team provides constructive criticism or points out one of your weaknesses, let it sink in. Be curious instead of shutting down. Confront the difficult conversation about how your behavior hinders the team and how you can do better.
Organizations often develop cultures that squander the gifts of the human heart, like vulnerability and emotional literacy, Brown says, by holding onto the belief that people will be more productive and efficient when they separate their emotions from their work.
But the key to brave leadership, she writes, is to strip the armor that keeps us closed off from our emotions. "When the heart is open and free and we're connected to our emotions and understand what they're telling us, new worlds open up for us, including better decision-making and critical thinking, and the powerful experiences of empathy, self-compassion and resilience."