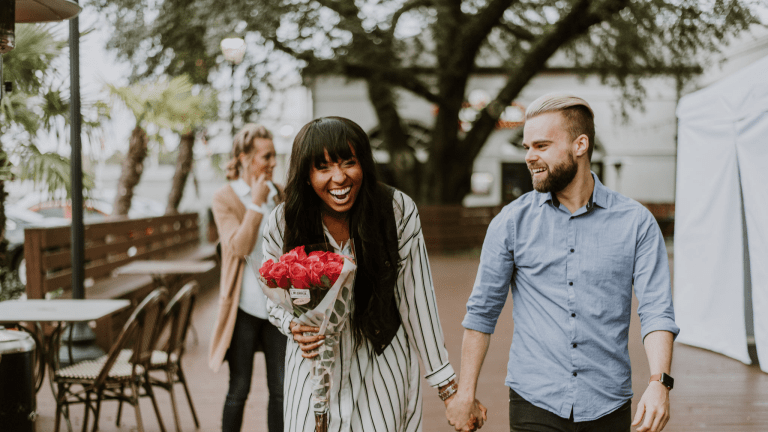 Whatever Your Valentine's Plans, We've Got the Outfit for You
From 'Galentine's' to 'Date Night' to 'Evening at Home,' celebrate in style
I'm fully aware that the mention of Valentine's Day makes some people low-key excited or low-key annoyed; this may or may not have something to do with your relationship status at the time or the fact that it's not a real holiday. But I see no harm in celebrating yourself or those you love. Why not take the opportunity of Valentine's Day to get dressed and celebrate, when there are so many ways to celebrate love? Whether you're planning to use Valentine's Day as a self-care day to break from the hustle and snuggle up to a good meal and movie, to go out with girlfriends, or to go on a date with that special someone, I'm rounding up some lovely looks to try.
Cozy Self-Care Evening at Home
Planning to spend your Valentine's Day evening snuggled up at home, enjoying a Grace Kelly movie, an indulgent dinner with a rosé and dessert? If yes, then why not treat yourself with something a bit luxe and comfy to lounge around the house in. Besides, when was the last time you bought nice sleepwear, something other than yoga tights and a pullover? LOU+GREY, known for their texture-rich and comfortably chic pieces, has quickly become a go-to for me in this area. Each of their pieces fill that void between activewear and sleepwear, what I like to call "lifewear." Whether you're headed to a barre class, running errands, or just lounging at home with a good movie, every piece in their line transitions well and feels SO plush. Here are some of my favorites from this season:
Galentine's Day Party
I'm sure by now many of you have heard of a Galentine's Party, right? Nope, I'm not referring to the "I Hate Valentine's Day Party," Jessica Biel's character threw in that Valentine's Day movie. I'm referring to a party that you throw with your girlfriends to celebrate each other. Really, it's just a great excuse to get dressed up and have a dance party, or take it on the road to your favorite bar or restaurant. If you're headed for a night on the town with the girls, I think a velvet dress would be luxe, unapologetically feminine, and warm (it is February after all). ModCloth is one of best places to shop for a dress, the prices aren't astronomical (I'm looking at you Anthropologie), and their pieces have that ideal combination of fun, fancy, and whimsy that you're always looking for in a party dress. Below are my perfect velvet party dress picks from ModCloth!
Date Night
Planning a night for two? Why not rent something special for the night. I know that renting for some people can seem sort of frivolous but I actually think it's quite practical and financially reasonable. When you rent something just for the night, you don't have that next day buyer's remorse, wondering how you'll find another way (or place) to wear it. You get to surprise your special someone with a truly special outfit, and you don't have to worry about re-working it throughout the year so you feel like you made the most of your purchase. Getting to try a new look out without actually having to buy it is nice too. Rent the Runway has some gorgeous options for under $100. Even if you don't have a date or plans for Valentine's Day, definitely save a couple of these as they can be great options for wedding season come Spring.