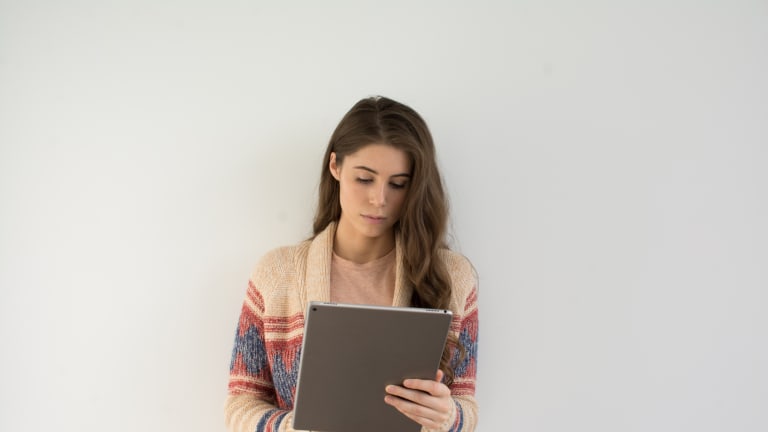 Women Want Media That's Meaningful to Them
Relevant women's media reflects its readers' values.
This month, we kicked off a series of articles written by the Verily editors in response to a Washington Post piece titled "Women's Magazines Are Dying. Will We Miss Them When They're Gone?" The first two articles, written by our editor in chief Meg McDonnell and associate editor Mary Rose Somarriba, can be found here and here (respectively). Today, we hear from associate editor Laura Loker.
A few years ago, my husband and I booked a heavily discounted vacation in return for attending a timeshare presentation by a hotel company.
When we arrived in the clean, beige conference room, we sat down with a saleswoman who walked us through all the money we'd save and all the exotic locales we'd visit if we bought a timeshare. We nodded politely, but as young newlyweds whose apartment was smaller than most of the suites in the hotel, we were steadfastly uninterested.
Then came the questions.
"Where do you currently vacation?"
I explained that my family has had a beach house for generations that I've grown up going to—that my dad grew up going to, actually. I don't know what sort of response I expected, but it wasn't the one that I got:
"Isn't it terrible to have to share a bathroom with your family?"
I thought of our beach house's outdoor shower and its little dressing room; the sound the wooden doors make when they swing open and closed; the hot afternoons my brothers and I spent as kids, tossing a ball in the garage while we waited our turn to rinse off sand and saltwater. No, I explained, I like being with my family.
"Isn't it boring to go to the same place every year?"
I thought of our little traditions, like walking down to the bay to watch the sunset or bike-riding through the flat, colorful neighborhoods. No, I replied, it's just fine.
The conversation tug-of-war continued until the requisite two hours were up, and we were free to go. We left feeling annoyed. It wasn't the product the saleswoman was trying to sell us; we'd expected that, of course. It was that she was trying to sell us on values that weren't ours, like family ruins vacations and luxury is everything.
This came to mind recently when I read last month's Washington Post article, "Women's magazines are dying. Will we miss them when they're gone?"
Features reporter Lavanya Ramanathan suggests several causes for the rapid shift from glossies to Web, and even from Web to merely a distant memory, but a quote in the article from professor of magazine journalism Harriet Brown rang especially true:
The magazines' insistence on the status quo, even as womanhood changed dramatically, led them to irrelevance, Brown says. In an era of radical body acceptance and umpteenth-wave feminism, "I don't want to read 2,500 articles a year on how to lose 10 pounds or get rid of my love handles. It's reductive, and it's superficial."
Irrelevant, reductive, superficial.
A few years ago, I was a regular reader of a few mainstream women's publications. Some of the articles were fun, or helpful, or occasionally thought-provoking. But for every article I enjoyed, there were at least a few more that reminded me that my values put me well outside the target audience: a headline touting the virtues of an open relationship; a before-and-after-this-trendy-juice-cleanse photo spread; an article assuming that I, too, harbored contempt for anyone who didn't consider abortion an unmitigated good.
Like that saleswoman in the hotel, these publications were trying to sell me values I didn't want—values that felt irrelevant, reductive, and superficial compared to my experience of life, meaning, and being a woman. Eventually, I'd had enough. I stopped reading.
And as the Post article suggests, I don't think I'm the only one who feels this way.
Many of us have longed for a publication we know shares our values. What's more, we long for a place to feel known ourselves. And, really, is that so much to ask?
I never expected I'd join Verily's editorial staff when I first began reading it shortly after its launch. Mostly I remember feeling grateful. I appreciated its clear-sighted content that spoke to me—with me, even—instead of at me. I loved its pure, uplifting aesthetic. I was impressed by its quality.
At a time when I felt disillusioned with other women's media, Verily answered a need. I hope we still answer that need. I hope you see yourself within our articles; I know I did, and I still do.
Verily is a place for the woman who wants to be appreciated for her most deeply held values, not in spite of them. So to you, the woman who wants more than what our mainstream media has to offer: we see you. We hear you. And you're not alone.
P.S. If you support this mission of Verily and want to see us go to print (as you've asked us to), subscribe today to Verily Yours. You'll receive access to a portal of exclusive, quality content that will simplify and elevate your everyday, while supporting empowering women's media.