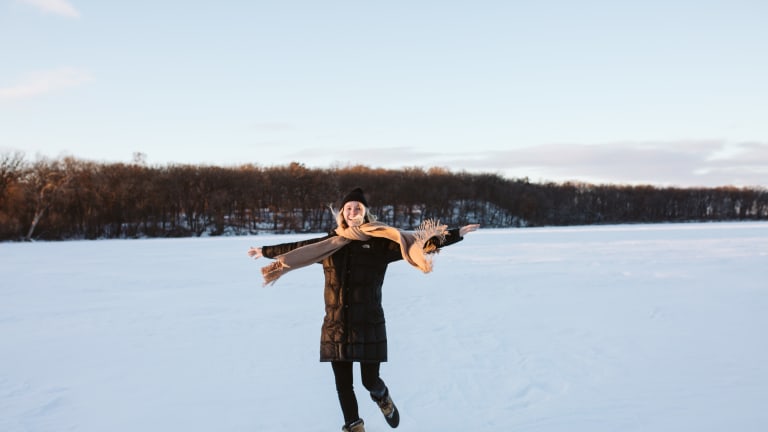 Winter Survival Guide: A Spirit of Northernness
Enjoy the special wonder that winter can inspire
It lifts existence on a plane of snow 

One level higher than the earth below…

~Robert Frost, "A Winter Eden"
Many winters ago, when I was perhaps seven or eight, my parents and I traveled to St. Paul, MN in early November to celebrate the traditional German holiday of St. Martinstag, or the Feast of St. Martin. Along with dozens of other families, we made lanterns out of paper and walked with them under the stars up to the steps of a cathedral, where the legend of Saint Martin was reenacted. As the story goes, Martin, a Roman soldier, came across a poor beggar freezing with cold during a snowstorm. Moved to compassion, Martin took his own cloak and sliced it in half with his sword to share with the poor man.
As we watched the story unfold and held our lanterns, the sky beyond the church began to glow and flicker with faint colors. I had never seen the Aurora Borealis before, and it enchanted me. That moment—the lanterns, the stars, the beautiful story, and the Northern Lights—is perhaps the first time I ever felt the special wonder that winter can inspire.
I felt it again when I was an exchange student in Austria many years ago. My host family and I were staying in their grandparents' cabin in the Alpine foothills. As we all got ready for bed after watching a beautiful fantasy movie, I stepped outside for a breath of fresh air and was transfixed by the vista in front of me: silver stars in the blue heavens, sparkling over the snowy mountains around me. The beauty of the view, combined with the magic and adventure of the story we had just seen, created an unforgettable moment. In that moment, I wasn't thinking of the ice I had to skid over on my way to school, or the draft from my window, or any of winter's other inconveniences. That pristine, starry moment has stayed with me for years.
Moments like these helped me to realize the key to making winter more than just a series of bland, house-bound days is connecting the wonderful with the mundane. It is all too easy to get caught up in the wearisome, everyday aspects of winter. Scraping ice off the car in the frigid pre-dawn darkness, tracking dirty snow in the house, and fender-benders at icy intersections (with accompanying dents and scratches) often dominate our impressions of this season.
But, as I learned on those nights in St. Paul and the Alps and on many winter days since, the wonder, mythology, and lore of winter is rich, vibrant, and uniquely powerful. If we immerse ourselves and our imaginations in it, then the winter we face outside our doors will assume some of that enchantment. Especially during the post-Christmas winter months when there seems to be no lively holiday or novel excitement to look forward to, we can bring our imaginations to bear on the cold outside our doors to transform our experience. Elevating our imaginations and connecting the wondrous and magical world we can imagine to the world that we see around us can be a powerful way to stave off the winter doldrums.
When we're looking for wonder in winter, it makes sense to turn to the original experts at Northern imagination: the Scandinavians. Although known today mostly for their hygge lifestyles, thoughtful aesthetic, and amazing interior design, the Nordic countries have a rich history and mythology going back centuries. That mythology has influenced countless thinkers and writers: J. R. R. Tolkien, Richard Wagner, Stan Lee, Neil Gaiman, and Edith Pattou have all been inspired to create beautiful and immensely popular work based on these stories. To add some childlike wonder to these cold months, go back to the source and look up some Norse legends about the great gods and heroes of old. My childhood (and perennial) favorite book of these stories is D'Aulaires Book of Norse Myths, a richly illustrated compendium of the classic Norse mythology. Light a candle, snack on some krumkaker, and let the stories of magic, war, tragedy, and romance evoke wonder in your mind. From here, it's natural to branch out to books like Tolkien's Lord of the Rings and Neil Gaiman's American Gods. If you're looking for an intense cure for the winter doldrums, challenge yourself and some friends to make it all the way through Wagner's epic Ring Cycle, a series of four operas chronicling a multi-generational struggle between gods and mortals for ultimate power, inspired by German and Norse sagas.
And the Norse gods and warriors aren't the only inspiration for a healthy winter imagination. My favorite fairy tale is "East of the Sun, West of the Moon" (retold by Edith Pattou in her novel East), in which a young woman goes on an epic quest to save her love from a dark fate in the Arctic lands. Then there are the beautiful stories of St. Lucia and Good King Wenceslas, remembered in songs, and Jack London's books, such as White Fang or The Call of the Wild, great for evoking the wildness and freedom of the American north. Poetry is especially welcome at this time of year—the quiet joy of Robert Frost's "A Winter Eden" or the awakening anticipation of Hilaire Belloc's "February" have helped me see the world around me in new ways.
Sharing the winter experience with other people can also help cultivate the imagination needed to relish the short days and long nights of winter. One of my most precious memories is spending a week in remote northern Manitoba with my family and some friends in the deep winter in a cabin with no heat, electricity, or plumbing. Although that may sound cold and remote, we were actually in constant contact with fire. Cooking, bathing, heating our rooms, and illuminating our evenings all required building fires and maintaining them constantly. This kept us all busy, and when we weren't building fires, we were gathered around them, reading, drawing, telling stories, or playing fierce games of Canasta. The nights we spent next to the frozen lake were illuminated by the stars and Aurora Borealis, unpolluted by any artificial light, and the sobering thrill of finding actual wolf tracks near our cabin still haunts me.
Ever since, when I feel low because of the oppressive darkness of early sunset, I light a fire, even if it's just a candle or a match. That small act reminds me not only of the fun adventures I had with my friends in Canada, but also of all I share with every person who has endured winter before me. Human beings have long gathered around fire to seek light and warmth during the winter. If we strengthen and elevate our imaginations to embrace the winter season, then the legends, songs, and natural wonders around us will help us find bright joy in even the darkest winter nights.