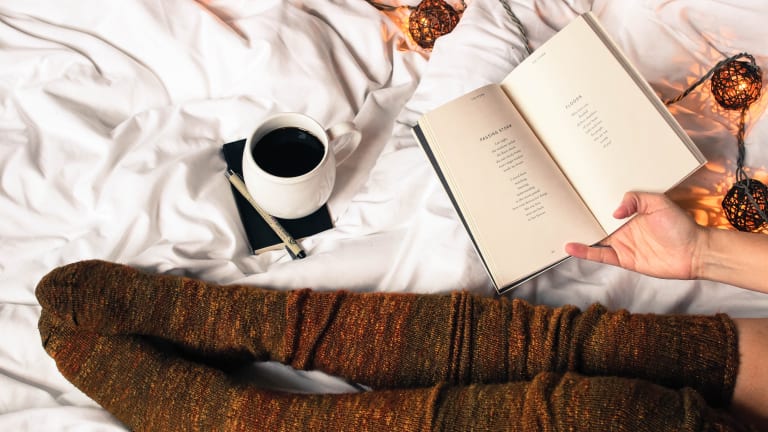 Winter Survival Guide: What Most People Forget About Hygge
It's more than just candles and fluffy blankets
When I started reading Meik Wiking's Little Book of Hygge, I'll admit that I had a pretty distinct mental image of what hygge meant. Huge fluffy white blankets. Lots of candles. Instagram posts of picturesque wooden trays on bohemian-style beds. And it wasn't entirely different from what I expected: there's a full chapter on light sources, for example (fluorescent lights are not hygge), and plenty of advice on sweet treats, hot drinks, and staying warm.
If you haven't yet encountered the hygge trend that took the world by storm a couple of years ago and still pops up everywhere, here's the idea: hygge is the Danish ideal of coziness, usually in the form of comfortable clothing, mood lighting, and just the right amount of indulgence. It's a winter-specific version of self-care, dreamed up in a country that doesn't get a lot of sunshine in the winter months; and for a Midwest-dweller facing record-breaking arctic vortex lows, that's just the ticket.
But the public perception of hygge tends to miss one crucial element. We tend to think of self-care as an individual affair; after all, you're caring for yourself. Not lots of other people involved there. In the same way, the mental image (or Instagram image) of hygge is one person by herself, sipping tea under the incredibly massive blanket I may or may not have just ordered from Amazon.
But that's not really what hygge is. Most importantly, hygge is about being with others. It's not about products; it's not about blankets or big cups of tea (not that those things hurt.) It's about the experience of community. Let's take Meik's definition, in which he lists a solitary experience last: "Hygge is about an atmosphere and an experience, rather than about things. It is about being with the people we love. A feeling of home. A feeling that we are safe, that we are shielded from the world and allow ourselves to let our guard down. You may be having an endless conversation about the small or big things in life—or just be comfortable in each other's silent company—or simply just be by yourself enjoying a cup of tea."
For some of us, it might be difficult to remember when we last felt that way with a group of friends—or even with family. We might recognize what Wiking is talking about from the golden days of grade school summer camp or college spring break, but, increasingly, American adults are lacking the experience of a meaningful community. According to a recent study that I found through Verily, only 27 percent of Americans feel like they belong to a group of friends, and 46 percent feel lonely sometimes or always. As I stay in touch with my old friends by the sometimes-tenuous lines of phone and text, I realize that this is far from a lifeless statistic. It's daily reality for lots of people, and far too many of us are isolated and unhappy.
Take a moment to think back to when you last felt hygge: not an Instagram perception of self-care involving picturesque steaming mugs, but the feeling that Wiking outlines: the feeling of belonging, of home, of peace. If you feel that with your family on a regular basis, count that as a blessing, but when did you last feel that way with a group of friends?
If it's been too long, maybe this is the winter when things can change. And, luckily for us, Meik Wiking wrote another book, The Little Book of Lykke: Secrets of the World's Happiest People, in which he elaborates considerably on the themes he touched on in writing about hygge and offers practical tips for building real, meaningful community in our own lives. Below, I've put together some suggestions—incorporating some of Wiking's tips and adding in my own—to help you experience a bit more real hygge in your own life.
Host a pantry party.
One of my favorite ideas from The Little Book of Lykke is a "pantry party," a great activity for the winter months. The premise is this: invite a few people over (more than a few and this will get a bit unwieldy!), and ask them to bring the ingredients for a favorite pantry staple like jam, sourdough bread, or canned peaches. Then you all spend a fun day baking and cooking up a storm. At the end of the day you exchange loaves of bread or jars of jam so that instead of having 48 pumpkin muffins, you have twelve muffins, your friend's homemade applesauce, some pickled carrots, and some blueberry compote!
If your kitchen doesn't look like it came off an episode of Chopped, try a modified pantry party—have people bring their items already prepared, serve a simple meal (or just wine and cheese), and try a bit of everyone's delicacies, then send each friend home with a basket of goodies for later.
Play more games.
Games are so hygge. And they've come a long way since your childhood days of playing Connect Four or Operation. Whether you're into card games, board games, or party games, there is a plethora of options. Even if you don't think you're a "game person," give it another try; various games fit various personalities. Prefer more relaxing, artistic games? Try the free-association game Dixit or elegant and impressive Azul. Ready for some serious intensity? Try new phenomenon Scythe or cult classic Pandemic. There are also great party games—take a look at our list—and fun card games like Up the River, Down the River and Nertz. You can always make up your own game, too—nothing like a homemade edition of charades, a custom scavenger hunt, or a spontaneous Nerf war to break the ice and build friendships.
Connect through books.
If you really are the introverted type, fret not; books can not only be your friends, they can make you friends. One of the easiest ways to have a meaningful conversation is to connect over a book. Start a book group and make it simple and easy by reading the chapter assigned for discussion aloud before you begin. Or take another suggestion from The Little Book of Lykke and start a little corner library. Meik Wiking just put up a sign in his apartment building, stacked a few books under it, and was off to the races! Books can also help bridge gaps. If you've grown apart from old friends, or have made new friends with different interests or states of life, a shared book can give you a shared context. You could also start a long reading list and solicit friends' suggestions. If you're reading a friend's suggestion (and perhaps she's reading yours), you'll always have something to talk about!
While the steaming mug of hot chocolate and candle-lit corner have their place, there's more to hygge than meets the eye. If we really take the spirit of hygge to heart this winter, we may just find that the friendships that we cultivate will last long past the spring thaw.
Our "Winter Survival Guide" articles are weekly pieces dedicated to help brighten up your post-holiday winter! Join our "Winter Survival Guide" Verily Facebook group to bond with other women through what can be a difficult season.