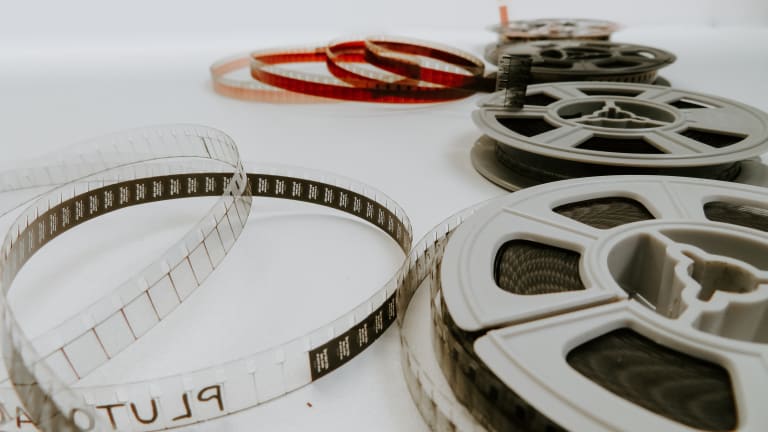 Incorporating 2018 Feature Film Fashion Into Your Daily Style
Take a cue from the costume design of some of this past year's top movies
Last year was a great year for film, and especially for costume design. As we wait for the zenith of awards season—the Oscars—let's take a look back at some of the best costumes of 2018's most popular movies. We can enjoy the beauty of great costume design and also use these films to recreate similar looks or incorporate style principles into our own closets. 
Crazy Rich Asians
Full of stunning outfits and gorgeous views, this book was meant to be a film. Many of the characters dressed beautifully in Crazy Rich Asians; here are just two of the highlights.
Gemma Chan plays Astrid Young Teo, the fashionista of the story who buys her designer clothes in Paris. This ensemble by costumer Mary E. Vogt looks so elegant because of the details, monochromatic color scheme, and the silhouette. Each item here has an interesting detail: the shoes are studded, the bag is patterned, the sunglasses are rimmed in pink, and the dress (which is Dior) has a high shawl collar. When choosing items for your own closet, look for interesting details—buttons, princess seams, or embroidery, for example. (Some of these details you can even add to your clothes yourself, of course.)
This silhouette and color scheme lengthen Chan and draw our eyes up to her face. You can create the same effect by pairing a midi skirt with a turtleneck, or a fitted blouse and a neckerchief. To keep the focus on the silhouette, the skirt, blouse, and neckerchief should be similar colors so as not to create stark contrasts or horizontal lines. You can also recreate this monochromatic look by pairing items of the same or similar colors together; the color doesn't have to be blush: white, clay, camel, and lavender would all work for this lighter look. Of course, black, navy, and forest green could all be used for a darker version.
Out of all the characters, Peik Lin Goh (played by Awkwafina) definitely had the most fun getting dressed. This eclectic outfit shows that she is a master of pattern-mixing.
You can create a similar casual, quirky outfit by following her lead. Note that here that she wears two patterns and a statement necklace, but they are all blue and red (and the necklace adds yellow). Also, while both the vest and trousers have the same colors, their patterns are very different (and not just because the top features bunnies!). The vest has a large print with lots of red space behind it. On the other hand, the stripes on the pants are thin and close together. No blank space here. Pairing a larger print with a smaller print in the same color is always a good strategy for mixing patterns like a style pro. 
The BlacKkKlansman
[The confident power dressing of Ron Stallworth and Patrice Dumas.]
Featuring jackets, high necks, and statement jewelry, The BlacKkKlansman costumes are all about power dressing. To dress John David Washington, who played Ron Stallworth in the film, costume designer Marci Rodgers asked the real Ron Stallworth what he wore in the 1970s as an undercover cop. Stallworth told Rodgers that he liked accessories, especially a cross necklace. Rodgers then added rings and jackets, which both stand out in this film. "I tried to find [jackets] that were as stylized as possible," Rodgers told The Hollywood Reporter. "John David's favorite was the leather with the fur collar." To dress Patrice Dumas, the leader of Colorado College's Black Student Union (played by Laura Herrier), Rodgers researched the 1970s style of the Black Panther movement. "Patrice was a homage to Kathleen Cleaver and a homage to Angela Davis, she wears a lot of black, but I wanted her to have different textures," Rodgers told the Motion Picture Association of America.
Stallworth and Dumas wear many of the same silhouettes in the film. They often dress in jackets of leather, suede, or denim, and generally go for less volume on the bottom. To reconstruct these 1970s power looks, choose one or two colors to wear to create a streamlined outfit. Find a great jacket and wear it over a turtleneck, crew neck, sweatshirt, or other high-necked top. Leave the jacket unbuttoned, or, if it has lapels, button it once at the bottom to make a defined V shape, then slip a necklace with a large pendant over your neck. On the bottom, wear jeans or a slim skirt to keep the focus on the volume created by the sharp shoulders and high neck.
When looking to The BlacKkKlansman for inspiration, we need to keep in mind the line between co-opting the Black Power style and its specific accessories, and creating strong silhouettes based on the style principles that activists employed. Activists wore clothes that showed their confidence and their power as they fought for equality, and you can also add confidence and power to your own wardrobe by following their favorite style principles while refraining from copying specific cultural pieces. 
Bohemian Rhapsody
[Rami Malek as Freddie Mercury and Lucy Boynton as Mary Austin in Bohemian Rhapsody.]
[The real bandmates of Queen compared to the cast in Bohemian Rhapsody.]
[Rami Malek on stage as Freddie Mercury in Bohemian Rhapsody.]
Bohemian Rhapsody tells the story of the hit British band, Queen, and their front-man, Freddie Mercury. This biographical film is also part of the resurgence of interest in the 1970s that we saw in late 2018 when browns and wide-leg pants started trending.
Two great looks from this film (and time period) are totally opposite: there is the maximalist drama often associated with 1970s rockers, and then there is the simple (and classic) tank top, jeans, and belted look. To recreate the rocker look, pair aviators and a button-up with a thick jacket in leather or lux fabrics such as suede, brocade, or faux fur. You can stick to neutrals such as black and white, or play up the warm color palette with browns and oranges.
For the simple look, tuck a white tank into high-waist jeans and add jewelry and a wide belt. The belt from this screenshot reminds me of the studded belts popular in the early 2000s. See if you still have one in your closet!
The Favourite
[Abigail and Lady Sarah-Emma Stone and Rachel Weisz- go shooting in The Favourite.]
The largely black-and-white color palette in The Favourite lets the costume's textures and layers take center stage, which costumer Sandy Powell said was important for the story. Check out the brocade, lace, satin, ruffles, embroidery, and feathers in these costumes! 
[Queen Anne, played by Olivia Coleman, and her companion-Rachel Weisz-in The Favourite.]
To recreate this royal look, layer multiple black-and-white items of varying textures and patterns: for instance, a lace dress, cable-knit sweater, and leather jacket; or a velvet top, embroidered denim, and a polka-dot blazer. Don't be afraid of volume in the sleeves or skirt (or both!), and tie a thin velvet ribbon around your neck to finish it off. 
Mary Poppins Returns
[Emily Blunt as Mary Poppins in Mary Poppins Returns.]
Mary Poppins' costumes in Mary Poppins Returns are full of ladylike, whimsical details. In this film, Sandy Powell used a color palette of red, blue, black, and white to mix various patterns and textures within the same outfits. 
[Emily Blunt as Mary Poppins with the Banks children in Mary Poppins Returns.]
The ensembles above feature short-brimmed hats with contrasting ribbon and a small feather, as well as a statement coat with a fitted waist and distinctive square buttons. Note that her shoes, while sensible, match her fanciful hat, while in the second outfit, the prim bow tie and gloves do the same.
You can achieve a similar feminine, professional look by accessorizing a cinched statement coat. Button it up most of the way and add a hat, gloves, bag, and shoes in matching or coordinating colors. Sometimes fewer colors make an outfit look elegant, but there are at least three different colors here, so this is not always the case. 
If Beale Street Could Talk
[Actor Stephan James as Fonny Hunt and KiKi Layne as Tish Rivers in the film adapted from James Baldwin's If Beale Street Could Talk.]
We return to the 1970s in If Beale Street Could Talk; the costuming by Caroline Eselin-Schaefer reminds us that one doesn't have to be splashy in order to be stylish. Tish Rivers, played by KiKi Layne, looks beautiful in simple dresses and pastel colors. She often wears button-ups or long-sleeve shirts with fitted skirts in light plaids. Of the cream coat in the above photo, Eselin-Schaefer told Vulture that it was "so innocent and at the same time so mature. It's beautiful, optimistic, and protective."
You can reconstruct similar outfits with classic pieces such as pencil skirts, button-ups, turtlenecks, and cardigans. Mix two pastels together, or opt for white if you prefer to use a neutral. Avoid darker colors, as they are too harsh for this luminous look.
The Academy nominated The Favourite and Mary Poppins for a costume design award. Whether any of these films wins big on Oscar night, all of them offer plenty of inspiration for winning looks that you can incorporate into your own style.