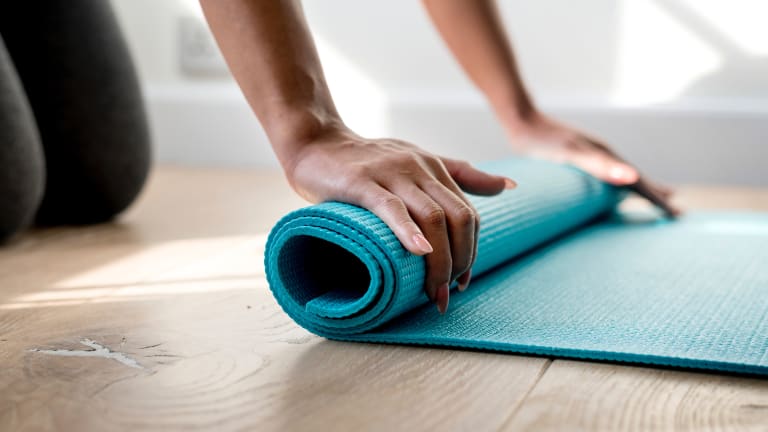 How One Body-Positive Fitness Guru Makes Working Out Fun
Learn how to choose "grace over guilt," and embrace your healthy side
I used to be 1000 percent committed to exercise, and then I became a mom. I went from hitting the gym daily to having a very on-again-off-again relationship with my fitness routine. Yes, there were periods when I'd do squats or crunches anywhere and when I had a minute to spare for exercise every morning for my mental health. But any mom can tell you that a busy life with toddlers makes prioritizing exercise a hard sell.
I'm motivated by finding inspiration from others who are achieving goals I would like to achieve for myself. With platforms like YouTube and Instagram, it's easy enough to follow the latest fitness gurus with millions of viewers and hundreds of thousands of followers. But going this route didn't make me feel inspired; in fact, most of the time, following these "fitness pros" ended up making me feel less-than.
Enter one body-positive fitness expert who not only helps motivate me to workout but also inspires me to find peace with my body. Isn't that something we could all use?
"Grace Over Guilt" with Robin Long of The Balanced Life
A dear friend and fellow mom first told me about Robin Long years ago when we had both just given birth and were in the trenches of new motherhood. Robin is a Pilates instructor and founder of The Balanced Life, "a place to find quick, yet effective, online Pilates and barre workouts that can be done from home or on the road."
For me, Robin stands out from the plethora of Pilates personalities out there in the way she gets to the core of the problem: helping transform women's relationship with exercise by choosing "grace over guilt." Her goal for every woman, no matter her state of fitness or busyness in life, is to find a life balance that makes her feel FREE.
Robin, who has struggled with body image and a strained relationship with food and exercise, discovered that "believing the lie that beating yourself up or using guilt as a way to motivate yourself to eat right and exercise will NEVER work." She encourages women "to break free of that cycle and find an enjoyable way to take care of your body and mind once and for all."
Here are three ways I've noticed Robin Long makes working out something to love instead of loathe.
Choose the best workout for your body type.
It blew my mind when I had a deeper understanding of why exercise is not one size fits all. Someone who loves running may hate kickboxing, and much of it could be due to your body type. Robin shares that a woman with an hourglass shape may enjoy running while a woman with a pear shape may prefer kickboxing. If you dread going to barre class, consider switching to a workout that better suits your body type.
Keep it short and sweat.
Robin shares tons of free Pilates workouts on her blog. And since her goal is to help busy women find time to exercise, many of her workouts are around 20 minutes or less. Just because they're short doesn't mean they're ineffective. You'll feel your muscles working hard, and you'll break into a sweat within the first two minutes. Whatever your fitness level, one of her many programs is sure to be a good fit. Try Prenatal Pilates Series if you're an expecting mama (she developed it while she was pregnant with twins!); if you're dipping your toes for the first time, opt for Pilates For Beginners.
Share your story with a friend.
That friend who introduced me to Robin? She was my first "Balanced Life Sister." We joined in on a workout challenge and looked to each other for accountability and affirmation. At that point, I hadn't worked out regularly in almost two years. But for this challenge, having someone who I could be honest with and get encouragement from made all the difference—my life was at its busiest, but I didn't miss a single workout.
While I chose to complete another fitness program, my friend ended up joining The Balanced Life Sisterhood, a membership that includes monthly workout calendars, healthy recipes, a full workout library, and a community of women who value inclusivity and positivity. I gave up on my program over a year ago, while she stayed a part of the Sisterhood—a testament to what can happen when you have supportive connections that help you become the healthiest and happiest version of yourself. You can emulate this by setting goals, sharing struggles, and celebrating wins with a good fitness friend. You could even swap workout and recipe ideas or come up with rewards to motivate yourselves to reach your exercise goals (an afternoon at the spa? Yes, please!). Because of Robin's motivation and example, I actually decided to rejoin the fitness program I was a part of a year ago. I've started to do the workouts again every day and am sore but happy.
If you feel trapped by your schedule, budget, low energy level, or current (boring) workout routine, it's never too late to switch things up. Try something new, go for quality over quantity, and partner with a pal and you may soon discover that working out is actually enjoyable.