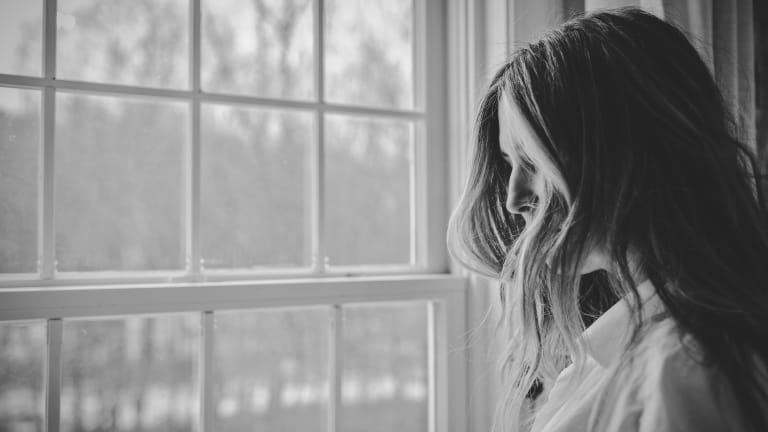 New Book Explores the Unique Experience of Grieving Miscarriage as a Couple
Seven years after our miscarriage, I can see how turning toward each other made all the difference.
Seven years ago, I went in for a routine 12-week prenatal ultrasound.
My husband, John, was on a thirteen-hour flight home to Brooklyn from Hong Kong. It was our second pregnancy, and the nine-week ultrasound had looked great. I sat in the hospital waiting room, so excited to have a picture of our little one to share.
I was unprepared for the news that our baby no longer had a heartbeat.
I was twenty-five. Most of my friends weren't married or parents yet. The grief didn't hit me hard right away, but I knew it would eventually.
That's what I told John when he finally got home that evening. My parents had driven in from New Jersey to wait for him with me. We ate burgers and watched My Big, Fat Greek Wedding. My mom helped get our sixteen-month-old son to bed. When John came in, they quietly made their exit. He put his arm around me and we sat, still and silent, similarly unprepared for what would come next.
Are We Alone in This?
We struggled to find resources to help us navigate the immediate and the long-term effects of miscarriage. We looked online, but ended up figuring out a lot of the ups and downs ourselves. For couples currently dealing with loss, that no longer has to be the case. The recently released Grieving Together: A Couple's Journey through Miscarriage by Laura Kelly Fanucci and Franco David Fanucci is the book we needed.
The Fanuccis have been through a lot that allows them to relate to couples in a variety of situations. Initially, they struggled with infertility, and for a time, they wondered if they would ever have biological children. They had two healthy boys, and then experienced miscarriage with their third child. They had another healthy boy thereafter. The next time they conceived, it was twins. Tragically, their girls had a rare complication that meant one girl lived only one day; the other lived just two. Eighteen months later, they had another healthy boy.
To look at the Fanuccis' family and see their four boys simply doesn't tell their whole story. Their honesty in sharing their heartache, as well as the ways they've grown through building their family, is a gift. They write with grace and compassion, recognizing that everyone's grief is "as unique as the soul of the child that you lost." Their approach is well balanced and does just what I needed: it gives the reader permission to mourn and to heal in his or her own time.
While written from a Catholic point of view, this book will be accessible to anyone who recognizes miscarriage as not only an abrupt end to a pregnancy, but also the loss of a child. It's laid out in a practical way, first defining the various types of loss (molar pregnancy, ectopic pregnancy, etc.) and then acknowledging the potential physical, emotional, and spiritual reactions a couple may experience, both individually and together. Each chapter concludes with a different couple's story.
Turning Toward Each Other or Turning Away
In retrospect, the most defining moment of how John and I experienced our loss came just three days after that ultrasound. I'd undergone a D&C and physically was doing relatively well. John had another business trip to Florida scheduled for the next morning.
My mom called—should she come stay with me while John was away?
No, I told her, it would only be three days; I'd be fine.
After I'd hung up the phone, her question lingered. Would I be fine? The more I thought about it, the more I realized I needed support. I told John that either he needed to stay home or my mom was going to come stay with me. To my mind, his choice was clear: his wife needed him. Work could wait.
He hesitated.
I know that John doesn't make impulsive decisions; he is thoughtful, and in retrospect I can see that he was working things out in his mind. But in the moment, his indecision stung.
A short time later, I heard him crying in the other room. I was so angry I was shaking. I wanted him to come to me, to comfort me. I was breaking. I was hurting.
Somehow I mustered the mental and physical energy to cross the apartment and hug him. Still angry that I was the one moving to him instead of the other way around, I heard him say softly, "I'm so scared of losing you."
Every Day, We Decide
Honestly, our marriage hadn't been the first thing on my mind. It was for him, though. I told him right away that he wasn't going to lose me.
We both made a decision that night. I crossed the room. He chose to stay home. We turned toward each other, toward the pain and the grief and the emotions we would have to learn to communicate to one another.
I saw in that moment that if we'd turned away—if he'd gone to Florida; if I'd stayed in our room alone—we would have done serious damage to our marriage. The Fanuccis put it this way: "The most important choice you can make is when and how to turn to God and to each other. It is a choice that couples have to make actively and regularly, even years after miscarriage."
You often hear couples say that enduring suffering like that of losing a child has made them stronger. Cliché as it may sound, for John and me, it's true. More specifically, it is this turning toward each other in the hard times that has strengthened us. It's the reality that we have to make this decision every day and we can do it even when it feels impossible. It's security in the trust we've placed in the other. It's knowing that we'll always be there for one another—come what may.