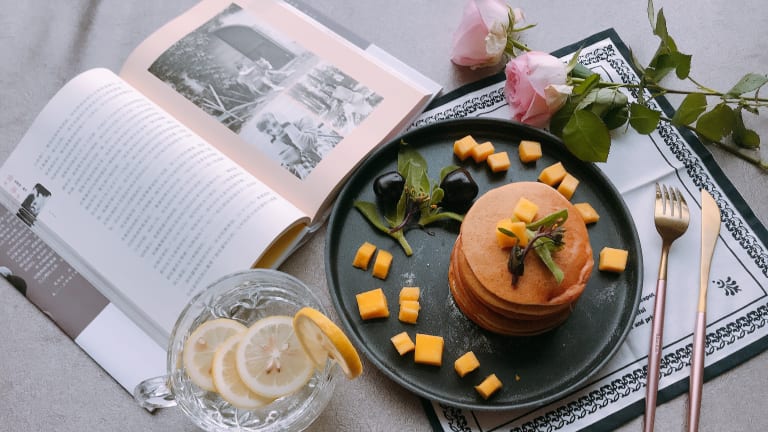 6 Gluten-Free Food Swaps That Don't Sacrifice Flavor
"No gluten" doesn't have to mean "no fun."
A few months ago, I turned to a gluten-free lifestyle for a sundry of health-related reasons. Cooking and eating gluten-free was initially a steep learning curve for a woman who subsisted largely on comforting carb-based foods, but I've come to embrace this new lifestyle. Of course, the continued improvement in the quality and availability of gluten-free products doesn't hurt. But more significantly, my gluten-free menu requirements have encouraged me to open my mind to new ways of cooking and enjoying food. I've become creative with my use of spices and natural flavors, finding new ways to make food taste great without relying on staples like pasta and bread. In the process, I've learned that cooking gluten-free does not require sacrificing flavor—or fun.
But at the end of the day, there are some things that I know I can never replace, like my mom's lasagna, the traditional Italian sweet bread my family enjoys during the holidays, and New York pizza, to name a few. It can be frustrating to watch other people share and enjoy the staples I used to love. For that reason, I've learned that it is important to develop a repertoire of easy, delicious swaps that I can pull out on those days I crave my favorite carb-heavy comfort foods. Over time, I've learned to turn to recipes that are almost as good as their alternatives, finding ways to enjoy food for what it is rather than what I wish it was.
Here are six of my favorite gluten-free alternatives to classic comfort foods.
01. Pancakes
One of my favorite ways to start a winter weekend is by making pumpkin, banana, or chocolate chip pancakes. Ditching gluten meant this was a no-go, but reluctant to walk away from one of my favorite weekend rituals, I looked for alternatives. Enter two (yes, you read that right—two) ingredient pancakes. Like me, my husband was raised on Bisquick and Log Cabin, so needless to say, he was initially skeptical of breakfast foods that don't involve flour. I am proud to report that he is a full convert. Our two-ingredient pancakes taste fantastic, are full of protein, and are sustaining and energizing rather than heavy and sugary like traditional pancakes.
To make them, combine four eggs and two bananas in a blender. Heat olive or coconut oil in a skillet. Pour in the batter in small, round droplets. Cook the pancakes for about one minute on each side (continuing to add oil to the skillet, as needed, so the pancakes don't stick). Stack and serve with butter, maple syrup, or fruit.
02. Cinnamon Rolls
Before I went gluten-free, our next-door neighbor brought us homemade cinnamon rolls, along with her family recipe. They were so good that I couldn't stomach the thought of a gluten-free alternative. But I found a way to incorporate the same flavors without most of the sugar and, of course, without the gluten.
This "cinnamon roll" alternative involves making oatmeal (my favorite is Bob's Red Mill) and topping it with almond butter, a scoop of cinnamon, and a healthy drizzle of maple syrup. This concoction tastes so much like cinnamon rolls that I don't even miss my neighbor's buttery, made-from-scratch dough. Well, almost.
03. Sandwiches
It's no secret that gluten-free bread leaves much to be desired, and frankly, many gluten-free eaters agree that it is not a fair swap. What I've done instead of turning to the disappointing (and often overpriced) gluten-free bread options is to improvise with other items in my fridge. For instance, I sandwich my favorite turkey, cheese, and Dijon mustard between sliced apples or cucumbers. These "sandwiches" taste fantastic—the perfect blend of sweetness and salt—and to me, they are really just an excuse to eat copious amounts of cheese.
04. Pasta
My extended family is Italian, and pasta has always been a central part of all our family dinners. Thankfully, there are pasta products—like pasta made from chickpeas or rice flour—that taste great. But there are other ways to get creative with pasta dishes by using two substitutes: spiralized beets and spaghetti squash.
Spiralized beets are among my favorite vegetables because they are so colorful, flavorful, and visually beautiful—plating spiralized beets for company makes me feel like an award-winning chef (which I decidedly am not). My favorite way to prepare them is to sauté them in olive oil, then toss them with balsamic vinegar, roasted sweet potatoes, kale, and goat cheese.
Spaghetti squash is another highly versatile pasta alternative. To prepare it, slice the squash in half lengthwise, scoop out the seeds, rub each half with olive oil, and place face-down on a cookie sheet. Bake at 400 degrees for about 40 minutes. Scoop the squash out of its skins and add your favorite marinara or pesto, or mix with black beans, cheddar cheese, and diced bell peppers.
05. Pie
This past fall, my mom made a gluten-free "pie" that involved wrapping cinnamon-and-sugar coated apple slices in rice paper. These mini desserts were so easy to make and made the house smell delicious while baking. And because the rice paper was so thin and light, I felt completely justified eating three or four servings.
To make these pies, peel and slice a few large apples and coat them in cinnamon and a pinch of brown sugar. Soak sheets of rice paper in water until they are pliable. Wrap the apples in the rice paper like a burrito. Brush with melted butter or olive oil and bake at 400 degrees for about ten minutes or until they are crispy.
06. Cookies
My new lifestyle didn't stop me from baking—or eating—this holiday season. One recipe that made me feel like I wasn't missing out was my mom's gluten-free banana oatmeal cookies. The recipe could not be easier, and the cookies taste just like chocolate chip banana bread.
To make the cookies, mash three or four ripe bananas with a cup of gluten-free whole oats, a few handfuls of chocolate chips, and a teaspoon of cinnamon. Scoop onto a cookie sheet and bake at 375 degrees for about ten minutes.
Learning to change the way we prepare, eat, and serve food can be an adjustment. But rather than viewing it as a burden or a deprivation, we can use dietary restrictions to expand our horizons, teaching ourselves how to fill our plates with new and different types of foods.
What are some of your favorite gluten-free swaps? Share with us in the comments!