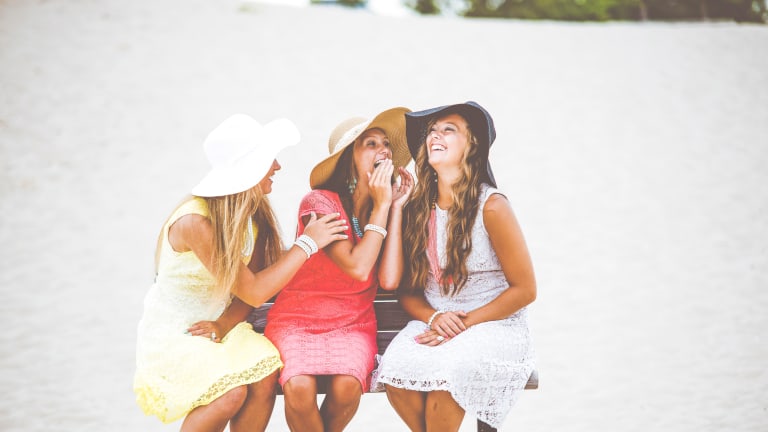 Hosting Guide: Galentine's Day Party
Celebrate the day Knope-style!
What's Galentine's Day? Only the best day of the year!
This new holiday was created by a fictional character, the enthusiastic and endearing Leslie Knope from the sitcom Parks and Recreation. It's an opportunity for you and your girlfriends to celebrate your friendship and what you admire in one another. The idea is to get all your female friends together on February 13 to share a meal, exchange favors, and talk about your year. Ladies celebrating ladies!
As soon as I saw the first "Galentine's Day" episode of Parks and Rec, I knew that I wanted to celebrate. So, during my senior year of college, my best friend and I hosted a party to communicate to the wonderful women in our lives how much we loved and appreciated them.
If you are thinking of celebrating this amazing holiday with your friends, here are some tips from our experience to make your Galentine's Day party a success.
1. Kick it breakfast-style.
Leslie Knope, the main character in Parks and Rec and the host of the annual Galentine's Day festivities, is a major breakfast aficionada. That means Galentine's Day features waffles, and lots of them!
Some years, February 13 will conveniently fall on a weekend, which definitely makes it easier to schedule a brunch with your friends. If you are on a busy schedule and it suits everyone's budgets, you might consider making a reservation at a favorite breakfast spot (for Leslie, that would be J.J.'s Diner).
But mornings can be difficult, especially on weekdays. This year, February 13 falls on a Wednesday, which could make a breakfast tough. If you and your girlfriends are busy with work, classes, or kids, consider hosting breakfast for dinner! That's what my friend and I did for our celebration, and it was a huge hit.
If you decide to make the food yourself, serve food that is easy to make and easy to keep hot. Our menu included make-it-yourself toaster waffles and syrup (plus lots of whipped cream!), fresh berries, mimosas, eggs, and bacon. Only the eggs and bacon had to be served hot, which meant guests could prepare their waffles while we prepared the rest to be served all at once when the final guests arrived.
Other tasty breakfast items that take a little more time and effort, like pancakes, crepes, or quiche, would also be delicious. If you own a waffle iron, you can even make waffles from scratch!
02. Have fun with the decorations!
If you are hosting the party at home, adding some decorations is a surefire way to make your Galentine's Day feel extra special.
Parks and Rec includes lots of great one-liners and inside jokes that inspired our décor for the Galentine's Day party. Fortunately for us, one of our friends already had decorations on hand from a previous Parks and Rec-themed event. (Can you tell how much we love this show?) The focal point was the "Treat Yo'Self" pennant banner strung above the doorway where we took photos together to commemorate the event.
Of course, you don't need to have seen Parks and Rec to come up with some great decorations. Since Galentine's Day is all about celebrating womanhood, consider putting up some portraits of your favorite heroines—historical or fictional. Mine would be Joan of Arc and Anne of Green Gables.
Or you can focus on the "reason for the season" and post pictures or mementos to commemorate your and your friends' biggest achievements from the year, big and small, from weddings and graduations to finally finishing that hike you always wanted to do.
One simple but pretty way to display these items is to hang a twine "clothesline" on the wall using tacks—just leave the twine slack enough to make a gentle arc. Then you can attach your pictures to the line using clothespins.
And don't forget to have fun with the little touches—bright paper plates, floral napkins, whatever feels fun and festive!
03. Make some Leslie Knope-inspired favors.
This was hands down the best part of our Galentine's Day party. Leslie Knope is famous for going above and beyond when it comes to gifts for her friends—in the original Galentine's Day episode, for example, she creates portraits of her friends using glass shards from bottles of their favorite diet soda.
Most of us don't have the time—or talent—to make such elaborate favors. But, as is so often the case, it's the thought that counts!
For our party, my best friend and I made a trip to the dollar store and bought up all of the $1 photo frames and scrapbook paper they had. We sat down and brainstormed one word that we thought best described each of our dear friends. Once we had decided, we wrote out each word on patterned paper and framed it. Then, at the party, we presented each person with her frame and gave a short speech about why we chose that word for her. It was wonderful to see how each person lit up when everyone else in the room affirmed her good qualities!
If you are short on time, there are lots of other fun favors you can purchase or make yourself. Fun-sized chocolates, mini bottles of wine, customized mugs—the list is endless. Pinterest is also a great resource for fun and thrifty craft ideas.
You can make Galentine's Day as simple or over-the-top as you want, because the most important part is not what you do but who is there. Hopefully these tips will inspire you to set aside some time to celebrate all of the wonderful women in your life!