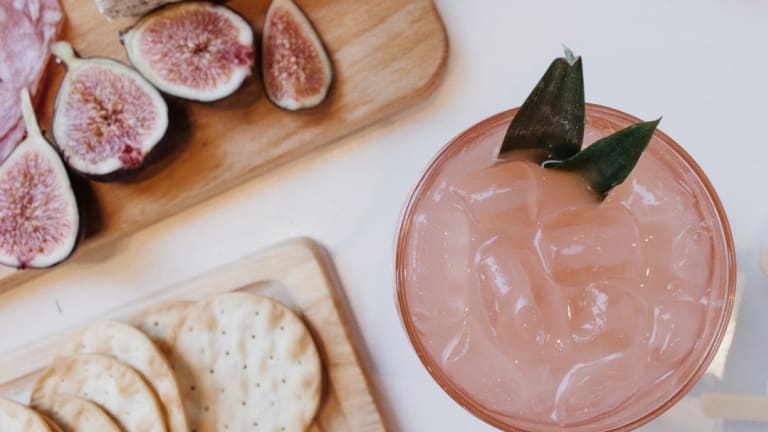 Make the Most of Frosty Days with These Winter Cocktails
Combat winter chills with killer mixology skills
The holiday season has come and gone, but my taste for winter cocktails is here for several more months! A glass of wine or bourbon (neat with a dash of bitters) are my usual go-tos, but sometimes it's fun to jazz things up a bit, even just for myself and my roomies. A lot of winter cocktails tend to the creamy and/or sweet side of things (White Russians, Irish Coffees, Mudslides, Moscow Mules, etc). But if you want something a little stronger and fresher to combat the low temperatures, here are a few of my favorites. All are classics, but with little twists that make them more special—and all are easy to make yourself!
1. The Hot Toddy
This classic winter cocktail usually involves tea and honey. But this variation gives you a hearty dose of vitamin C; think of it as the perfect antidote to yet another winter flu.
1 ½ oz Bourbon whiskey
½ lemon
1 orange
½ Teaspoon (+/-) fresh grated ginger
1-2 teaspoons honey
¼-½ cup water
Dash of cloves, nutmeg, cayenne.
Juice the citrus into a small pot. I like mine pretty pulpy, so don't be afraid to let some bigger chunks of the fruit fall in. You can break them up later, and it makes the drink nice and thick! Combine all the ingredients in the pot and season to taste. Add more or less water to dilute to your taste; I like mine heavy on the citrus, so I use ¼ cup of water. Heat to preference. You can omit the cayenne if you're not a fan of spice; the ginger gives it a bit of a zing on its own. Serve in your favorite 6-8 oz mugs and cuddle up for a long winter's night!
2. The Old Fashioned
Another classic. There are several different variations of this cocktail—none of them too difficult, but some better than others. This "Pre-Prohibition Old Fashioned" omits the muddled fruit that, while delicious in the Hot Toddy, to my mind, clogs up this cocktail.
2 oz rye whiskey
1 oz simple syrup* OR 1 sugar cube
2-3 dashes of bitters
Orange twist
Since this is such a simple drink, it's the perfect opportunity to bring out your best whiskey. If you use simple syrup, you can shake the ingredients in a cocktail shaker with plenty of ice before pouring into a rocks glass. If you use a sugar cube, muddle the sugar and the bitters in the rocks glass before adding the whiskey. Varying the kind of bitters you use will give this cocktail a different flavor.;Aromatic bitters are a classic, but you can use orange bitters to give this drink a stronger citrus taste. While there are more and less expensive brands, the most widely used is Angostura; you can't go wrong with them, and they're available almost everywhere. Serve in a rocks glass over ice. (I suggest using a large cube or two, an ice ball, or ice stones. Smaller pieces of ice—say from your average ice maker or ice tray—will melt quickly and dilute the drink.)
3. The French 75
If you're looking for something a little fancier (think etched-glass coupes and cocktail dresses!) or just for something a little lighter, this is a great winter alternative to the whiskey-heavy menus you'll find around town.
2 oz Champagne or sparkling wine (the drier, the better)
1 ½ oz gin
1 ½ Tablespoons fresh lemon juice
1 Tablespoon simple syrup*
Combine the gin, lemon juice, and simple syrup in a cocktail shaker with plenty of ice. After a good shake, pour the contents sans ice into a coupe or cocktail glass, and then add the champagne (make sure it's chilled!). This drink is strong but light, the perfect concoction for an icy night!
* Simple syrup is easy to find in any cocktail aisle, but you can also make it in a pinch! The rule of thumb is equal parts sugar and water. Ideally you'd combine them in a pot over low heat, but in a pinch you can put it in the microwave in a tupperware and then and shake it up for a quick fix.
Cozy up with a good book, hunker down for a Netflix binge night, or impress your friends with your mixology! Cheers!