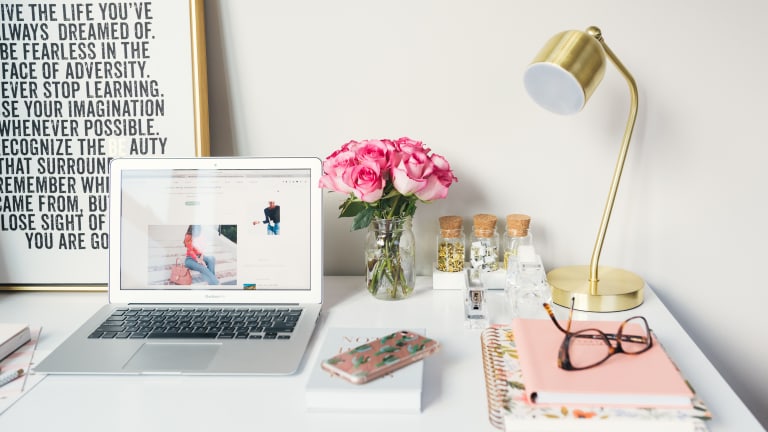 5 Must-Reads for the Creative, Entrepreneurial Woman
These authors will raise a creative ruckus in your life.
Few things can be as inspiring as a truly captivating book.
When it comes to books in the self-help and personal development category, the good ones can be life-changing. The best nonfiction authors can plant a creative seed in our hearts or even go so far as to propel us into action—whether that's starting a side-hustle, finally making an important personal or professional contact, or launching that creative project we simply cannot stop thinking about.
For entrepreneurs and creatives, the right books can be extremely formative in shaping our professional and creative goals. Authors can serve as mentors to us, even if we don't know them personally: we can connect with authors who have weathered the very same challenges that we have—or will—in our own professional lives. For instance, I read Stephanie Breedlove's book All In a year before I started my own business, and her words played a tremendous role in encouraging me to explore the challenges and rewards of stepping into entrepreneurship.
If you are looking for fresh inspiration to raise a creative ruckus in your life, look no further than these top five reads for the creative, entrepreneurial woman.
Real Artists Don't Starve by Jeff Goins
When we dream about making a living from our creative pursuits, we often immediately dismiss the thought, believing that there is no conceivable way that a creative passion can ever become profitable. But anyone who buys into this false belief should pick up bestselling author, blogger, and podcaster Jeff Goins' book Real Artists Don't Starve. Goins dedicates his book to debunking the myth of the "Starving Artist," explaining that a desire to make money from creating art does not prevent us from crafting our very best work. In other words, while the Starving Artist believes that money devalues her art, what Goins calls the "Thriving Artist" knows that if her art is profitable, it will simply enable her to create more—and even better—art.
Throughout the book, Goins cites real-life interviews with artists, business owners, and authors, explaining how they turned their creative passions into profitable businesses without sacrificing the quality and integrity of their work. Goins also cites the examples of storied artists who have given the world treasures like the Sistine Chapel (did you know that Michelangelo was one of the wealthiest artists of all time?). What is so inspiring about Goins' perspective is the way it shows that commitment and consistency can pave the way for making a living doing what we love.
How to Win Friends and Influence People in the Digital Age by Dale Carnegie & Associates with Brent Cole
This book is a reprisal of Dale Carnegie's How to Win Friends and Influence People—situating the themes of the original and groundbreaking self-help book in the context of our current climate of social media, digital platforms, and quick connections. The book's mission is to further Dale Carnegie's key principles in pursuing and forming valuable professional relationships: to care, truly care, about the people with whom you are interacting, whether online or in person.
What is most intriguing about the book is that while tailored to the digital age, its themes are timeless. The book emphasizes, for instance, the critical importance of asking questions to truly seek knowledge, not just with the intention to respond. It also impresses upon its readers the importance of seeking authentic connection, not just amassing a following for the sake of having one. The book's message is widely applicable to any professional: when it comes to forging important relationships in the business world, we need to remember that ultimately, it is not about us. It is about the people we are serving.
Grit by Angela Duckworth
A renowned, award-winning psychologist, Angela Duckworth has studied extensively the role of grit in helping people across fields and disciplines reach success. Grit is a well-researched account of how a combination of passion and perseverance has historically trumped sheer talent in propelling people to the top of their respective fields.
Throughout the book, Duckworth shares examples of individuals who have found success through unrelenting effort, resilience, and perseverance, breaking down the specific qualities that have helped them succeed. She also cites facts and figures about how different qualities and aptitudes play into an individual's efficacy at his or her trade. Duckworth's hypothesis—and her analytical and illustrative approach in supporting it—is especially helpful for those who may be wondering whether they are fit for the path they are charting, tempted to compare themselves to those they perceive as more inherently "talented," or who think that their own hard work won't be enough.
All In by Stephanie Breedlove
The founder of Care.com Home Pay, Stephane Breedlove is an entrepreneur who revolutionized at-home childcare through her innovative accounting system for nannies and other caregivers. In her book, Breedlove shares an honest account of her struggle to start her business, from its shoestring days to its subsequent success as a national brand.
Breedlove's vulnerability is what I loved most about her story. In sharing the challenges and struggles of entrepreneurship rather than merely painting a sanguine picture of its hard-won rewards, she imparts the message that the entrepreneurial life really is an option that is available to everyone. The book taught me that this journey—the journey of taking an idea from its initial germination to a thriving business—is more accessible than I'd imagined.
Essentialism by Greg McKeown
Author, entrepreneur, and influencer Greg McKeown's book is an absolute must-read for every professional. Essentialism introduces a way of life that McKeown calls the "Way of the Essentialist"—a paradigm shift that involves prioritizing only what matters and saying no to everything else. It is radical, but life-changing in that it teaches us to identify and pursue our one priority in life and in business, and in doing so, to pursue what McKeown calls our "highest level of contribution."
Throughout the book, McKeown references successful business owners who have managed to create a blueprint for thriving in business while maintaining a robust personal life. He also references research about the benefits of stepping away from excess in favor of elevating our one single priority in life and in work. For anyone who feels overwhelmed and overburdened, this is a must-read. McKeown will walk you through the process of slowly, deliberating adopting the Way of the Essentialist.
Whether you are preparing to pivot in your career, to launch a side business, or finally to step out into the exciting world of running your own company, these five books can inspire you in your journey. Not only will these authors' words remind you that, yes, you are enough, and, yes, you can do this, but they will give you the practical tools you need to create with confidence.