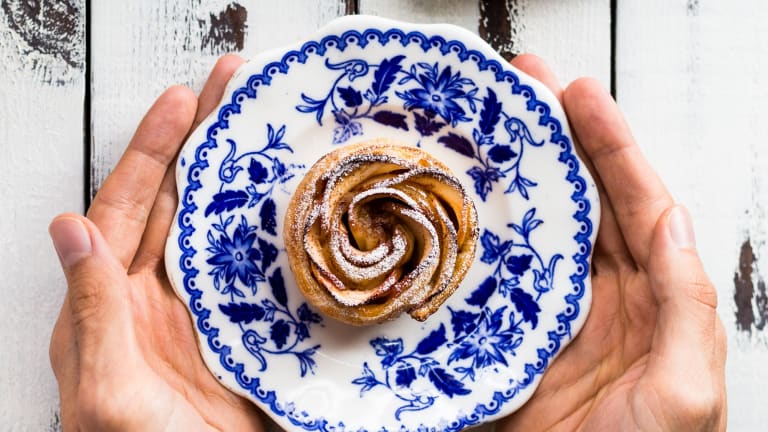 Winter Survival Guide: Baking through the Winter
Try this hobby for long winter evenings!
Deep in the dreary days of winter, the sky overcast with a blanket of gray, I can likely be found in the kitchen (the oven already on), looking through my cookbooks or the saved recipes on my computer for something to bake. But it was only a year ago that I really began this habit of turning to the kitchen when the winter blues set in.
With a new little baby at home, a master's degree to finish, and only a small apartment in which to work on my domestic skills, last winter was one of my most challenging yet. In the end, there were many resources I used to get through the tough season, but one of the most leisurely and by far the tastiest was baking. It drew me out of my anxious thoughts and into a place warmed by the stove and the oven, keeping me busy with little tasks I could accomplish and whose fruits I shared with my family and friends.
I had started to watch BBC's Great British Baking Show while doing Pilates (a bit of an ironic combination, but more on that later) and decided—likely in a moment of newly released endorphins—to devote more time to baking and to conquering recipes or techniques I hadn't faced before: things like puff pastry, crème patisserie, marzipan, and good old crusty bread, to name a few.
These recipes were my weekend activities, my recreation. I planned for them during the week, deciding what I wanted to bake and shopping for ingredients. Then I spent most of a day in our tiny apartment kitchen while my husband played with our daughter and we all listened to music.
Now I find that the activity of baking can soothe my anxiety and uplift my being no matter the season. But I especially encourage you to give it a try in the spirit of embracing winter and living joyfully. After all, the best time to bake is when it is cold and dreary inside—this is the kitchen's season to shine.
Although recipes can be technical, the work itself is refreshingly simple, requiring enough thought and care to gather us from our melancholy. Here are three ways baking can help us during the winter:
01. Baking increases confidence.
We might be skeptical at first, fearing failure, but if we adjust our expectations, we can find that the process—sometimes even more than the outcome—boosts our esteem. The process of deciding I wanted to make pastry cream, studying the technique, reading about different thickening agents, purchasing the ingredients (all of which you likely have in your cupboard), and then making it afforded real satisfaction.
I grew more confident from attempting projects that I would normally set aside as too complicated or more suited for another time. Trying something new and seemingly difficult reminded me that I was smart and capable. Confidence is linked to the hormone testosterone, which, as it increases, decreases the stress hormone cortisol and its associated feelings of anxiety and stress. The confidence we gain from doing things we want to do helps us as we face and endure the winter.
If we approach them from a defensive, insecure position, living through the months ahead could just be a sad struggle. If we live winter with a sense of confidence and readiness, though, we may actually find joy and freedom in overcoming its challenges. So even though the texture of my pastry cream still hasn't ever turned out very well (if you have any tips, let me know!), it tastes lovely, and the real point is that I committed to a project and followed through.
02. Baking involves our whole beings in creative work.
At times the winter can cause listlessness, a restless boredom. It is cold and dreary outside and we become tired of the indoors, uncertain of what to do with ourselves. I have become more and more confident that good manual work is often the antidote to feelings of sadness and boredom. Intellectual or mental work occupies our minds, but there is something about involving the hands in work that refreshes the whole person. Physical work engages us in the activity of our bodies, mitigating the thoughts that can lead to depression, anxiety, and worry with positive action.
Baking is also a good opportunity to practice mindfulness: to feel the flour or the butter with our fingertips, to smell the salt and sugar heating in the oven, to see the layers of pastry rising up like crisp leaves. And although it feels like I am only present to my senses, I have found that these motions and gestures help me to process my thoughts in a more peaceful and holistic way. My body does what my thinking sometimes cannot, ordering my thoughts and working toward peace. As I am spreading layers of buttercream onto round cakes, decorating with the fine-tipped piping bag my mom gave me, I can make something beautiful. What was a collection of individual materials becomes a piece of art.
03. Baking brings joy to others.
A strong temptation when winter seems to be closing in on us is to close in on ourselves. For me, at least, this only leads to more sadness and anxiety. But baking has helped me to think of who I am baking for; it has turned me outward toward others. This is the most important takeaway from baking that has helped me stay joyful: choose to love the people around you, consider them, give to them. The relational side of baking has drawn me back again and again into the community of our family and our friends. All of the work, with the confidence it brings and the energy it gives along the way, is finally complete only when the plate of scones is passed around or the loaf of bread is torn at the table.
A couple of side notes: First, to balance out baking, what helps me through the winter months is exercise. Sometimes my exercise is just a walk around the neighborhood in my heavy-duty parka or a workout video at home, but this bit of time keeps my endorphins up and keeps me craving nutritious foods so that I am more likely to eat the homemade sweets in moderation. Second, I have to remind myself that my attempts at difficult bakes will not turn out perfectly and nor should they. Perfection is not the point. The point is the process, the effort, and the joy that comes from both. Here are a few great recipes to get you started: For a foolproof, no-knead artisan bread, try this recipe created by a doctor and a pastry chef; when you are craving flaky fruit tarts and savory turnovers, try this basic puff pastry recipe; for an impressive, reminds-you-of-summer dessert, try this citrus pavlova.
So get into your cozy kitchen, turn on the oven, and pull out the flour. These months can be discouraging, but they don't have to be. Let baking bring you some joy this winter.
Our "Winter Survival Guide" articles are weekly pieces dedicated to help brighten up your post-holiday winter! Join our "Winter Survival Guide" Verily Facebook group to bond with other women through what can be a difficult season.