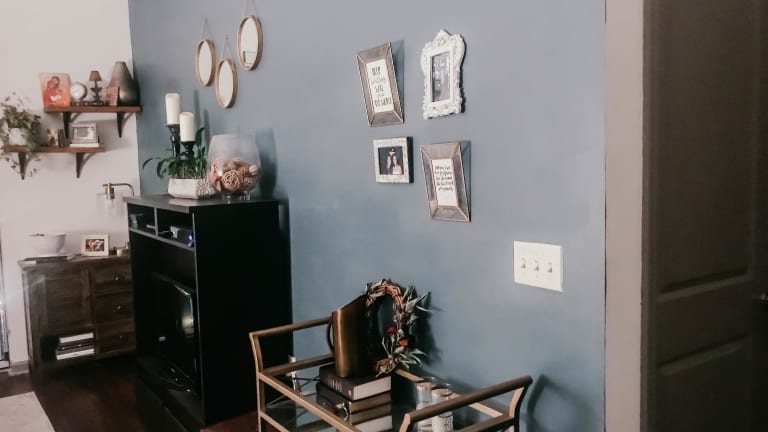 At Home with Her: An Accent Wall That Brings Coziness
The living room of your dreams could be a fresh coat of paint away
Name: Meg McDonnell
City: Alexandria, Virginia
Tell us about your favorite spot in your home.
The slate blue accent wall in the living room of my apartment is easily my favorite feature of my home. The shade of blue is vibrant but also acts as a sort of neutral, meaning that a lot of different colors complement it. And this wall is the most noticed and talked about space in my home.
When I first moved into this apartment, I knew I was finally going to take the plunge and paint. As a renter, I always was allowed to paint with the caveat that I'd have to either paint the room back or pay for the building to paint it for me. That sounded like a lot of work for a temporary situation. But after years of living in apartments, I've come to appreciate that even in temporary spaces, a feeling of home and coziness is really important. This one painted wall has made my apartment feel more distinctly "my home" and less just a place I live until the next time my lease needs to be renewed.
Tell us how this spot came to be decorated the way it is.
I had picked up a sample size of the color I wanted from the Sherwin Williams store down the street right when I moved in. To my surprise, the sample size is pretty generous (first time interior painter here!); it was essentially enough to cover the wall. But painting felt like such a commitment, and it couldn't easily be undone. So I didn't jump right to work on move-in weekend, like I had planned.
Then, one Friday night, I flew home from a work meeting in another state. It was late, and I was tired, so I collapsed on the couch facing the wall I had intended to paint. As I stared around my apartment, all I saw was stark, apartment building white. Truthfully, it made me a little sad.
With no plans the next morning, I decided to wake up early and set to work. The next morning, after a cup of coffee, I got to work. Six hours later, I stood proudly in front of the fully painted wall. The paint isn't even in some parts, but I think that adds a little artistic flare. Whenever I notice the light revealing the wall's imperfection, I smile at my unusual spontaneity on that Saturday morning.
Have there been particularly inspiring or moving moments in this corner of your home? Or, is there a particular feeling you get when you are in this space in your house?
I feel a great sense of accomplishment when I look at that slate blue wall. I may not be out of apartment living yet, but that hasn't stopped me from enjoying my home. I still crash on my couch exhausted after a long work week, but I often smile as I look around and see my own touch on the walls, instead of the stark apartment white. It's a reminder that somewhere in my life, if even in just a silly accent wall, happiness is in my reach.