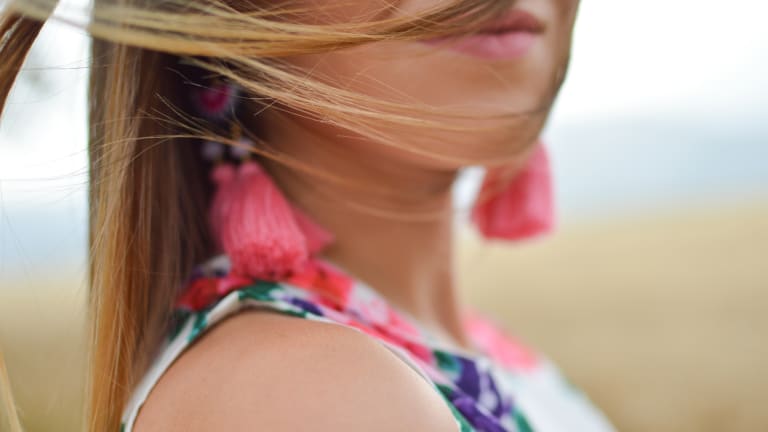 How to Use Accessories to Create Feminine, Romantic Outfits for Valentine's Day
It doesn't take much to get a little festive this week.
Many of us think of a red lace dress or a blouse with a heart pattern as making the perfect Valentine's Day outfit. But if you want to look V-Day festive without splurging on a new ensemble, you can still use accessories to add some femininity and romance to your everyday staples. Whether you are on an early date or night out with your longtime sweetie, celebrating with your girlfriends or working most of the day, here are some tips on how to add some romance to your outfit without breaking the bank (or wearing that white tee with the huge red heart on it).
 Ribbons
Ribbons can look prim or flirty depending on how you wear them. Look for a burgundy ribbon to add to your hair for Valentine's Day—you can even pair it with some of your fall wardrobe. You can go sleek and modern by parting your hair down the middle or side, slicking it down, and pulling it into a low bun.
Or, weave your hair in one large French braid, starting on, for instance, the left side of your head and moving diagonally to end at the braid at the right side, by nape of your neck. You could weave a ribbon through this braid or use it to cover the rubber and at the end.
You can also incorporate ribbons into your outfit with your earrings: pull your hair back into a bun or ponytail and add statement bow earrings in fabric or enamel.
Try this look...
Chokers
Chokers are romantic and sensual without being revealing. They highlight one's neck, when one holds her head up high, but the neck is also a physically vulnerable part of the body. Lace and floral chokers further play up this contrast, as the lace is delicate (and the florals feminine) even while they create a hard visual line across the wearer's neck.
Another flirty way to wear a ribbon is to get a black or red velvet one from the craft store to use as a choker. You can tie the bow in the back for a classic choker look, in front for a more professional look (worn with a white shirt), or at the side to create a quirky, flirty vibe.
If you have a long string of fake pearls, you can also loop it around a few times to create a retro-looking multiple-string choker.
Try this look...
Big earrings
Big, romantic earrings also draw the eye to one's neck, jawline, and cheek. Try a gold or silver earring in a flowery, intricate pattern. Leave your hair down and twist back one side behind your ear to show off the bauble. Big earrings work well for both date nights and parties with your girlfriends.
Try this look...
Here are also some additional items at J Crew. Some are on-sale, so supplies are limited:
Flower and tortoise door knocker earrings
Neckerchiefs
Neckerchiefs are a great way to add femininity to any outfit. They have been worn for decades, but we often associate them most with the romance and perceived innocence of the 1950s. For Valentine's Day, find or make one in a romantic pattern such as white eyelet, black-and-white polka dots, or a pink floral. Tie them in the front, like Audrey Hepburn, or to the side, and add small earrings. These look cute on a date but are also office-appropriate.
Try this look...
Or try this Silk Skinny Bandana from Madewell.
On Valentine's Day, you don't need to buy anything expensive or obvious to feel festive. (A Valentine's Day tee is cute, how often would you wear it?) However you choose to celebrate, it's easy to create flirty, feminine ensembles with a few small, romantic pieces that you can wear again and again.