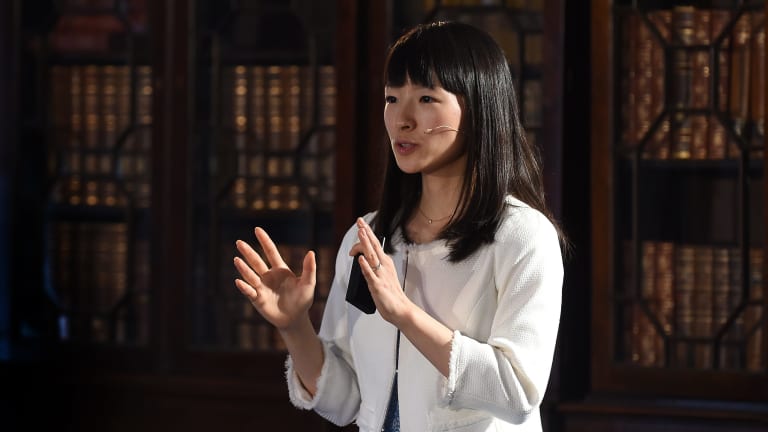 Marie Kondo Sparks Joy on Netflix, And Other News from the Week
Catch up on all the news you might have missed with our handy summary of the week's top stories.
We're pleased to bring you "While You Were Out"—the Verily editors' quick takes on the happenings of this week.
Marie Kondo Tidies Up on Netflix
It's been several years since Marie Kondo released The Life-Changing Magic of Tidying Up: The Japanese Art of Decluttering and Organizing, the book that inspired a generation of women to toss anything that doesn't "spark joy" out of their homes.
Now, lest we all forget to respect our living spaces and fold our clothes, Kondo is back in the spotlight with a new Netflix show. In Tidying Up with Marie Kondo, she visits families, Extreme-Home-Makeover style, and helps them declutter their homes—and maybe even clear out some mental clutter, too. Considering the piles of clothes and boxes she has to deal with, her attitude is surprising: she faces every challenge with a smile. Whether you need a little extra encouragement organizing or just a reminder to treat your home with dignity, Tidying Up with Marie Kondo is a great watch for the new year. —Madeline Fry
Golden Globes Recap + Sandra Oh's Parents Steal the Show
Watching any Hollywood award ceremony certainly feels less magical after our disillusionment with the industry following the exposure of its long-hidden sexual assaults. Nonetheless it is still worthwhile to know what films and series are being honored.
At this year's Golden Globes, which recognizes top contenders in domestic and foreign films and television, the biggest winners in film were Bohemian Rhapsody, which won best drama, beating out A Star is Born, and Green Book, which took home three awards. A Star is Born, the much-talked-about musical drama starring Bradley Cooper and Lady Gaga, didn't win as big, though it is expected to do well at the Oscars. Nonetheless, Lady Gaga took home the award for Best Original Song, "Shallow."
Arguably the biggest winner of the night was actress Sandra Oh, perhaps best known for her past role on Grey's Anatomy. Not only did she host the awards along with comedian Andy Samberg, she also took home a Golden Globe for her role as an undercover agent in the TV drama Killing Eve. What really stood out to viewers, though, wasn't her, but her parents, to whom the camera occasionally panned, revealing their teary-eyed pride. Sandra Oh addressed them directly in her acceptance speech: "Mom, dad, I love you," she told them in Korean before giving a slight bow. Social media blew up as viewers posted screenshots of her parents looking pleased as punch. Truly, it was the feel-good moment of the night. ―Mariel Lindsay
Clean Beauty Gets A Spotlight On The Red Carpet
Clean beauty is definitely having a moment, as the natural, toxin-free cosmetics and skin care company, Beautycounter, found its way onto the red carpet. On its social media feeds, Beautycounter shared photos of several actresses, including Catherine Zeta-Jones and Maya Rudolph, wearing the clean beauty company's makeup at the Golden Globes Awards ceremony last Sunday. Beautycounter makeup artists also shared the specific products they used on Debra Messing and Connie Britton.
Beautycounter is a line of natural makeup that ended up being the number one Googled beauty brand in 2018. It has a "never" list of over 1,500 potentially dangerous ingredients that the company will never use. This makes the company stand out from other cosmetics companies, as the FDA does not review or approve the majority of products or ingredients before they hit the market. Beautycounter also works actively to try to change current laws in order to keep harmful chemicals out of all beauty products. In an interview with New York Magazine, Beautycounter Founder and CEO Gregg Renfrew said, "No matter how successful we become, we can't impact all consumers ourselves. But we could if we could actually change the law that protected people from being exposed to toxic chemicals in their products."
If I'm going to predict anything, it's that the clean beauty movement is going to explode in 2019.—Madeleine Coyne
Cyntoia Brown is Granted Clemency
Cyntoia Brown, a formerly sex-trafficked woman who killed a john who bought her for sex, was granted clemency this week by Tennessee Governor Bill Haslam on Monday after serving almost 15 years in prison. Brown was sentenced to life in prison in 2006 when she fatally shot a man when she was 16 years old, had been forced into prostitution, and was afraid for her life.
Haslam released a statement explaining his decision to grant Brown clemency: "Cyntoia Brown committed, by her own admission, a horrific crime at the age of 16. Yet, imposing a life sentence on a juvenile that would require her to serve at least 51 years before even being eligible for parole consideration is too harsh, especially in light of the extraordinary steps Ms. Brown has taken to rebuild her life. Transformation should be accompanied by hope. So, I am commuting Ms. Brown's sentence, subject to certain conditions."
Brown is set to be released in August, and will be on parole for 10 years, the terms of which include participation in regular counseling and a minimum of 50 hours in community service, including work with at-risk youth. She is also required to find a job. "With God's help, I am committed to live the rest of my life helping others, especially young people," Brown said in a statement. "My hope is to help other young girls avoid ending up where I have been."
Brown's release has inspired her supporters to turn their attentions to incarcerated women with similar stories. As sex-trafficking survivor Brenda Myers-Powell shared with Verily in 2016, "At least a thousand American children are arrested for prostitution each year despite being too young to consent to sex and despite federal law defining them as victims of trafficking." Here's hoping Cyntoia's encourages criminal justice reform for victims of sex trafficking. —Gabriella Patti
President Trump's Addresses Government Shutdown and Border Wall in First Oval Office Address
On Tuesday night, President Trump used his first ever Oval Office address to discuss migration and make his case as to why a border wall with Mexico is necessary. Trump went on to explain his conditions for ending the government shutdown, which has been in effect since December 22, when Congress denied the President's request for $5.7 billion in funding for the wall's construction. Friday, January 11 marks the day 21 of the shutdown, and if it continues into Saturday it will become the longest government shutdown to date. No one is quite sure how long this standoff between the president and Congressional Democratic leaders will continue, however it is already clear that many furloughed government employees and citizens dependent on government programs will be affected by the shutdown in the meantime. —GP
Amazon CEO's Divorces Amid Affair Allegations
Billionaire Amazon CEO, Jeff Bezos, announced on Wednesday via Twitter that he and soon-to-be ex-wife MacKenzie, are ending their marriage. The tweet, signed by both Jeff and MacKenzie, stated that the two have "decided to divorce and continue [their] shared lives as friends." What's more, they gushed about their "great life together as a married couple" and their vision for a shared future together in which they are "parents, friends, partners in ventures and projects, and as individuals pursuing ventures and adventures." At first glance, the announcement seems so amicable that one wonders why, with four children and 25 years together, they are divorcing at all.
Nonetheless, multiple reports surged immediately following the tweet that shed new light on the circumstances of the divorce, including rumors that he has been involved in an affair with Good Day L.A. co-host Lauren Sanchez, who is also married with children and currently undergoing a divorce.
Considering Bezo's high-profile public persona and his immense power (he is considered the richest man in the world), both his divorce and the intertwined adulterous affairs that accompany it will be making news for a while. Our hearts go out to the spouses and children caught in the crossfire. —ML
Hailey Baldwin Uses Social Media to Open Up About Social Media
Coming up with New Year's resolutions can be challenging, but Hailey Baldwin is making one we can all get behind—to take care of her mental health in 2019. Last year the model took time off Instagram to avoid "negativity," and she opened up about her experience with anxiety and social media this week. "Stepping into 2019 I want to be more open . . . about the things I struggle with, and be able to be more vulnerable," she wrote.
Before Christmas, she posted that avoiding Instagram was "the best thing ever." She said that while Instagram is a great tool for staying in touch, the social media platform gives her anxiety. In her recent post she explained, "I have had more days than I can count where I've found myself scrolling through Instagram comparing myself, comparing my looks, feeling like I'm not good enough feeling like I lack so many things and really struggling to be confident in who I am because I constantly feel like I'm just not good enough." If even models feel this way on social media, the comparison trap is something we all can fall into.
"This year I'm gonna do my very best to just be ME and be confident with who I am," Baldwin wrote. "Cause I am enough, and I'm loved, and you are enough and you're loved." If you'd like to be more intentional about your social media use in the new year, here are four ways to do it. —MF
Scarlett Johansson Calls Out a New (and Scary) Kind of Porn
As discussions about censorship, privacy, and the spreading of disinformation on web platforms such as Facebook and Twitter continue, it's no secret that the internet can be an unregulated mess. One of the more dangerous proofs of this came into the spotlight over the past couple of weeks, after The Washington Post ran an interview with Scarlett Johansson, who has become the victim of "deepfakes," pornographic videos that realistically impose a person's face on someone else's body.
The world's highest-paid actress explained how internet creeps have put her image on actors in dozens of sex scenes, one of which has been viewed over 1.5 million times. Even with her resources, she says there's not much she can do. "I think it's a useless pursuit, legally, mostly because the internet is a vast wormhole of darkness that eats itself," Johansson said. "There are far more disturbing things on the dark web than this, sadly."
As technology advances, it becomes increasingly difficult to determine whether or not a video is fake. And sadly, it's not just celebrities who can be victims. "The Internet is just another place where sex sells and vulnerable people are preyed upon," Johanson said. And while some elements of the internet are subject to legislation, it remains mostly a free-for-all. While regulations lag behind advancing technology, the Post reports that more tech may be the best way to fight back, as experts say the same software that allow people to generate these videos may be useful in finding them out. —MF
Two Hearts Connect Mom and Daughter in Touching Modern Family Moment
During Wednesday's episode of Modern Family, character Haley Dunphy (portrayed by Sarah Hyland) found out that she is pregnant with twins, and fans were able to get a sneak peek of the news in a PEOPLE exclusive that aired Tuesday night. In the exclusive, the newly pregnant Haley attends her first ultrasound appointment with her mother Claire (Julie Bowen) and boyfriend Dylan (Reid Ewing). After Haley starts feeling overwhelmed at the thought of twins, mama Claire Dunphy is there to step in and reassure her frightened daughter: "You're not alone. As you're about to find out, being a mom is very complicated. Luckily there are these instincts that kick in, especially when your kid's in trouble. So, if you're overwhelmed, I'm right over your shoulder on the wings of a hummingbird."
The show has aired for ten years, and during this time we have watched the Dunphy children grow up and face their fair share of joys and obstacles. Currently, it is unclear whether or not it will continue past season 10. Nevertheless, we hope that in the final days of Modern Family the writers will use Haley's story to show the realities of single motherhood from the moments of hardship to the things that make even the difficult things worthwhile. —GP
Nine-Year-Old Girl Breaks Records In the Game of Go
The record for the youngest professional Go player in the world is now held by Sumire Nakamura, a 9-year-old Japanese girl. Encouraged to play by her father, also a professional Go player, Sumire has been playing since she was three. Sumire's rise is of particular importance as many Go tournaments are predominantly male. Only one or two women have ever reached the highest professional rankings among a community of over 20 million members.
Go is a Chinese strategy game, similar to chess, with simple rules that lead to many different, achievable game configurations. To understand the complexity of the game, consider the 361 different possible opening moves for a game of Go compared to the mere 20 possible moves in a game of chess. Notoriously difficult for computers to master, the game is often used as a benchmark for artificial intelligence. AlphaGo, a project of Google DeepMind to play Go, beat one of the best-ranked players, Lee Se-dol in 2016. The historic victory for the tech sphere shocked fans of the game worldwide.
In spite of, or perhaps in response to, the looming dominance of artificial intelligence, Go competitions continue to thrive. The top players find a beauty in the strategy of the game. As our society is increasingly anxious about the impact of algorithms on our lives, somehow it's heartening to know that the intuition and pattern-recognition of a young girl has propelled her to the top ranks of the Go community. —Rachel Wilkerson