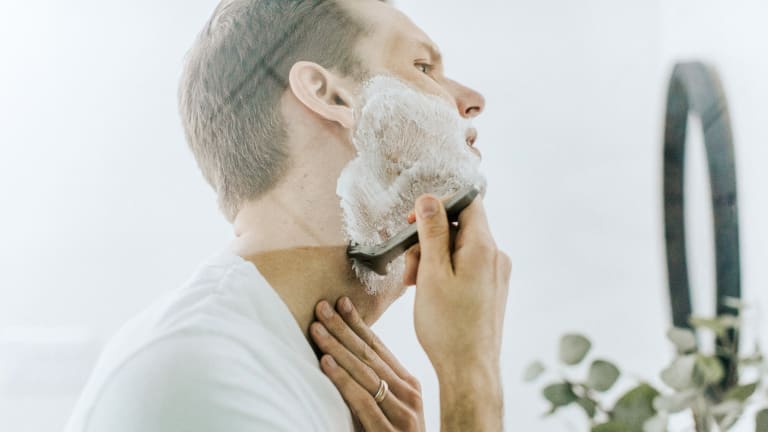 Gillette's #MeToo Ad Stirs Up Controversy, And Other News From the Week
Catch up on all the news you might have missed with our handy summary of the week's top stories.
We're pleased to bring you "While You Were Out"—the Verily editors' quick takes on the happenings of this week.
Gillette's New Ad Addresses Toxic Masculinity in the Age of #MeToo
Gillette's latest advertisement took social media by storm this week when it introduced a discussion on toxic masculinity, sexual harassment, and the #MeToo Movement. The ad, titled "We Believe" played off of their famous tagline, "the best a man can get," and instead asked, "Is this the best a man can get?"
The ad featured a series of news clips regarding sexual assault, and scenes of bullying and harassment brushed off with a cavalier, "boys will be boys." However, the ad took a turn when it showed men demonstrating to that men can play a different role. In reference to the #MeToo movement, the narrator says, "We can't hide from it. It's been going on far too long. We can't laugh it off, making the same old excuses. Something has finally changed." It ends with men standing up to bullies, breaking up fights and being a positive and present example to their sons.
The commercial has received a wide range of reactions from praise to threats from men to boycott the company, calling the ad, "feminist propaganda." But Gillette isn't backing down from the message. They expected a debate and their parent company, Procter & Gamble is no stranger to using advertisements to send powerful messages, such as Always feminine products' "Like a Girl Campaign" and Pantene's "Strong is Beautiful" ad.
"It is about men taking more action every day to set the best example for the next generation," said Pankaj Bhalla, Gillette's North America brand director. "This was intended to simply say that the enemy for all of us is inaction."
While there are plenty of male allies to the #MeToo movement, sometimes, as women, we feel we are fighting this battle alone. From that perspective, "We Believe" was refreshing in its drawing attention to men like actor Terry Crews, who was quoted in the ad saying, "men need to hold other men accountable." While this may seem like an odd backdrop for a razor ad, and for some the ad was offensive in assuming the worst of its clientele, for me, it was heartwarming that Gillette stepped up to the plate. —Gabriella Patti
U.S. Birth Rate Reaches 30-Year Low
According to a new National Vital Statistics report published last Thursday, the birth rate in the United States has officially reached a 30-year low. A rate of 2,100 births per 1,000 women is necessary to sustain a population at the same level, and this report shows a current rate of only 1,765.5 per 1,000 women, or 16 percent below the number needed to keep our population stable. This means that we are not producing enough children to replace ourselves, which could pose future economic problems. Only two states currently have total fertility rates above the levels for the states' populations to replace themselves, namely South Dakota and Utah.
Experts point to several factors as the reason for our country's steadily declining population, chief among is the fact that women are becoming mothers at a later age. Despite the fact that our economy is currently very healthy, women are delaying childbirth and marriage as they pursue new job and education opportunities. And while the evolving roles of women in society are a positive change, these declining rates are still slightly concerning for future generations.
One professor, Dr. Helen Kim, even suggests in an NBC report that "as women delay childbearing they may not realize that fertility declines with age and that there are limits to what fertility treatments can do for them." If she is correct, then I hope that women are able to better understand their fertility and how a lack of awareness relates to possible infertility so that birth rates do not continue to spiral downward.—Madeleine Coyne
UCLA Gymnast's Perfect 10 Floor Routine Goes Viral
Katelyn Ohashi blew away the competition—and a good portion of the internet—with an incredible gymnastic floor routine that earned her a perfect 10.0 at the Collegiate Challenge competition in Anaheim, California. The routine lasted just a minute and thirty seconds, but the difficulty of the moves she executed flawlessly is staggering. Her coach, Valorie Kondos Field, called the routine "ridiculously hard" and even "insane."
What's more inspiring is the look of pure joy on Ohashi's face as she performs. Her smile and buoyant expression make it clear that she's not just good at what she's does—she's having a really good time doing it. Her expression is that of hard work paying off and that of someone finding her groove and embracing it.
In the video, her team is visible as well, shaking their heads and moving their arms in unison with their teammate, cheering her on as she sticks each move with grace and confidence. The team finished in first place, due in part to Ohashi's score, as well as a perfect 10.0 scored by Kyla Ross on the uneven bars. Kondos Field attributed the team's win to a shift in mentality: "they just decided to be great and they decided to trust their training, and when your mind decides, there is no other option." —Lindsay Schlegel
Study Shows the Odds of Dying from an Opioid Overdose Exceed Deaths by Car Crash
The opioid crisis in the United States has reached such astounding levels that a recent report shows that in 2017 the odds of dying from an accidental opioid overdose exceeded those of dying in a car crash. According to the National Safety Council, which conducted the report, the chances of dying in a car crash are one in 103, compared to an opioid overdose, where the chance is one in 96. The report revealed that while most Americans are still more likely to die from natural causes, deaths by natural causes have gone down, whereas the preventable deaths are have gone up.
"Human beings, we just are not good at estimating our own risk," said Ken Kolosh, manager of statistics at the National Safety Council. "We tend to fixate or focus on the rare, startling event, like a plane crash or a major flood or a natural disaster, but in reality, when you look at the numbers, the everyday risks that we face and have become so accustomed to form a much greater hazard."
The report listed heart disease as the number one cause of death, and opioid overdose as the fifth. Although a rise in fatalities due to overdoses initially occurred well before 2017, the recent statistics are new and shocking. The increase is mostly due to the synthetic drug, fentanyl. —GP
Gaga Wins (And Leaves Early) At Critics Choice Awards 
Sunday marked the 24th annual Critics Choice Awards, the second major award show this month, following the Golden Globes. The Netflix original film, Roma was the big winner of the night, taking home awards for best picture, foreign-language film, best director, and cinematography. Lady Gaga tied for best actress for her role as Ally Campana in A Star is Born, along with Glenn Close who won for The Wife. Other notable winners include Black Panther and The Marvelous Mrs. Maisel, both of which took home three awards each.
Sadly, Lady Gaga had to leave the ceremony early to rush home and say goodbye to her beloved horse, Arabella. "I am so honored and blessed to have won both Best Song and Best Actress alongside Glenn Close this evening," Gaga wrote on Twitter. "My heart is exploding with pride. But it saddens me to say that just after the show I learned that my dear angel of a horse, Arabella, is dying. I am rushing to her now to say goodbye. Her name means 'yield to prayer.' She is and was a beautiful horse." Lady Gaga also shared a photo of Arabella on Instagram. We hope that she can be consoled during this bittersweet time. —GP
With Brexit, the World Is Watching, And Wondering
The seemingly never ending Brexit saga continues as two years of negotiations between UK Prime Minister Theresa May and the European Union culminated in a deal that was soundly rejected by Parliament Tuesday evening in a historic defeat for the current government. The outcome deepens uncertainty about the logistics of carrying out the 2016 vote to leave the EU. Paths forward for the UK range from crashing out of the EU in a 'no deal' scenario to calling a second referendum that would allow voters to voice their preferences for different aspects of Brexit. The EU expressed disappointment at the vote and urged Britain to clarify their intentions.
The vote highlights concerns about Theresa May's leadership and immediately sparked a no-confidence vote in her government. While no one envies the seemingly impossible task of reconciling two fundamentally opposing sides of Brexit, the seeming void of viable alternatives following her failed deal raises questions about her next steps. Many hope her leadership in the wake of the rejected deal will stem from a genuine desire for mediation.
Amid the Brexit chaos, members of Parliament have made personal sacrifices to work toward a more certain future for Britain. In particular, a heavily pregnant MP, Tulip Siddiq, opted to reschedule delivery by cesarean in order to vote in Parliament in Tuesday. Her case raises questions about how Parliament could implement progressive policy changes concerning maternity leave. Ms Siddiq said: "If my son enters the world even one day later than the doctors advised, but it's a world with a better chance of a strong relationship between Britain and Europe, then that's worth fighting for." While the outcome of Brexit remains unresolved, the dedication of politicians with a real concern for the common good is a reason for gratitude. —Rachel Wilkerson
Los Angeles Teachers Go on Strike
Some 32,000 teachers are missing from their classrooms in Los Angeles this week as they picket for higher salaries and for better educational systems for their students. The strike, which began Monday after weeks of tense back-and-forth between the city's teacher union and school district, marks the first in 30 years and signifies a culminating frustration on behalf of public educators.
More than anything, rallying teachers seem desperate to increase staff size at the schools, so as to reduce the enormous size of the classes in what is already the second-largest district in the nation. They also want more librarians and nurses to round out the staff.
The district, however, insists that despite financial challenges they are doing their part to appease educators and improve student welfare, tweeting that they "presented UTLA with a new offer to significantly reduce class size and ensure no increase in any class size, increase nurses, counselors and librarians at all schools, along with a 6 percent salary increase and back pay for the 2017-2018 school year."
Currently, the strike continues amid tense negotiations as the district offers concessions that the union finds "inadequate." In the meantime, over 600,000 students are affected by the strike, expected to attend school amid the public discord and relative lack of supervision. As a result, the LA County Office of Education has taken the initiative to brainstorm new ways to generate revenue and cut unnecessary spending, working against the clock to restore sanity to the situation. —Mariel Lindsay
'Surviving R. Kelly'  Documentary Reopens Public Conversation About R&B Singer
Earlier this month Lifetime television network aired the six-part documentary series Surviving R. Kelly, which explores the celebrated R&B singer's years-long history of sexual abuse of girls and women. As part of its investigation into the singer, the series features the testimonies of some of the women personally abused by him, and the gruesome details that emerge have ignited a firestorm of public fury.
Indeed, allegations against R. Kelly are not new; they've been around for years as women (and, more often, teenage girls) have accused the singer of using his star power to not only seduce them, but manipulate them into such sexual submission that he even had some staying, against their will, at hotel rooms around the country. Most infamous, perhaps, was the video that surfaced years ago of him engaging in sex with a 13-year-old. He was put on trial and subsequently acquitted. His combination of prestige, money, and intense star power was no match for his victims, and the allegations against him soon faded into the background of public knowledge.
This time, however, the stories are being told straight to the viewers, and the impact is immensely powerful. The singer is now facing not only public condemnation by fellow musicians, but also but two separate criminal investigations into accusations that he operates abusive sex cults. His daughter, Baku Abi, summed him up as a "monster" and told Instagram followers: "I am well aware of who and what he is. I grew up in that house." —ML
Vatican Launches National Track and Field Team
Did you ever think you'd see a nun competing in the Olympics? Don't count it out. The Vatican—which is a sovereign entity, recognized by international law—has launched a national track and field team, reported as " latest iteration of the Holy See's long-standing promotion of sport as an instrument of dialogue, peace and solidarity." The team has signed an agreement with the Italian National Olympic Committee, making it part of the Italian track association, allowing it access to the same medical, scientific, and coaching resources as Italian athletes. The team is also hoping to join the International Association of Athletics Federations, in order to be eligible to compete in more events.
Initially, the team will consist of about sixty members, including one nun, a handful of clergy, and laypeople who hold a variety of roles in the Vatican. These range from the milkman to Swiss guards, from a pharmacist to a professor who works in the Vatican's Apostolic Library. They range in age from 18 to 62, and some are serious athletes.
The Olympics are still a ways off, but the team looks forward to competing—and perhaps even medaling—in upcoming international races. The first of these will be a 10K held on Sunday, January 20, La Corsa de Miguel. Still, winning isn't the first priority. Rather, Cipretti says the team seeks to "promote culture and running and launch the message of solidarity and the fight against racism and violence of all types." —LS
Chris Pratt and Katherine Schwarzenegger Engaged (And Anna Faris Reacts)
Actor Chris Pratt took to Instagram this past week to announce his engagement to Katherine Schwarzenegger. The post said, "Sweet Katherine, so happy you said yes!" he captioned an image of the two embracing. "I'm thrilled to be marrying you. Proud to live boldly in faith with you. Here we go!"
Perhaps more notable then the engagement itself, Pratt's ex-wife, comedian and actress Anna Faris's reaction. She publicly commented on the post to congratulate the couple and later addressed the engagement on her podcast, "Anna Faris is Unqualified": "Chris texted me this morning and he was like, 'I proposed to Katherine last night,'" Faris said. "And I was like, 'Ahh, that's amazing.' I texted him back, like, 'I just wanted to remind you I'm an ordained minister,'" she joked. —GP
Bridal Shop Praised for Displaying Mannequin in Wheelchair
Bridal shop owners and sisters Laura Allen and Sarah Parker didn't think much of it when they displayed a mannequin in a gorgeous white off-the-shoulder gown in the window of The White Collection in Portishead, near Bristol, in England. It's their job to help brides feel beautiful for their big day. Passerby noticed, though, considering most had probably never seen a wheelchair in a bridal shop display before.
Artist Beth Wilson, who has used a wheelchair for the last five years, tweeted about it with gratitude, thus spreading the word. "Mobility aids are often portrayed as negative things people want to hide, when actually mobility aids like wheelchairs give us freedom," Wilson told the BBC News. In the display, the wheelchair is decorated with moss and ivy, setting an ethereal mood.
Mrs. Allen said, "In a way it's quite sad people have done a double take, it shows how rare it is to see a wheelchair in a shop window." Hopefully the praise The White Collection has received will encourage other shops to be more inclusive. Mrs. Allen continued, "It would be nice one day for people to double take just because they like the dress." We agree—a bride is beautiful, no matter how she makes her way down the aisle. —LS