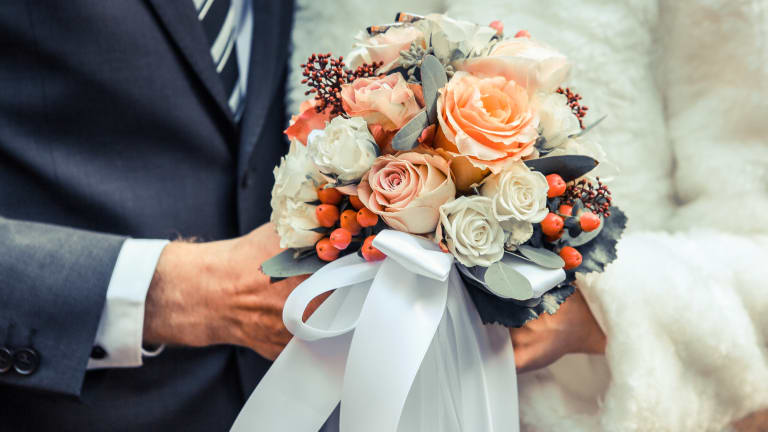 Top Wedding Trends We're Eyeing in 2019
Spoiler Alert: Living Coral is here to make its mark.
Whether you are newly engaged, or have cake and menu tastings to look forward to in the near future, we have your guide to 2019's wedding trends for the refined modern woman. This year, nature will inspire the venue, decor, and invitations, while bolder statements will be made through the wedding dress, registry, and wedding cake. Read on to find out which of these trends just might inspire your own wedding.
"Living Coral" is In
Pantone's color of the year, Living Coral, is making its mark on wedding invitations, bouquets, bridesmaid dresses, cakes, and even wedding shoes. It isn't a spring or summer-only color. Coral pairs well with both brights and neutrals which means it works for winter and autumn weddings too.
Millennials and Modern Registries
Forbes reports that Millennials are shaking up the wedding-registry industry by shifting from more traditional gifts "like cookware and linens," to more meaningful experiences like a snorkeling trip on their honeymoon. With online registries like Honeyfund and Zola making it easy for guests to contribute to the couple's wedding costs or donate to a charity in lieu of a gift, the era of side-eyeing untraditional wedding requests may be coming to a close.
Backyards and Baby's Breath Are Back
Mandy Moore celebrated her romantic boho wedding to musician, Taylor Goldsmith, with an intimate group of 50 family members and friends in her Los Angeles backyard. "There was no formal, sit-down dinner," People reports. "Instead, guests enjoyed food from different stations," much like a relaxed backyard barbecue. Her decor and hairstyle followed suit. She donned simple waves dotted with sprigs of baby's breath. We hope this trend takes the pressure off of couples to throw large lavish affairs.
The Traditional Wedding Gown with a Twist
Bridal runways for 2019, like Carolina Herrera, showcased white wedding gowns with a hint of color on hand painted floral embroidery, pastel ribbon straps, lavender waist ties, and giant golden yellow sashes. They're subtle enough for a traditional affair yet stylish enough to steal the show at the reception.
To Tree or Not to Tree
Inside Weddings reports, "Trees have beauty, strength, and roots. All of these are qualities that you also find in a healthy marriage, so it is fitting that more and more brides are choosing to incorporate trees into their wedding decor." No matter the season, couple, or theme, there's a perfect tree to incorporate into the decor, whether inside or out. Drape them with lights and ribbons or leave them natural. Potted trees are available for rent which can be much more affordable than ordering flower arrangements. If you decided to buy trees, you can replant them on your property or donate them to grow as your marriage blossoms. How romantic is that?
Organic Invitations
Natural elements are making their way onto wedding invitations too, according to Wedding Wire. Navy blue, mixed metals, garlands, wreaths, watercolor, greenery, and botanicals give classic details like monograms and calligraphy a bolder, more modern look that can work for both black-tie and beachside weddings.
Natural Beauty
Wedding hair and makeup trends for 2019 are all about all natural too. Most likely inspired by Duchess Meghan Markle's undone bun following her royal wedding, "No-Care Hair," or an intentionally messy hairstyle, from windswept locks to face-framing tendrils, is all the wave, Brides reports. Makeup trends on the wedding runway followed suit with luminous skin with an all-over glow, rosy hues on lips and cheeks, bronze eyelids, thick eyebrows, and subtle winged liner. To us, this translates into "DIY hair and makeup," and we couldn't be happier about that.
Bold Bakes
Perhaps the boldest wedding trend we're seeing in 2019 are the cakes! Rather than the traditional tier of round cakes, Wedded Wonderland reports that sharp angled geometrical shapes with in marbled colors paired with metallics and dark shades of gold, black, grey, and purples are perfect for the modern bride. The classic bride will see more bold textures in floral arrangements on cakes, from berries to dark green foliage and big blooms. For traditional brides who want a cake dressed in white, textures will add interest while keeping the look crisp and clean. For bohemian brides, splashes of rustic color that look like watercolor brushstrokes can be painted across canvases of white frosting. Guests are sure to remember dessert long after the last dance.