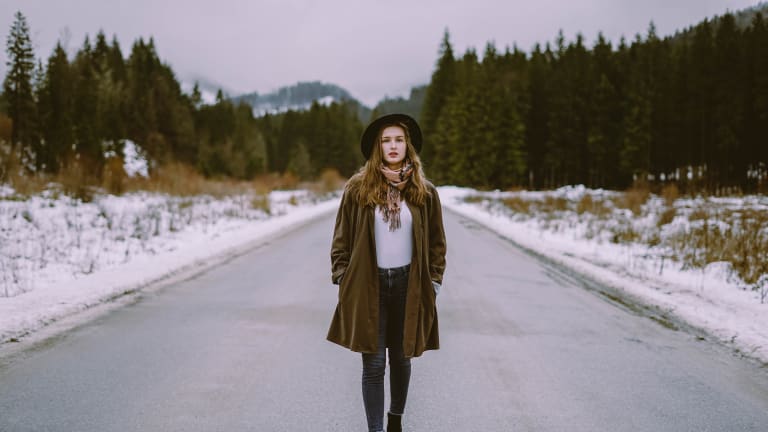 Wardrobe Stress Over the Holidays? Here's Why.
Reviewing Finery's revealing 'State of Women's Closets' survey results.
If you read my holiday feature The App I Use to Simplify Holiday Event Styling, you'll remember I introduced you to Finery, the app that virtually organizes your closet and allows you to style yourself in clothes you already own, created by the fashionably dynamic duo Brooklyn Decker and Whitney Casey. 
On par with Rent the Runway, Finery is positively disrupting the retail economy, merging technology and fashion, and changing the game for women and their wardrobes. But if you think Finery's creators are only interested in helping you find cute clothes, you're be wrong. This innovative women-owned business is also particularly interested in helping us reduce waste, stay organized, and understand how we get dressed and why. 
Recently they published the results of a survey they conducted called the "State of Women's Closets." The survey explores the love-hate relationship with dressing to impress, especially around the holidays; as well as how this stress goes beyond the festive season.
With the holiday season in the rearview, this survey is a perfect opportunity to pause and reflect on wardrobe issues we may have experienced this year and some solutions and tips to keep in mind for 2019 and beyond.
Here are the results I found most telling and some of my recommendations …
Finery's "State of Women's Closets" Survey Results:
Holiday events are not the only time of the year we're stressed about our outfits….
61.1% of women think to themselves, "I have nothing to wear," at least once a week.
Verily's Recommendation: You should be editing your closet every three months, essentially once every season or four times a year. When you have too many clothes in your closet, you can't see the gems you have, and that's why it often feels like you don't have anything to wear. Get ahead of closet overwhelm this year by consistently reducing your "inventory," so to speak. This way you'll really be able to tell when you actually don't have something (you really need) to wear.
96.2% of women spend up to one hour getting dressed in the morning. This spans across generations, too—millennials (96.5%), generation X (96.3%) and baby boomers (95.7%).
Verily's Recommendation: Use an app like Finery to plan outfits for work or school to cut down on the time it takes to get dressed in the morning. This way, if something you need to wear is in the hamper or you're running late, you have options and can make split second wardrobe changes. Another fun option is to get a friend to help you play stylist and snap outfits with your phones, then create albums or outfit catalogs in your phone that you can refer to.
Female entrepreneurs are twice as likely to spend more than one hour getting dressed in the morning than women in other careers.
Verily's Recommendation: Come up with a uniform that is on brand for your business that you can re-wear and mix and match through the seasons. As a stylist, I have a simple outfit formula that I use for appointments with clients or speaking engagements. For me that formula is an oversized white button-up shirts, skinny pants, ring/bracelet stacking, and heeled booties. I also dress monochromatically, which cuts down on trying to figure out if everything in my outfit works together.

1 in 2 women feel that their lives would be easier with a personal stylist. However, 82.8% of women would not spare $1K toward a personal stylist.
Verily's Recommendation: If you don't have the budget to work with a personal stylist leverage a tool like Finery as your personal wardrobe concierge. Or set aside a portion of your wardrobe budget, and save up to work with a stylist. Rates are usually cheaper with stylists around holidays or at the end of the month. If you're wondering how a stylist can help you or if you'd like one-on-one help (virtually or in-person), feel free to reach out to me.
Millennials are twice as likely as Gen Z-ers to feel more stressed about getting dressed for work than the work itself.
Verily's Recommendation: Go easy on yourself, it takes time to build a solid work wardrobe. It took me almost a decade after college to know what works for me, how to find it, and how to wear it in a way that best reflects my personal style and is appropriate for the work environment. Try investing in one solid piece per season like a well-fitted blazer, work pants, or a walkable heel for the office.
Others are just straight up "Clueless" about their closets
82.9% of women have lost up to $100 this year by not returning unwanted items in the return period. This percentage goes up to 91.7% for baby boomers.
Verily's Recommendation: The Finery App aggregates data from shopping confirmations you receive in your email after purchase, the app will then provide you with return reminders for those items so you never miss a return window.
Millennials are more likely than women of other age groups to buy redundant items
Verily's Recommendation: Maintaining an edited closet keeps what you own fresh in your mind so that you aren't buying more of the same. It also helps to use a resource like the Finery App that you can whip out of your pocket, mid-purchase at the store or when you're cruising the interwebs—just to double-check and make sure that you aren't buying another striped top!
Holiday events—the most wonderful (or stressful) time of the year
2 in 3 women (66.2%) feel stressed before getting dressed for a holiday event.
Verily's Recommendation: Make the most of your Netflix/TV time or work commute by using the Finery App to plan your outfits for events ahead of time.
Think that the single ladies are the only ones who feel the stress of dressing to impress? Think again! Both married and single women feel "extremely stressed" getting dressed for a holiday event.
Verily's Recommendation: Make event dressing an event in and of itself, invite your girlfriends over (married or single), pop open some champagne or sparkling cider, make a getting ready playlist (like Verily's VIP Party Playlist), and get ready together! Take the stress out of getting ready by reframing the situation with people and things that inspire a good mood.

Don't like what's in your closet? 67.5% of women typically buy new outfits for different holiday events and occasions.
Verily's Recommendation: Leverage Finery's Wishlist feature to find and catalog items you need to purchase for holiday events and occasions. Don't forgot Finery's Wishlist has built-in alerts that track sales, allowing you to save more than you spend!
For travel during the holidays, 61.5% of women frequently overpack and return from trips with unworn clothing.

Verily's Recommendation: Always pack your bags at least three days ahead of your trip, so you have time to edit and throw something in the wash if you need to. You can also use the Finery App to find and plan exactly what you'll wear for your trip. For more tips read my 7 Step Guide to Simpler Holiday Travel Packing.
So, be encouraged that if you were stressing this past holiday season about your clothing situation, you were not just being dramatic. Holidays and other peak seasons during the year make getting dressed, finding clothes to wear, and staying organized rather stressful.
I do believe that simplifying our closets can help us feel more empowered and have more time for the things that actually matter in life. And with tools like Finery, it's easier than ever to deal with the business of getting dressed, so you can get on to the more important business of living.
I recommend picking one area to tackle in the new year. Here's to living a less cluttered life in 2019.