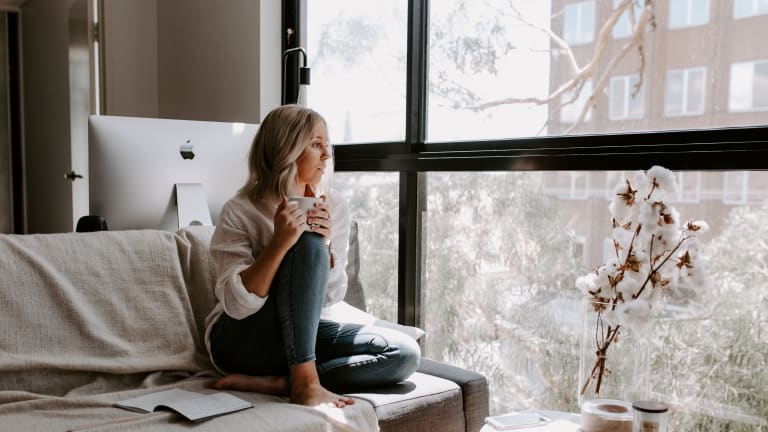 Introducing Verily's Winter Survival Guide
Thrive this winter with the #VerilyWinter community.
As I read Margaret Handel's piece on beating SAD, I found myself recalling drearily the long, lonely winter months of the beginning of 2018. I remembered all too well the hopeless plod that can characterize January through March—and, as quickly as I remembered, I started coming up with ideas. How will I make this winter better than last winter? What are the little changes, improvements, and goals that can motivate me through the permafrost season in lake-effect Michigan?
A text pinged my phone—one of my writers. She wanted to write something on "making it through winter without getting depressed." I reached out to another writer, and she enthused, "I was actually about to suggest something just like that haha!" "As someone whose depression/anxiety gets worse in the colder months, I love this concept," another writer told me. "This year I have decided that just trying to make it through winter is not going to cut it, and I am determined to make the best of it," read another article that came through my inbox.
If you had a difficult winter last year, suffice it to say you're not alone. And there's a whole community here just waiting to happen.
So this is your invitation to make this a Verily winter—a winter in which you embrace little moments of beauty and happiness, a winter full of warmth and joy, a winter in which you are not alone but surrounded by friends, a winter in which you are not aimless but full of inspiration and purpose and enthusiasm.
To that end, we're starting Verily's Winter Survival Guide—a series of weekly pieces dedicated to practical, actionable ideas and goals to help make the post-holiday winter season a vibrant, joyful time. Look out for us every wintry Monday morning (from now until March) with new inspiration for your week, and join our Facebook group to bond with other women who have struggled through the season in the past but are determined to live life with great joy this winter. We'll read the Survival Guide articles together (and raid the Verily archives for inspiration), try different ideas, and, most importantly, support each other. I'm excited to meet you there.
Welcome to the winter!
Emily