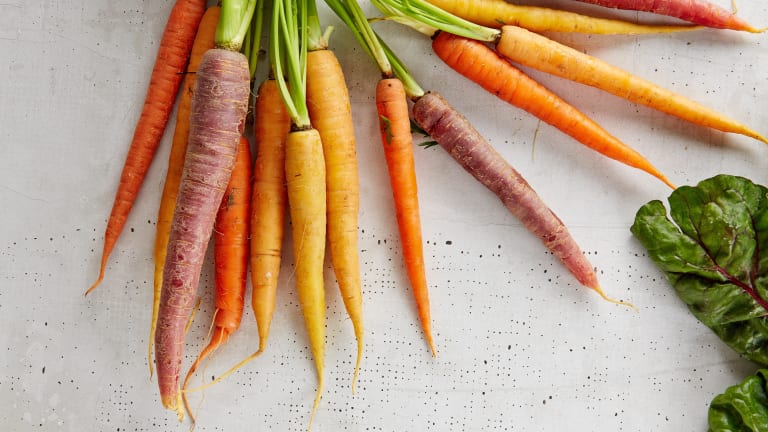 Eat Well This Winter with These Seasonal Tips
Yes, it is possible to eat seasonally in months dominated by snow and ice.
In the darker days of winter, it can be tempting to look forward to the bright, flavorful foods that will come to fruit six months down the line. Visions of plump blueberries and the vivid red of a tomato topped with luscious green basil can make us long for spring and summer. We might imagine ourselves in June, eating outside, plucking dinner right from our gardens or from the local farmer's market stalls.
It's tougher to visualize what eating seasonally in the winter even looks like. Do snow cones count?
While it's true that dropping temperatures and freezing precipitation don't do much for the raised bed in your backyard, nature doesn't intend for us to go hungry in the winter months. There are culinary treasures to be discovered and feasted upon—you just have to know where to look.
Underground
Root vegetables are nutrient-dense by virtue of growing underground. Wintertime winners like sweet potatoes, carrots, parsnips, kohlrabi, rutabaga, turnips, and beets draw lots of good stuff from the soil that surrounds them as they grow. These foods contain high concentrations of antioxidants,, iron, carbohydrates, fiber, and vitamins C, B, and A. This means they can help cleanse your digestive system, regulate blood sugar, and keep you feeling full. They can also boost your immunity and energy levels. Root vegetables store well (find a cool, dark spot to keep them or stow them, covered, in your fridge's crisper), which means you can plan to regularly keep some on hand and make fewer last-minute runs to the store.
Try: Shaved Carrot Tart with Ricotta
Who knew you could create a rainbow effect with carrots? If you're short on time, opt for a prepared thin pizza crust to get this in the oven in a fraction of the time. Complete the meal with a spinach salad topped with even more veggies. (Winter spinach is extra sweet, according to the Cleveland Clinic: "Because sugar doesn't freeze, the spinach plant produces extra sugar to protect itself against the cold").
In the Sea
Produce isn't the only thing that thrives seasonally. Wild seafood has peak seasons, too, and tapping into them will save you money—and may challenge you to try something new—at the fishmonger's. Good sources of protein are a must this time of year. The weather, as well as the forced heat in our homes and workplaces, can dry out our sinuses and throats. Foods higher in fat and protein help to keep our bodies moisturized.
Ask at the seafood counter or check out this chart to get a better idea of what's best in your geographical area. The day's selection will depend on weather conditions, water temperatures, and local fishing regulations. In general, winter is prime time to cook up sea bass, calamari squid, crabs, clams, mussels, oysters, scallops, and rock shrimp.
Try: Simple Oven-Baked Sea Bass
If you haven't cooked seafood before, this recipe is a great place to start. You'll know the fish is done when it flakes easily with a fork. Once you're confident, try different spice blends to suit your tastes. Serve with couscous and a side of the aforementioned root vegetables, roasted in the same oven as the fish.
In Your Freezer
Fresh isn't always the best option when it comes to fruits and veggies. Take a cue from the chilly temperatures outdoors and stroll down the freezer aisles of your supermarket. As one nutrition specialist writes, "Produce is typically picked and frozen at its peak, so it has a high vitamin and mineral content."
Pricier out-of-season produce, on the other hand, is usually picked before it's ripe and nutritionally mature, so that it can survive being transported to your store. Less nutritious and more expensive? No, thanks.
Try: Tortellini Primavera
This weeknight dinner comes together in a flash, and it all cooks in one pot! For a heartier dish with more protein, stir in cooked chicken once the vegetables and pasta are tender.
What we eat contributes to our overall well-being in the winter just as much as it does the rest of the year. To keep yourself healthy, your winter table need not be as dreary and dull as a sleet-soaked day. Quite the contrary: From fruit to fish, you can nourish your body no matter how low the temperatures go.