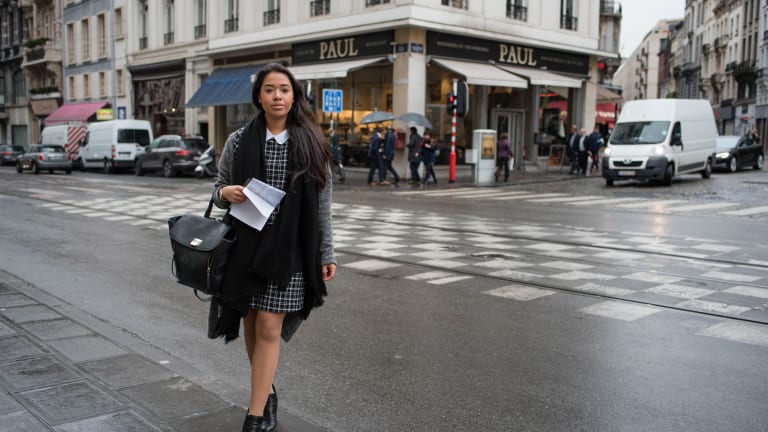 3 Ways to Refresh Your Work Wardrobe on a Budget
Keep your wardrobe fashionable and office-ready.
There is nothing more frustrating than being in a work wardrobe rut. Waking every morning, usually running late, and throwing on the same go-to look before running out of the house to beat traffic into work. Don't get me wrong, I'm all for having go-to outfits that you can throw on in a flash. But I know wearing the same things over and over to work can get old really quick.
The reality for many of us is that we don't have a huge clothing budget to update our work wardrobe. Most of us are saving for really important life goals, like paying down debt, buying a home, or travelling more. So I want offer some quick solutions that will help you build more variety into your work wardrobe without breaking the bank.
01. Host a Clothing Swap Party
The first step is to clean out your closet. Dig deep and be honest with yourself: If it doesn't fit, isn't cute on you, and you literally forgot you owned it, then it's time to let it go—especially if it still has a tag on it, ladies. A good closet purge will allow you to reduce the amount of stuff you have to rifle through every morning, which means you'll get dressed and out the door faster. Now, organize and bag up your discards.
Instead of taking your discards to a thrift store, invite your friends to join you in purging their closets and then have a clothing swap party. Tell them the swap is for work clothes only. Set a date, bring a tall mirror, grab some wine and snacks, and show up in camisoles and tights so you can easily try on everything. It's a great night-in activity or chill weekend get-together.
My friend Alison is so good about hosting clothing swap parties seasonally. Personally, I'm not into combing through thrift store racks, but I love hanging out at a friend's house, sipping wine, and casually trying on clothes. And if Alison happens to have a great wool pencil skirt from J.Crew that doesn't fit her but is my size … well, then I just scored a brand new, brand name item that I actually needed for free. This happens ALL the time at our swaps. Also, that hypothetical is a true story, thanks for the skirt Alison!
Need I say more? Clothing swaps are a great opportunity to find used clothes in great condition from people you know and love. Plus, they curb the urge to shop when you don't have the cash. Not only will you have fun, but you'll leave with fresh items to wear to work and a de-cluttered closet to put them in.
02. Only Buy Work Staples in Neutral Colors
If you're on a budget and you must shop for a few items you need, only purchase work staples, like: pencil skirts, suits, trousers, button-up shirts in neutral colors. Part of the problem I see with clients who are in a work-style rut is that they're basic go-to pieces are in busy patterns or contrast colors. This makes it hard for them to mix and match and stretch their wardrobe, because they only wear this top with that skirt. When you don't have a lot of money to spend, don't waste cash on fancy textures and busy prints; stick to neutral colors so all your pieces complement each other and everything matches. Then when you are able to invest in accessories and shoes that have interesting textures or colors, think burgundy velvet pumps or a tartan print wool scarf. Playing with color and patterns in your accessories and shoes will also make getting dressed in the morning faster and simpler, because your base outfit is totally neutral and you just add in texture and color with shoes and accessories.
03. Make a Work Lookbook
Invite a friend over on a Saturday and have her help you go through your closet and make new outfits. Sometimes, it helps to have a second opinion; you may only see a few ways to work that blazer, but your friend might have another idea. As you work through your closet and figure out new ways to wear your work clothes, document each look with your phone. Create an album based on the types of looks you create, like "Winter Workwear," "Day to Evening Cold Weather Looks," or "Meeting/Presentation Outfits." You can revisit these photo albums from your phone in the morning when you're short on time and don't want to wear the same old go-to pieces. With this hack, you've got style on standby from your phone, with clothes you actually own.
04. Mix Your Prints
Another great way to give your work clothes a refresh is to try mixing your prints. Go through your closet and look for pieces in the following patterns: stripes (must be black/white or blue/white), leopard, polka dot, floral, and plaid. Depending on what the items are, you can pair the following prints together. Now, these aren't the only combinations possible, but this is the simplest, easiest place to start:
Leopard + Plaid
Floral + Stripes
Polka Dots + Stripes
The most important rule to remember when mixing prints is to make sure that there's at least one color from both of the patterns that match. For example, if you were a stripe bateau top with a leopard pencil skirt, you need to make sure that the stripe top has either black or brown in it because those colors exist in leopard print. So, ideally you would want to wear a white and black stripe top, not a red and white stripe top. with that leopard pencil skirt. Keeping the colors consistent through makes the outfit look harmonious and put together.
Here's some examples of how to combine these patterns in an outfit: