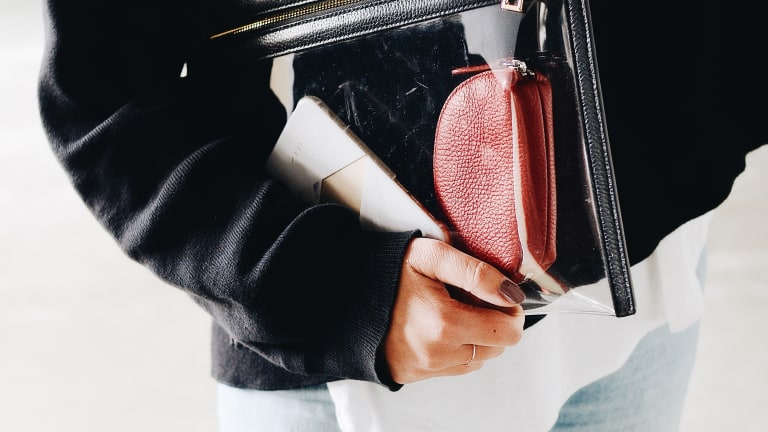 30-Second Tricks to Saving More Money
Time is money.
Keeping new year's resolutions is usually as hard as it sounds. Research shows it can take anywhere from 18 days to 12 weeks for people to form and retain good habits. When it comes to making better financial habits, that timeline can feel overwhelming. But what if we told you that you can save money by making small changes that only take 30 seconds or less? You absolutely can.
We combed through hundreds of tips from business savvy sites like Forbes to personal finance blogs like The Simple Dollar to find quick and easy short term habits that can give your bank account big benefits in the long run.
AT HOME
Unplug "Energy Vampires"
Forbes dubs devices that consume energy when they're plugged in but not being used "energy vampires." To easily turn off electronics like coffee makers, a printer, lamps, and mobile devices, keep plugs on power strips with a button you can simply switch off.
Switch to Cold Water
We don't mean showers. Energy Star notes that 90 percent of the energy used by a washing machine goes to just heating up the water. Unless your laundry is oily or needs to be sanitized, using cold water is just fine and can even prevent colors from fading or running onto other fabrics.
Lower It, Stat
According to Energy.gov, "You can save money on your heating and cooling bills by simply resetting your thermostat when you are asleep or away from home." In the winter, they recommend setting your thermostat to 68 degrees Fahrenheit when you're awake, and setting it lower when you're asleep or away from home. In the summer, they recommend setting your thermostat to only 78 degrees Fahrenheit when you're home and keeping your home warm while you're away. Easy peasy.
SHOPPING IN STORES
Request a Price Match
Most big retailers already have a price match guarantee in place. But smaller businesses don't want to lose you as a customer either. If a sales associate says it's allowed, politely ask to speak with someone who has authorization to give you a discount such as a manager or assistant manager.
Just Say "No" For 30 Days
The Simple Dollar shares that one of the most important rules of personal finance is avoiding instant gratification. One way to do this is by following a 30-day rule. "Quite often, after a month has passed, you'll find that the urge to buy has passed as well, and you'll have saved yourself some money simply by waiting."
Ask Yourself, "Did I Need this Yesterday?"
What Mommy Does has five little words that saved her at least $1,000 in 2018: "Did I need this yesterday?" This tactic works especially well when you're at the grocery store and tempted to stray from your shopping list (never stray from the list!). If the answer is "no," you know to walk away. If the answer is "yes," What Mommy Does advises, "Ask yourself if you will be getting a good deal and if this is the time to make the purchase." Whether or not you buy the item, you'll know you made a quick but careful decision.
SHOPPING ONLINE
Get Cash Back
This is a great tip that I got from a friend years ago. It has saved me hundreds of dollars on purchases that I need to make anyway such as Christmas gifts or personal care items. Download the Ebates app and browser plugin. Activate it with a simple click, to get a certain percentage of cash back when shopping online. Ebates often increases savings by two or three times for holidays or special online shopping events like Cyber Monday. I saved more than $250 last year!
Paribus For All of Us
Paribus is an app by Capital One that scans confirmation receipts in your inbox and helps you get a refund when select retailers (e.g., Amazon, Target, Nordstrom, Walmart, Gap, Macy's, etc.) lower their price for the same item. Paribus also helps get you compensated for late deliveries and hotel price drops so you can shop with more confidence that you're getting the best prices.
So, go forth, try these simple hacks, and start the new year with some extra bucks in your account.