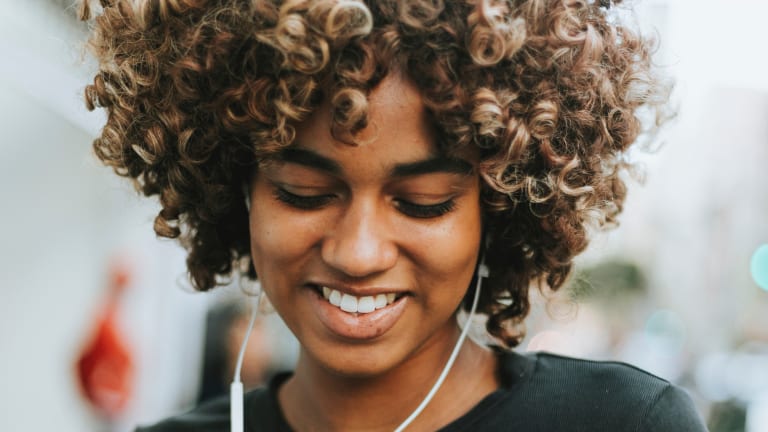 Positive and Encouraging Podcasts for Women
Invite more substantive voices into your life.
There are a lot of negative voices out in the world that we women endure. They come through the media, TV, music, and even from our own minds.
As a very social and busy professional woman, my time is limited, and finding media that is worthy of my time can be hard. Podcasts are one of my favorite mediums, because they're often just the right length for a drive or making dinner, they're portable, and they're engaging. Some of my favorite podcast hosts feel like friends because they're on air presence is so engaging.
When I decide to subscribe to a podcast, it is because I find it to be a life-giving message that is encouraging for me as a women. I have also found that subscribing to a variety of different types of shows has helped me to become a more intentional, thoughtful, and healthy woman.
So, to help you start the new year fresh, I thought I'd share a variety of different podcasts I listen to, but especially ones that are encouraging and thought-provoking. I will share my favorite podcasts in five different categories with a runner up to give you more ideas for new shows to check out. Wherever life has you right now, I think there is something for you here.
Lifestyle
Sorta Awesome. This podcast feels like a chat with a couple of close girlfriends over a latte in a cozy coffee shop. On this show, several co-hosts talk about everything from the small and sparkly to the serious. They chat about self-care, mental health, favorite books, food, culture, TV, and more. If you need something light and easy, I highly recommend this show.
The Simple Show. This was one of the first podcasts I ever subscribed to several years ago. Tsh is a published author and has some of the best content I've found on the Internet. There are weekly conversations (sometimes featuring a co-host or new guest!) covering topics ranging from the creative work that women do to books or products they love.
Creativity
 The Goal Digger Podcast. I am a new follower to this show, but I think it is a great option for all of us creatives with dreams, whatever they may be. The host, Jenna Kutcher, brings lots of practical wisdom and tips from her experience becoming a self-taught photographer and entrepreneur. She offers listeners productivity hacks, business strategies, and inspirational stories to help you design your dream career or pursue that creative idea you've always wanted to explore.
The Lively Show. This was the very first podcast I ever listened to, it opened up my eyes to the wonderful world of podcasting. The host, Jess Lively, is a thirty some woman who offers her listeners a weekly show to uplift and inspire her listeners.
News
My number one pick under this category is Up First. It is a short ten to fifteen minute recap of the daily news. Hosted by NPR, it is a short but effective recap of what is going on in our country and around the world.
Secondary pick: The Daily. Hosted by The New York Times, it is a more creative take on different world and news events. Anywhere from fifteen to thirty minutes, it is written by a fantastic team of journalists. The topics often leave me thinking deeply on a particular topic.
Politics
NPR Politics Podcast. This show is produced by a team of NPR's political reporters and gives listeners a weekly roundup of the news and quick takes on the news and what's going on in the political climate of the country. Concise, effective, and to the point, this is another great roundup of the news...without looking to Twitter for keeping up.
Pantsuit Politics. A political podcast hosted by two women, one from the right and one from the left. Their tagline is "No shouting. No insults. Plenty of nuance." It captures the tone of the respect on the show even if you're on different sides of the aisle. I may not always agree with the hosts' takes on culture and politics, but I love the conversations they have as women on lots of interesting topics. If you're feeling frustrated with the political culture of our country, this show may help restore your faith in humanity and the possibility of working together … even if we don't always agree with each other.
Faith/Spirituality
For the Love with Jen Hatmaker. Jen Hatmaker is one of my favorite faith-based authors and speakers; she is down-to-earth and always leaves me thinking when I read her work. Jen talks with all types of people on all kinds of topics like family, Jesus, TV, books, culture, food, politics, and travel.
The Catholic Feminist. Feminism is a hot-button word in today's world. I love exploring this topic through the eyes of faith. Each week, the host, Claire, interviews a different woman on topics like poverty, missions, faith and culture, and more. Through each guest interview, Claire discusses how to live out one's Catholic faith while supporting the rights and interests of women.
I've often wondered, what would the culture look like if we all surrounded ourselves more with voices that uplift, inspire, and motivate us? How would our relationships with each other change?
Podcasts, like books, give people easy ways to connect with new ideas. When we can learn and listen from all types of sources, I think it makes us better, more well-rounded human beings. And this I have found to be true in my own life, that we become more loving to ourselves and others.
Start your New Year off by listening or subscribing to a new podcast that challenges you and makes you think about something in a new way.