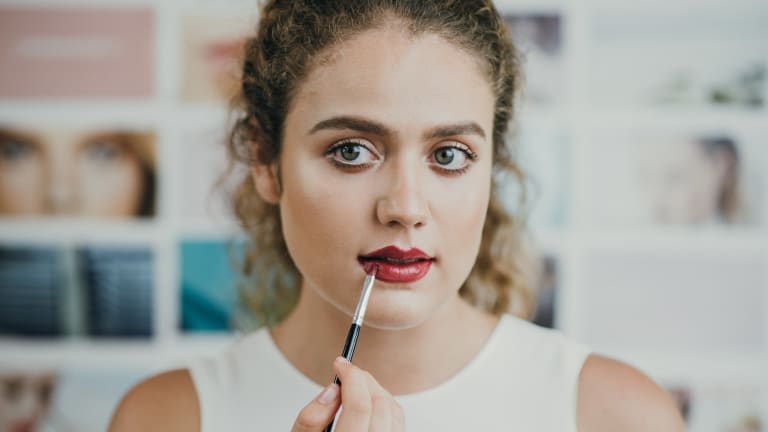 Why (and How) I'm Making the Switch to Non-Toxic Beauty Products
Non-toxic beauty doesn't have to be overwhelming.
Non-toxic or "clean" products—everything from household cleaners to baby supplies to beauty products—have been on the rise in recent years (just look at the incredible success of Jessica Alba's Honest Company, which sells all of the above). But, honestly, I couldn't understand why people would pay more money for any of that stuff when the so-called "toxic" products I was using worked perfectly well. I was healthy, I wasn't having any weird reactions to these mainstream products, and it seemed most people were getting along just fine using them, too (inductive reasoning at its best). I didn't see what all the fuss (and a few extra bucks) was about. Truthfully, I thought it was a bunch of baloney.
That is, until I found myself struggling to get pregnant.
During my battle with infertility, I read the book WomanCode by Alisa Vitti, a certified holistic health practitioner. Sprinkled throughout the book, Vitti shares her own account of healing her own PCOS through natural means, as well as numerous testimonies of other women whom she has helped heal from reproductive-related issues through her practice. The bulk of WomanCode, though, is a protocol of lifestyle changes and the science behind them that Vitti recommends to achieve such reproductive health. Among the "diet" changes Vitti suggests is eliminating "toxic" beauty and household products and replacing them with non-toxic versions. These toxic products are hormone disruptors, Vitti explains, which cause certain hormones and organ systems to overcompensate, throwing off our natural hormonal balance and leading to symptoms such as infertility, PMS, terrible menstrual cramping, acne, and insomnia, among others. I was fascinated.
After making the switches that Vitti recommended, including switching mostly to non-toxic products, I was pregnant within two months, my long-time adult acne had cleared up, I had more energy, and overall I just felt better. It all made so much sense!
The FDA in the U.S. has only banned eleven potentially harmful ingredients in cosmetics, while the European Union has banned over 1000! This stark contrast only makes sense given the fact that the FDA hasn't updated their regulation laws on cosmetics since 1938. I learned that in addition to hormone disruptors, many of the ingredients in beauty products are also carcinogens—meaning that they are capable of causing cancer. Who knew that most of the products lining the aisles at beauty, department, and drug stores were so dangerous? Not me, at least.
Although I was tempted to overhaul my entire apartment and throw out every toxic product at once, my wallet begged for another solution. I downloaded the apps "Think Dirty" and the Environmental Working Group's "Healthy Living" to look up the products I already owned and determine just how toxic each one was. These free apps provide a rating from zero to 10, with zero being completely non-toxic and 10 being the dirtiest. Anything in the "red zone" (seven or higher) I tossed and replaced immediately. All other toxic products I decided to replace with a clean alternative once they ran out—a cost my budget could handle over time rather than all at once. (This also helped me mentally, as I couldn't justify throwing out nearly-full bottles of products that I had used and adored until just recently.)
Over time, I've replaced my beauty products with clean, simpler options. I still have some toxic options I've yet to use up, but I do plan to eventually have all non-toxic makeup, personal care, and household cleaning products. With all the kisses and snuggles I shower upon my newborn these days—and the beauty products from my skin that my sweet little girl is exposed to because of that—I'm so glad I've gone non-toxic, and I'm definitely not going back.
This Seems Overwhelming … Where Do I Start?
If you feel anything like I felt after reading WomanCode, you may see the benefits of going non-toxic, but still be tempted not to because it seems like too much work or too expensive. The key here is to take small manageable steps that you can maintain long term (for your whole life!). It's not helpful to try to overhaul your entire beauty supply at once and break the bank or become overwhelmed, only to return to toxic products down the line. Here are some tips that I employed while making the switch to non-toxic products:
01. Download the "Think Dirty" or "Healthy Living" app for free.
Easily scan or look up your beauty products using one of these apps, noting which products are toxic. I used a sharpie to write the toxicity number on the bottom of each product so I could remember how toxic each one was when I finished using it.
02. Use and Replace
Unless something is severely toxic (i.e., 9 or 10 on the toxicity scale) or you're not that fond of it in the first place, you can just use it up. Then, as you finish each product, reference its toxicity number (that you wrote on the bottom) and find a clean alternative. This stretches out the cost of switching to non-toxic products over time, and allows you to replace products when you would be buying one anyway.
03. Let Non-Toxic Stores Do the Work for You
When I first made the switch to nontoxic products, I combed the aisles of Target and Sephora scanning each product looking for clean options. (A Target run has never taken so long...) I quickly learned there are full beauty stores and brands that do the work for you! Credo and Follain are stores that only sell non-toxic products (think: non-toxic versions of Sephora and Ulta). BeautyCounter is a well-known and loved non-toxic brand. W3LL PEOPLE and Jessica Alba's Honest Company are non-toxic brands that are sold at Target. I use W3LL People's concealer, and the Honest Company has personal care products (I use their body wash) as well as makeup. Acure, which is sold at Whole Foods or through Amazon, has a delicious smelling non-toxic shampoo and the best non-toxic dry shampoo that I've found (my sister uses their dry shampoo for darker hair). If you're still unsure where to start, Follain offers some very reasonably priced starter kits that I have tried and gifted to others for Christmas. (Follain is also offering 50 percent off and free shipping for their "Clean Essentials Kit" with code ref_uxwpxx — which means you get it for $13!)
04. Going Forward, Avoid These Ingredients
There are a plethora of harmful ingredients to be on the lookout for when buying new products—it can seem overwhelming! Scanning a product's barcode at the store using one of the above apps is a quick solution. But, if the apps don't have the product in their database, holistic plastic surgeon Dr. Anthony Youn advises avoiding the five worst ingredients: parabens (isopropyl, butyl, isobutyl, etc.); ethanolamines (DEA, TEA, MEA); BHA & BHT; phthalates (DBP, DEHP, DEP and others); and polyethylene glycol (PEG) compounds.
If you take the above steps and find, like me, that most of your beauty collection is filled with the above ingredients, don't lose heart. Remember, small, manageable steps! If there's a toxic beauty product that you feel you cannot live without, maybe opt to keep that one product. The goal is to eventually get to 100 percent non-toxic products and to stay that way—and reaching that goal requires taking the first step.