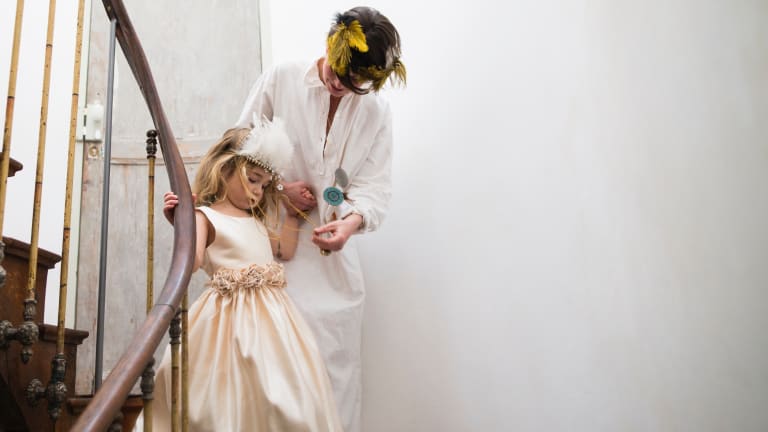 Making of a Mom: Learning How to Raise Girly Girls, As Told By a Tomboy
You might be surprised what you can learn
As a teenager, I was quite proud of the fact that I hardly ever wore frilly dresses and played field hockey. I could not, and had zero desire to, relate to the cheerleaders at school. I never rushed a sorority and if I'm honest, deliberately did not befriend girls who did. Even now, I only wear makeup for special occasions and don't know the difference between foundation and primer. I'm a tomboy and always have been. Super girly things make me uncomfortable. But here's the kicker: I have two daughters, one of whom is the epitome of a girly girl.
This tomboy has no idea what she's doing raising a girly girl. Like, zero.
My oldest, who is eight years old, loves princess dresses, dolls, all my high heeled shoes, and makeup. I don't let her wear makeup, but it doesn't stop her from asking. She has long, beautiful hair that I'm terrible at doing pretty things with. During her preschool days, all the cute little girls in her class wore these giant bows every day in their hair that confounded me. Why, just why?
My daughter loves to wear skirts and dresses, no matter the season. I was on a work trip during the winter and my husband sent me a photo of my daughter in the snow wearing a skirt. To his credit, she did have on pants under it. She even wears skirts when we go hiking.
As any mother, I love my child with all my heart. Along with her sister, she is my most precious gift. But I look at her some days and just hope I'm not messing up too terribly.
My mom was a super girly girl who tried her best to make me presentable as a kid. It wasn't easy for her, so I imagine she is in heaven chuckling over my current conundrum. Kids have a lot to teach their parents. Accepting who she is right now is the lesson I'm currently being taught by my daughter.
As a parent, I have learned that you need to let your child blossom into what she is meant to be. You need to nurture her and care for her, but be able to back off a bit and let her develop into herself. She's not me, and I cannot expect her to be.
I can't make my child stop wearing skirts everywhere, and I wouldn't want to do that because that's her style.
I've tried to find a balance between exposing her to things I enjoy, like the great outdoors (and pants), while also letting her partake in things she enjoys, like princesses and glittery bows, because she loves all things pretty and pink.
I've taken her to princess tea parties for her birthday and watched her face light up when Rapunzel gave her a hug. I've snapped a hundred photos every Halloween when she chooses to be a different princess every year. I've sat still as she practiced French braids in my hair. I've been speechless when she walks better in my own heels than me.
She's teaching me that the love of all things girly isn't a terrible thing. I'm even starting to regret making fun of the cheerleaders in high school. I'm also learning how to keep quiet and pick my battles. So she wants a Barbie and a giant bag of bows for her birthday? I can deal with that. But wanting to wear lipstick to school (or anywhere)? That's a no.
I give her credit for wildly surprising me, too. She went to a summer camp where they did no girly things at all. It was an adventure camp where the kids learned about building character and self-esteem but also how to shoot a bow and arrow, as well as BB guns. When it came time for awards at the end of the week, my little princess earned a sharpshooter award. She couldn't stop talking about how much she loved learning to use a bow.
For me, this was my comfort zone. I could talk about this stuff and ask relevant questions and understand where she was coming from.
I also came away from that week with a deeper understanding about my daughter—that she is just as excited about being a sharpshooter as she is dancing with a princess at a tea party. Those two sides don't have to be opposed to each other either. They can co-exist even in the same person. What a cool lesson to learn from your child.
Makeup and high heels won't ever be my thing, but raising a girly girl with an openness to a world where princesses shoot arrows is something I can get used to.
Editors' Note: Share your own Making of a Mom story here.