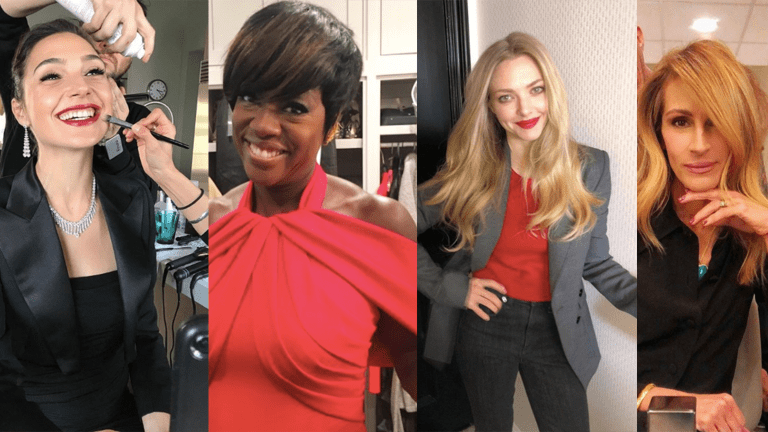 In Conversation With: Celebrity Stylist, Elizabeth Stewart
An interview conducted by Lana Jackson
Few of us really understand the amount of hard work, dedication, and sheer attention to detail it takes to be a stylist. Sure it seems all glitz and glam, but it is both challenging and rewarding work because it requires humility to be okay with fading behind the scenes to let your client shine (literally in this case). And it requires a deep sensitivity in learning how to translate the way someone sees and feels about themselves into clothing; not always an easy straightforward task.
People often think that a stylist imposes their personal style on someone else, when it's actually about listening and translating what you hear, see, and feel from your client into clothing they can live in that speaks to the appropriateness of the occasion. As a stylist growing in my craft, let me tell you, it's hard work but it is the most rewarding work. And that is why I'm excited to introduce you to Elizabeth Stewart, a woman who embodies what it means to excel in your craft while serving others well.
[Image]
This powerhouse celebrity stylist spent twelve years working in the style department of the New York Times Magazine and a decade at W Magazine and the famed fashion publication Women's Wear Daily. Elizabeth is a stylist to some incredible female storytellers who are tackling groundbreaking roles that are powerfully impacting the way women are viewed in our society.
[Image]
[Image]
Actresses like Jessica Chastain, Gal Gadot, Cate Blanchett, Viola Davis, and Julia Roberts (who's basically Elizabeth's doppelganger!) to name a few, call on Elizabeth to help them find looks for every red carpet, photo call, and press event they attend. When not travelling, fitting clients, or pulling looks, she partners with brands like H&M, Amazon, and PLV to collaborate on her own fashion projects. A quick scroll through Elizabeth's Instagram reveals her impressive repertoire of work and glimpse into the life of this hard-working mom of two teenagers.
I had the pleasure recently of asking Elizabeth some style questions. I hope her responses are inspiring and helpful for you as we begin a new year of style in 2019. Thank you, Elizabeth, for sharing your wisdom with us! 
LJ: I recently came across the shoot that you styled for the C3 Collection, a limited edition collaboration between the CFDA and Lexus Fashion, which showcased the work of five designers who are creating a more sustainable future in fashion. As a stylist and industry insider, can you share with our readers your perspective on the future of sustainable fashion?
ES: I'm trying to support being eco-conscious and wearing things again, which is why I wanted to be part of the C3 showcase and rid ourselves of the ridiculous notion that some clothing items can't be worn twice. All clothes are filling landfills, and people need to realize that. I partnered with one of my clients to style her in a gown she had previously worn on a red carpet to prove the point that beautiful clothes can be worn twice and last a lifetime. I think more companies and brands are getting on board with this, too. The choices we make daily have an impact on our planet, whether it is what we are eating, doing, or wearing.
[Image]
LJ: I know high-low styling is a hallmark of your personal style philosophy, any recommendations on where our readers can find affordable and high-end sustainable pieces?
ES: It is a lot easier to find affordable sustainable pieces than you might imagine. Walmart, who I've been a partner with since the launch of their four new private brand apparel lines—Time and Tru for women, Terra & Sky for plus, George for men and Wonder Nation for kids—is one retailer who you might not have thought of. Time and Tru uses Repreve in all of its denim pieces, such as this one, which are all at affordable price points. On the high-end, I've found sustainable pieces like great faux leather bags from Stella McCartney.
LJ: Winters can get pretty bitter for many of us in the country, and there is a temptation to give into wearing darker colors for lack of trying. What is the best way to add pops of color to a dark winter wardrobe?
ES: Stylists LOVE a pop of color, and there is no better time to do that than during the dark winter months. The best part is that pops of color can be simple! One of my favorite ways to brighten up an otherwise black wardrobe is with a colorful blouse or a bold lip. A top like the Time and Tru shiny top in a vibrant red is a great option that will flatter anyone.
LJ: Speaking of color, you work with a diverse range of skin tones in your client base, from the deep richness of Viola Davis's skin to Gal Gadot's olive complexion to the porcelain skinned Jessica Chastain. If you want to rock a fun and bright color like yellow this season, what shade works best for the Viola's, the Gal's, and the Jessica's?
ES: The key to wearing bright colors is all about knowing what works well with your complexion and hair. I've been privileged to work with a variety of clients over the years and have learned a few things—for example, if you have a darker complexion and dark hair, you can rock bright colors. And, red hair is amazing with bright colors, as well! If you don't want to wear bright colored clothes, you can accessorize your outfit with a bold bag, like this mustard yellow tote or these vibrant flats from Time and Tru.
Lana's Recommendations for Adding Color in Winter:
[Image]
Viola's (Deep/Dark): You are the most versatile and can wear most shades of yellow, think soft pastels, mustards, gold, and neon are all great options!
[Image]
Gal's (Tan/Olive): Wear any yellow that is vibrant and bright, to help bring the underglow out from your skin, you would great in gold, canary or citron yellow.
[Image]
Jessica's (Light/Fair): Deep mustards and other dark yellows like mustard or saffron will complement your skin tone the best. Beware of pastels and light yellows they will wash you out! Unless you
LJ: Let's talk about dressing for our body types. As you know, all shapes are great; it's how you rock what you got. What advice or tips can you give our Verily readers on how to dress for their body type throughout the changing seasons?
ES: My clients are all different sizes, and I always suggest highlighting their favorite features as a way to best dress for their body type. Showing off what you like best about yourself will make you feel more comfortable and confident in any occasion. For some plus size women, it's all about showing their waist, and for others, it's showing their legs or covering their arms or tummy. I also look to brands that I know carry stylish options in all sizes to make this easy. Walmart has always made a point of offering plus size options, but their new brands have more stylish options than ever before. Time and Tru offers inclusive sizes XS to XXXL, and Terra and Sky, their plus brand, offers extended sizing from 14W to 30W. Both brands have compatible styles and color palettes so that you can mix and match if you are plus size in one area of your body and not in another, making it easy to find ways to flatter the areas that you like best.
LJ: Last winter you released your own line of shoes called Stand Tall. In discussing the line, you mentioned that the purpose of the line was to help women "feel confident, strong and empowered by what they're wearing … and that fashion is an incredibly empowering tool for women to protect, enhance, embolden and even convey a message." We are obviously in a cultural moment where women are raising their voices and taking up space as change-makers and thought-leaders in our global society. Do you see any connections between how the cultural zeitgeist is positively affecting our personal style and how we feel about getting dressed each day?
ES: I've had the opportunity to work with inspiring clients as they were working so hard to balance careers and families, even before the #MeToo movement. When the Golden Globes took place earlier this year, I was lucky enough to dress clients on the carpet supporting Time's Up and #MeToo—it has been incredible to be a part of and support those movements. Now, I think we are seeing more women get dressed each day celebrating their confidence and strength and that's something incredibly empowering.