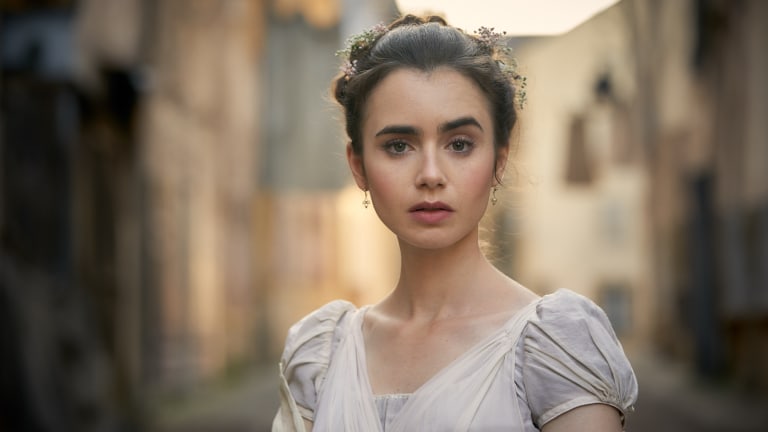 Top 6 Shows We'll Be Watching in 2019
Lily Collins as Fantine? Oui, oui!
If your New Year's resolutions involve watching better TV, then look no further. This spring will bring a host of excellent show options—some brand new, a few reboots, and a returning series.
Unbreakable Kimmy Schmidt // Netflix (January 25)
While not a new show, Unbreakable Kimmy Schmidt is always worth adding to any TV listicle. The second half of season four will be released in January, and we couldn't be more excited. The show follows Kimmy Schmidt (Ellie Kemper), a woman held captive by a cult leader in an underground bunker for fifteen years. Kimmy recaptures her lost time by moving to New York City, where she adjusts to the twenty-first century with unflappable optimism. The show features a hilarious cast of zany characters and goofy schemes. Sadly this will mark the end of the show, but all episodes will remain available on Netflix.
Les Miserables // PBS (April 14)
Masterpiece Theater on PBS will be releasing a six part adaption of the 1862 Victor Hugo classic, Les Miserables. Many are already familiar with the musical adaptation, first brought to the London stage in 1980, and then to the screen in a 2012 movie adaption, starring Hugh Jackman as Jean Valjean. The Masterpiece Theater series will not feature the musical classics like "I Dreamed a Dream," but will instead dive deeper into Hugo's prolific novel about the revolution in France, the struggles of poverty, and the theme of redemption. The new non-musical cast includes Dominic West as John Valjean and Lily Collins as Fantine. For anyone worried that this adaption will stray from the novel, never fear—it was written by Andrew Davies, the precise mastermind behind the nearly six-hour PBS version of Pride and Prejudice.
The Gilded Age // NBC (Spring 2019)
While we wait impatiently for the Downton Abbey movie (coming in September!), we can indulge in another Julian Fellowes' creation. Set in New York City in the 1880s, The Gilded Age follows a new money society family as they aspire to the ranks of American royalty like the Astors and Vanderbilts. The show has been in development for more than six years, but moved slowly as Fellowes wrapped up his work on Downton. There is even some speculation that the show will feature a younger Dowager Duchess (portrayed by Dame Maggie Smith in the Downton Abbey series). It's fair to expect that this new ten-episode series will be satisfying our craving for historical melodrama as well as intricate costumes and sets.
Veronica Mars // Hulu (TBA)
The early 2000s favorite teen detective, Veronica Mars (portrayed by Kristen Bell) is returning for a limited series on Hulu. Initially airing in 2004, the show ended after three seasons, and was followed by a crowd-funded feature film. The Hulu series will pick up where the movie left off, with a now grown up Mars in her role as a private detective, and it will revolve around one case. Series creator, Rob Thomas describes the show as a "hardcore So-Cal noir." According to the Hollywood Reporter, the season's mystery involves the murder of spring breakers in Neptune, the fictional town where Veronica Mars grew up. "When a victim's family hires Mars Investigations, Veronica is drawn into the class divide between the town's wealthy "09ers" [residents of the towns wealthier zip code], who would rather see the spring break crowd go away, and working-class residents, who depend on the partiers spending to keep their businesses afloat." It is expected that many of the series regulars will return in their original roles.
Good Omens // Amazon Prime (TBA)
Based on Neil Gaiman and Terry Pratchett's fantasy novel of the same name, Good Omens follows an angel named Aziraphale (Michael Sheen) and a demon named Crowley (David Tennant), as they join forces to stop an upcoming apocalypse and save Earth. The show includes a line up of incredible actors including Nick Offerman, Frances McDormand, and Jon Hamm. Gaiman has been heavily involved in the series adaptation, which means it is destined to be a quirky, intelligent comedy.
Four Weddings and a Funeral // Hulu (TBA)
Inspired by the 1994 British romantic comedy of the same name, Four Weddings and a Funeral is coming to Hulu this spring. This adaptation centers on four American friends who convene in London for a wedding, when an unexpected turn of events on the day of the wedding throws their lives into a year of chaos. This ultimately leads to, you guessed it, four weddings and a funeral. Produced by Mindy Kaling and Matt Warburton, the cast will include Rebecca Rittenhouse and Nathalie Emmanuel. As the original movie turns 25 this year, the timing of this series couldn't be more perfect!