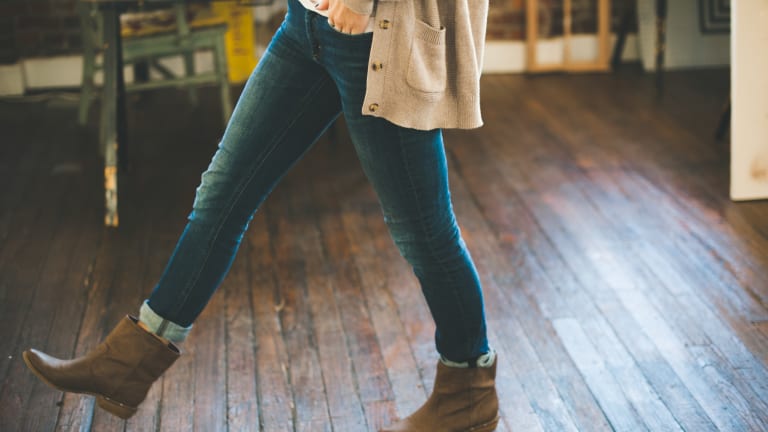 Getting Cozy with Madewell's Thermolite Jeans
A review of Madewell's newest denim designed to keep your warm.
As much as we all love a great pair of jeans, they aren't exactly the warmest piece of clothing to wear in the winter months. Even though denim is made from cotton fibers and cotton has some warmth to it, those fibers do not do a great job of trapping warm air and keeping it close to the body. And the more stretch there is to your jeans, the less cotton fibers they have to keep you warm.
Many of us turn to the old trick of wearing tights under our jeans to keep extra warm. But that can also feel bulky and impractical. This is why I'm so excited to share with you Madewell's new Thermolite Edition denim line. 
I've always been a big fan of Madewell jeans; their classic fit holds you in a comfortable, control-top way. And now, they've partnered with Thermolite, an innovative textile manufacturer that creates lightweight, insulating fabrics that provide warmth without weight, to create a line of jeans made with Thermolite fabric. Thermolite is engineered to trap warm air for greater insulation, even when it gets wet: Perfect for snowy days!
Currently, Madewell's Thermolite jeans are available in the High-Rise Skinny Jean style in two washes: Tarren and Black Frost, and in petite and curvy fits. I wanted to give a review of these jeans because I think this is a perfect example of good product development, where a brand really understands the needs and lifestyles of its customers. Madewell understands that women live in their jeans and that we need a better solution for winterizing our denim, than wearing tights under them.
When I originally tried on the jeans, I half expected them to feel more bulky. I imagined they would be like fleece-lined tights. Instead, the inside of the jeans has a brushed feel like the inside of a sweater. These would definitely be uncomfortable to wear in the summer. Overall, the jeans just felt cozy and soft, with that classic Madewell fit that holds you in a comfortable control-top way. When I tried on my correct size the fit was more straight leg, than skinny jeans. If you want a skinny jeans fit, I recommend sizing down, but no more than one size. I walk about two blocks from the metro to my work everyday and they have kept me so warm. Since they're skinny jeans, I love that I can tuck them into my tall boots or wear them with my ankle boots. These have quickly become my staple winter jeans.